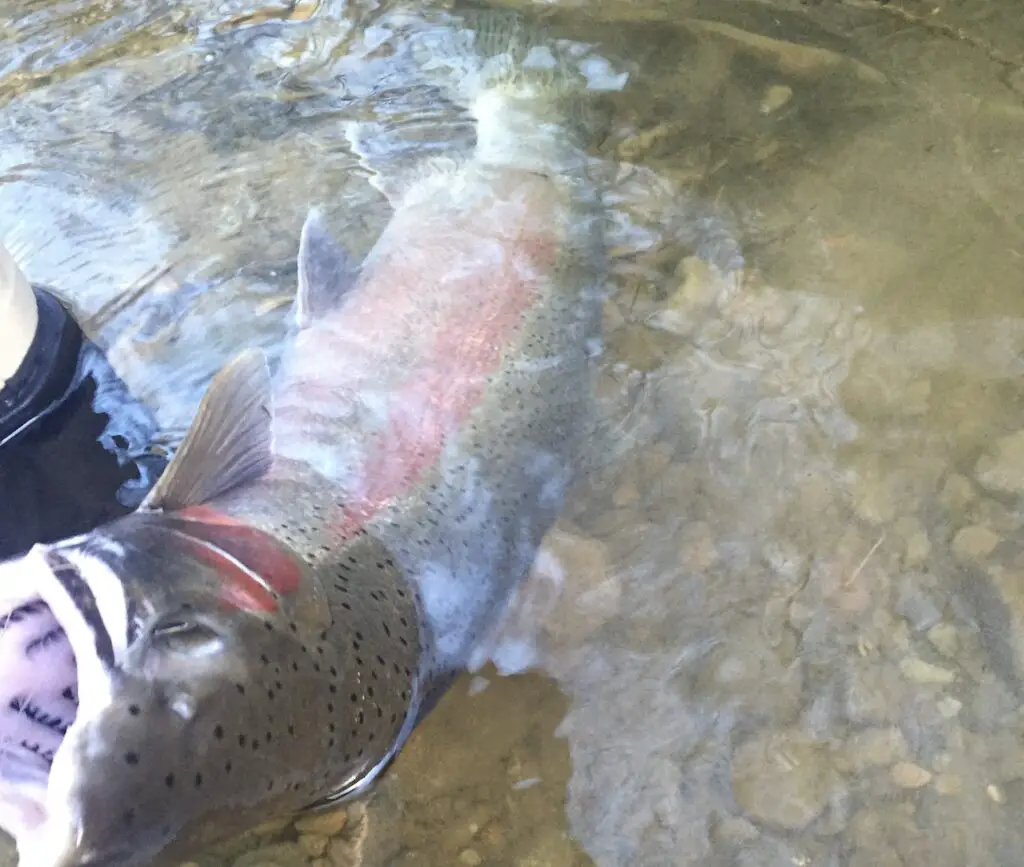 The long anticipated (dreaded?) clarity on regulations for the Washington coast steelhead season have arrived. Keep reading to be enlightened (disappointed?)…
NOTE: Official regulations have been announced! Please visit this page for the official 2022-2023 Washington Coastal Steelhead rules clarification
To be fair it's not all bad news, it's just that the topic with the most concern, consternation and controversy has resolved itself against the wishes of the many recreational anglers hoping to fish for hatchery steelhead this winter season.
The Chehalis River steelhead topic…
I'm talking about the question of whether the Chehalis basin rivers such as the Wynoochee and Skookumchuck will open for a hatchery steelhead season this winter and into 2023.
The answer from the WDFW virtual town hall on Nov 28th, I dialed into, was a resounding no.
Back in September, I wrote a now prescient preview piece of this 2022-2023 coastal winter steelhead season setting process and predicted not only the outcome, but how it would be explained, and what wouldn't be stated as part of the process.
Everything stated in that piece has manifested. On the call a couple nights ago (Nov 28th), there was significant frustration from recreational anglers, in particular with the Skookumchuck being closed.
Part of this frustration stems from the fact that WDFW made a good show of "trying to make a season happen" through the previous town hall, that accomplished the goal of appearing to be on the side of anglers and even stoking optimism by highlighting how few wild steelhead would be impacted by a near-hatchery fishery.
Remember, that there's essentially no spawning ground for wild steelhead above the hatchery as the dam which creates Skookumchuck reservoir stands in the way of upper river navigation by wild steelhead.
The reason for the closure explained by James Losee (WDFW regional manager / bio) is that the tribal co-managers wanted maximum protection for Chehalis wild steelhead due to the low escapement numbers in previous years.
Take a look at the below slide, which was the centerpiece of the conversation at the town hall: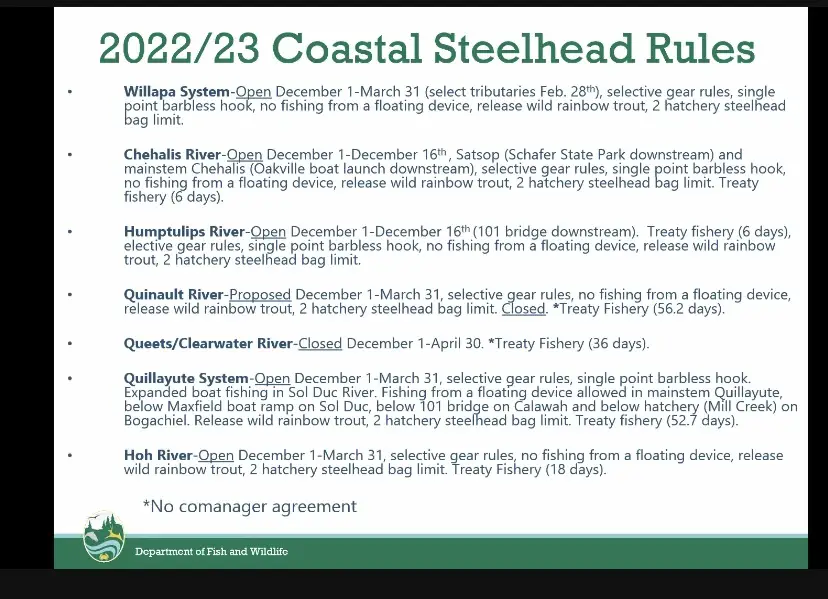 Note the fact that there's a Chehalis River season from December 1 – Dec 16th being proposed…This was explained as expecting to have a wild steelhead impact of 5…Now the primary reason for this season is to take advantage of late hatchery coho, which I think everyone should jump on as fishing was quite good when we went in late November:
Now, consider this for a second…what would have less impact on wild steelhead? A Skookumchuck hatchery steelhead fishery or the Dec 1 – 16th season, which includes 6 netting days?
There's the issue of "not having creel data" being bandied about as a legitimate reason for not having a season on the Skookumchuck, but as several anglers on the virtual town hall pointed out, you definitely won't have data if you don't have a season.
Closing the Skookumchuck due to lack of wild steelhead encounter data just doesn't pass the sniff test. But it's true the data doesn't exist to prove lack of impact on wild stocks conclusively, so it's a convenient scape goat.
WDFW just submitted a 138 page steelhead management plan to the state legislature to get increased funding to monitor steelhead fisheries on the coast, in addition to laying out parameters which essentially say that if wild steelhead returns falter, the state will lower the amount of hatchery steelhead they raise on that particular river, until wild steelhead returns bounce back (assuming they ever do)…
The wild steelhead only bounce back with money and energy for conservation which comes from active participation of the general public in engaging with the resource i.e. consumption. Now, I'm not advocating for consumption of said wild steelhead stocks, but if we can separate wild steelhead impact from consumption of hatchery stocks, then wild steelhead win in the long run.
The history of conservation of wildlife in this country began and continues, with banning commercial (market hunting) exploitation of the resource and tying funding of conservation to recreational consumption interest.
Remove recreational consumption interest, and you remove conservation money and energy. Period. Yet, the state seems hell bent to do exactly that.
Final note: I'm not at all angry with the Chehalis tribe on this topic, and nor should you. They are an ally across the board in advocating for consumption of these resources, and they are the only ally left on this topic.
You can read about my primer to the Humptulips, Skookumchuck and Wynoochee winter steelhead seasons here that gives background and data on where things are at. Those pages will update throughout the season with the hatchery escapement data as well…
So what was the other not so bad news revealed in this town hall?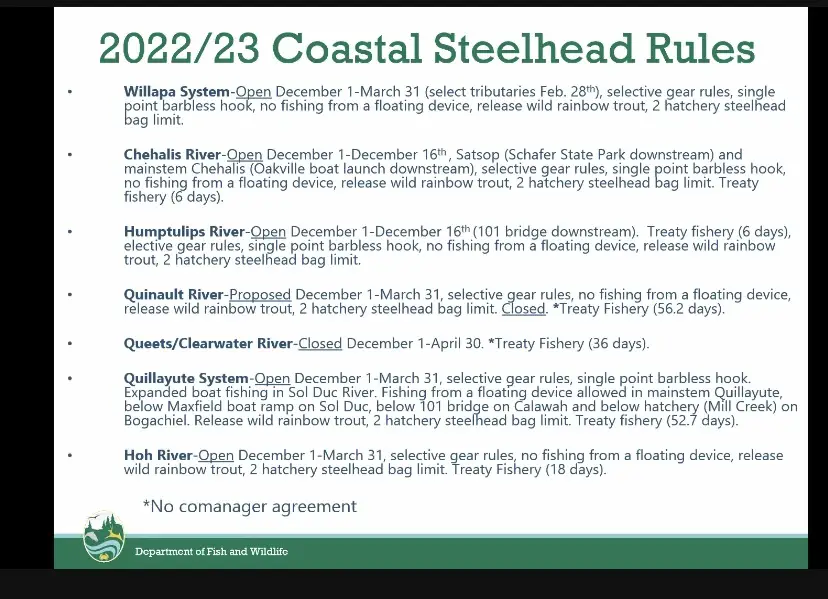 Here's the above slide again for convenience of not having to scroll back up through my Chehalis River rant.
Note that there will be plenty of opportunity for hatchery steelhead on the Willapa, Quillayute and Hoh Rivers. Anglers and guides from these parts appeared quite happy with these regulations.
The run of hatchery winter steelhead on the Bogachiel is likely your best opportunity for hooking into coastal chrome and I highly recommend hiring a guide, and spending a few days in Forks doing that if you want the best odds for success.
I've heard some complaints about their being no hatchery steelhead returning to the Hoh, but that's simply not the case:
Here's a document I found on the WDFW website presented by the Hoh Tribe outlining the opportunity. Also, below is the steelhead smolt plant history: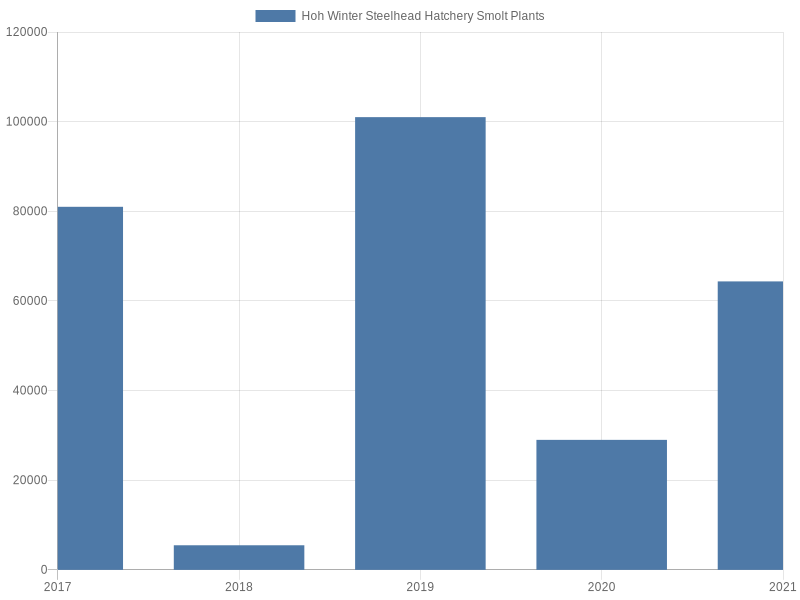 Smolts planted in 2021 will mostly return in this 2022-2023 winter coastal season as 3-year fish.
Additionally, those wanting to take part in the historically incredible catch-and-release wild steelhead opportunity on the Sol-Duc, will be in luck as the season is being proposed to go until March 31st.
The wild steelhead return on the Sol Duc might be the healthiest on the coast.
We don't have clarity yet on the Queets River or Upper Quinault River fisheries as there's disagreement between the tribe and state on those season parameters.
What are the other Winter Steelhead options available?
Take a look at my dedicated blog post to the Cowlitz 2022-2023 winter steelhead season for some background there.
I will have posts up on the Kalama and Lewis soon as well as the main-stem Columbia river.
I will also be doing some research on options in Oregon.
Looking for more tips on how to fish for winter steelhead? Checkout our dedicated page to winter steelhead fishing here.