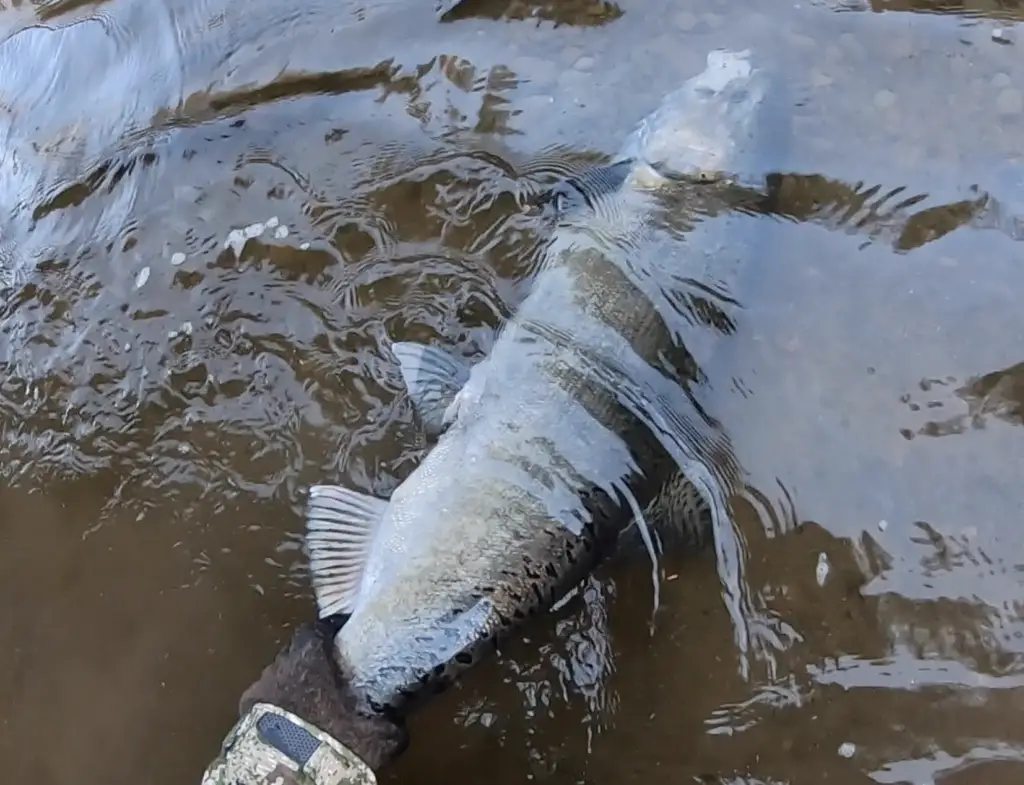 Looking to buy that salmon fishing rod for yourself or someone special? Inside this guide to salmon fishing rods we cover the best option for starting out salmon fishing and a more advanced option.
As a disclaimer, this guide is written with the river fisherman in mind. Fishing the saltwater by mooching or with downriggers requires a different approach to fishing rod selection. Also, as an Amazon Associate we earn from qualifying purchases you make via the below links. Using the links below costs you nothing additional, but allows us to keep putting out quality content that hopefully helps you to enjoy the outdoors in the Pacific Northwest.
Let's get straight to it! If you are looking to buy your first salmon rod or buy for someone else, who wants to get into this awesome form of recreation, their first salmon fishing rod, the below rod is what you want to start with:
Why is this the best salmon fishing rod? OK, so it's really just the best FIRST salmon fishing rod. Any fishing rod is going to be designed for a specific use. When you are first starting out, you want to be able to do a mix of techniques as you are not sure what will work best for where you love to fish and how you love to fish. You also don't want to spend too much. You want your spend level to match your commitment level, which when you first start out is understandably small.
The Okuma SST-S-962ML is cheap, high quality and versatile. There are several important aspects to evaluate on any rod:
Rod length – Size does matter! If you are float fishing a longer rod helps you mend line
Rod action – Stiffer rods are not meant for all species of salmon and rods that are too light will not provide good enough hook penetration for king salmon, unless you are using smaller hooks
Line weight recommendation – How much punishment can the rod handle before it's expected to break?
Lure weight recommendation – How heavy of a presentation you should use to make the most of casting
Reel type – Spinning or Casting?
Let's see how the Okuma SST-S-962ML stacks up:
Rod length – 9'6″ allows you to mend line in both float and drift fishing applications which are the most popular techniques for salmon fishing in rivers. 10'6″ is ideal for float fishing, but 9'6″ will work in many conditions and is more optimal for drift fishing. 9'6″ will also work well for fishing with spinners or jigs.
Rod action – ML as in Medium Light is a great rod action type. Why not just use a stiff heavy rod? I want my salmon fishing rod to have give to it. So many coho salmon are lost as they pull, twist and shake their heads. Setting drag correctly and having a rod with some give to it will make a huge difference in your hook to land ratios. They can also bring in some beefy kings. Too light and you won't have the penetrating strength on a king salmon, so ML is a great all around action for a salmon fishing rod.
Line weight recommendation – 6-12 lb test. I use much heavier main lines like 20-30 lb braided line and 20 lb test leaders, but because I don't set my reel drag too tightly, my rods don't break. 6-12 is a solid all around line weight range for an all purpose salmon fishing rod
Lure weight recommendation – 1/4 oz to 1/2 oz. This means you can easily cast 1/2 oz float setups, drift fishing with 1/2 oz or less weights or throw size 5 or smaller spinners. All of which are the most popular applications for salmon fishing.
Reel type – Spinning is the easiest to master as it takes the hassle out of casting. You may someday move to a casting reel, but I still use spinning reels in many applications.
This rod will not only get you started, but as you specialize, this rod will become specialized for drift fishing or throwing spinners, so there is no later regret on this great purchase to get started with. You can read all about river fishing for salmon tips and techniques. I will also be adding best rods for each technique on that article.
Before you finish, why not add a cheap but high quality Daiwa spinning reel to the mix?
These reels perform well, last a long time. They hold plenty of braided or mono fishing line and provide good drag to help fight those big king salmon.
Looking for more details about purchasing a fishing reel? Head over to our page dedicated to purchasing a fishing reel for salmon or steelhead.
Your second salmon fishing rod
OK, so you've got the starter rod, you've been going at it for a bit, gaining experience and confidence and now you want to buy that pro setup. I have not evaluated every rod on the market. I own quite a few rods, but I can tell you exactly what I use and love. Your second rod purchase for salmon fishing in the rivers of the Pacific Northwest is this:
I have caught countless kings, coho, steelhead, chum and everything in between on this type of rod. I've owned my 10'6 float rod for about 10 years now, it has egg goo stains all over the reel seat and up the length of the rod. This fishing rod is fantastic! So why this rod? Let's take a closer look:
Rod length – 10'6 allows you to make this your primary float rod. Who wants to switch back and forth between drift gear, float setup and spinners. You need a dedicated float rod and this is it.
Rod action – The action is perfect for fighting almost any species of salmon and steelhead. One thing you pay for is the ability for a rod to have hook setting power to drive home a 3/0 hook into the jaws of a king while still having give and not being too stiff. I can land more coho on an even slower action rod, but this has put numerous coho on the banks as well.
Line weight recommendation – 8-12 lbs. I setup my reel with 30 lb braid, set the drag right and never worry.
Lure weight recommendation – 3/16 – 1/2 oz. This is perfect for casting any float setup you will need.
Reel type – Casting. OK, so this is not the spinning reel your probably grew up fishing on. You may need to get used to it a bit. Don't let that deter you. Float fishing with a casting reel is so much easier! You can simply reel down to stop releasing line and you will never find yourself caught doing the awkward spinning reel bail closing thing while a fish has pulled your float under.
Speaking of casting reels. I use the same casting reel for every casting rod I use on the river.
The Shimano Curado. Load it with 30 lb high vis power pro. Seat it on your Okuma Guide Select Pro rod and you will be catching chrome like a pro.
Hopefully this quick rundown of best fishing rods for salmon helps you get someone (or yourself) into this great outdoor pursuit.
Looking for more real time updates? Use these links to follow us on social media: