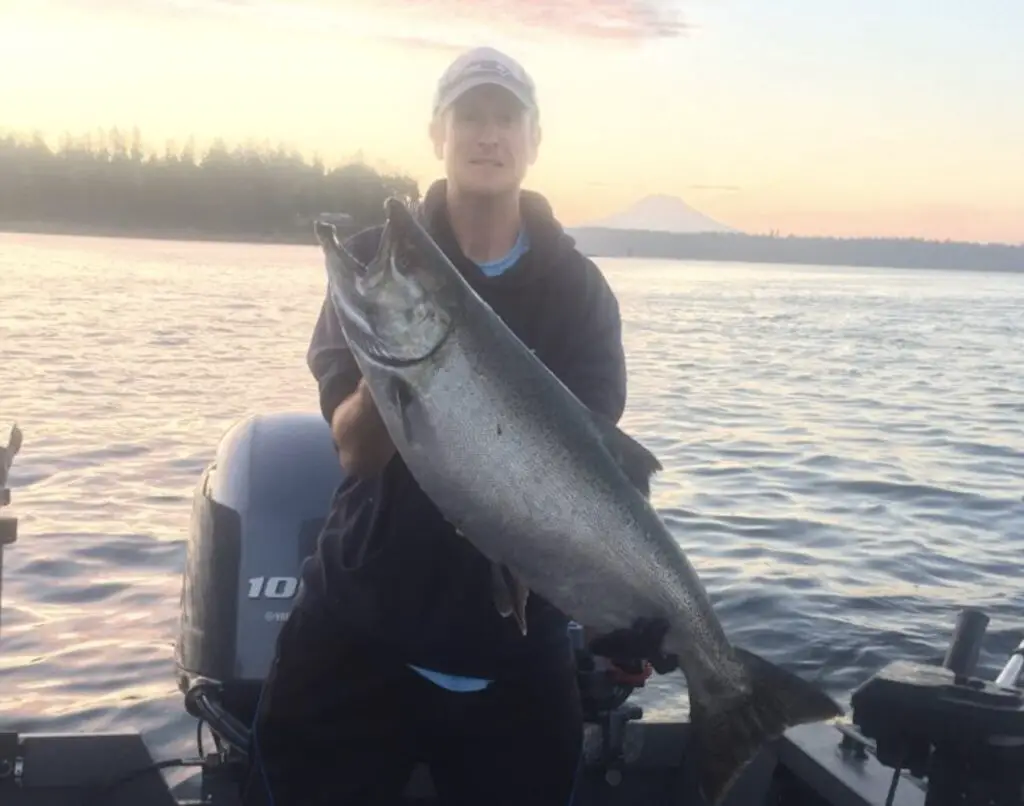 The above salmon weighed in at 29 lbs and was caught in mid-August in Marine Area 13. This special Marine Area is typically the only place you can fish for chinook salmon 12 months out of the year.
Additionally, the season will really catch fire in August and go all the way into September as some of the latest runs of kings in the Puget Sound are swimming through these water. But don't take our word for it, take a look at the graph below which is automatically updated each week with the creel reports of salmon being caught.
There can be some truly epic fishing in Marine Area 13, but it's often also very different year-to-year. The numbers of salmon are usually decent, but how hungry they are changes based on bait availability relative to salmon abundance in the waters of the Strait and northern areas of Puget Sound.
Often times, you will find many kings all over your sonar suspended about 30-70 deep, but these salmon are not always great biters. The challenge isn't just finding the chinook salmon, it's about getting them to bite…
Updated Creel Report for Marine Area 13 – South Sound Chinook Salmon Fishing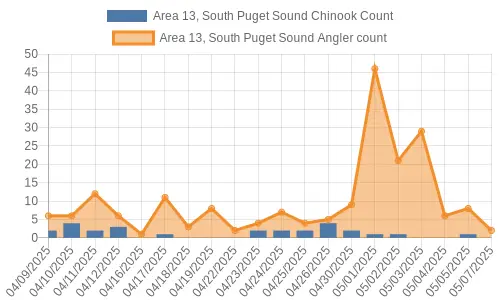 When to fish for Chinook Salmon in Marine Area 13 – South Sound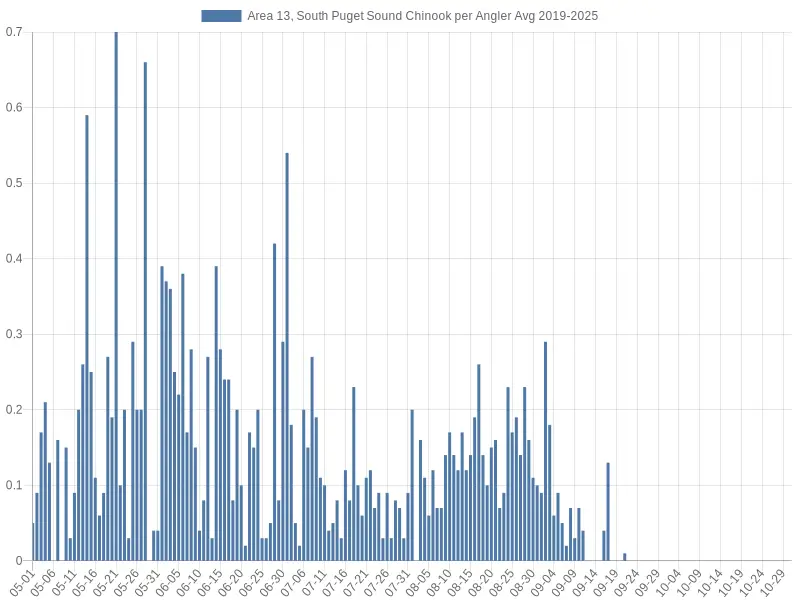 As you can see from the above averages, there's a nice early return of chinook that shows up in mid – May through June that kind of tails off slightly in July and then picks up again as the main run of summer chinook arrive in August…Catch rates can be higher in May / June though due to metabolically more active chinook being targeted. There will be greater numbers and much larger fish in August / September, but they won't be as bite happy.
Permanent Regulations for Marine Area 13 – South Sound
Please refer to the permanent regulations for Marine Area 13 as maintained by WDFW here.
Need more help understanding saltwater salmon regulations? Consult our guide to understanding saltwater salmon regulations in Washington here.
Emergency Regulations for Marine Area 13 – South Sound
Please refer to WDFW's emergency rules page for a full list that are in effect.
How to fish for Chinook Salmon in Marine Area 13 – South Sound
Take a look at our parent page Puget Sound Salmon Fishing and key in on fishing with hoochies and jigging as the best techniques here.
A few Marine Area 13 fishing specifics though are the ones that apply to all areas where kings stage before heading up natal rivers.
Think bigger and slower presentations. Jigging vertically on staged fish can often produce strikes as you drop the jig right in front of their faces, producing an aggression strike.
Trolling slowly with big cut plug herring, larger spoons or hoochies (always with a herring strip) are also popular methods. If you are going to try and troll hoochies slowly you need to use a flasher with an agitator fin or really shorten the leader (< 30″) and use heavy / stiff flouro (40 lb+).
Where to fish for Chinook Salmon in Marine Area 13 – South Sound
There are some great places to target chinook salmon in the South Sound!
In the earlier period from late May to June and early July:
Point Fosdick
Fox Island
Point Gibson
In the period of late July and into September:
West side of Ketron Island
Oro Bay
Lyle Point
Nisqually shoreline north
Right in front of the Nisqually Delta (green can)
Johnson Point
And many others!
Chinook Salmon Forecasts for Marine Area 13- South Sound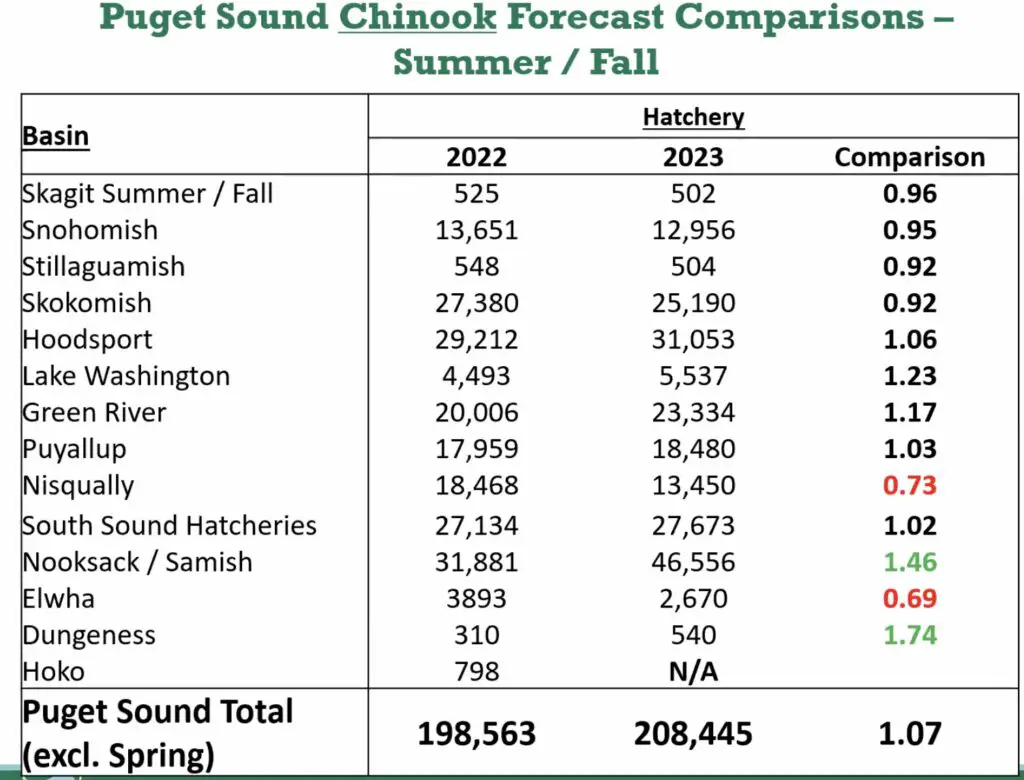 You will want to key in on the Nisqually and "South Sound Hatcheries" as the biggest drivers of chinook abundance in Marine Area 13 from this map.