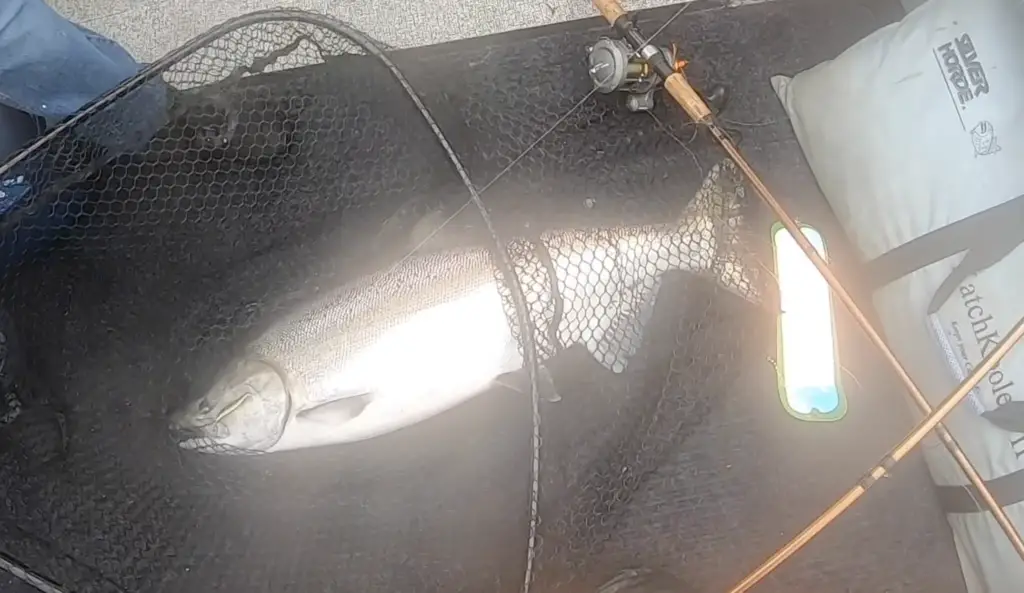 Definition:  FROM CAPE ALAVA NORTH AND INSIDE JUAN DE FUCA STRAIT TO THE SEKIU RIVER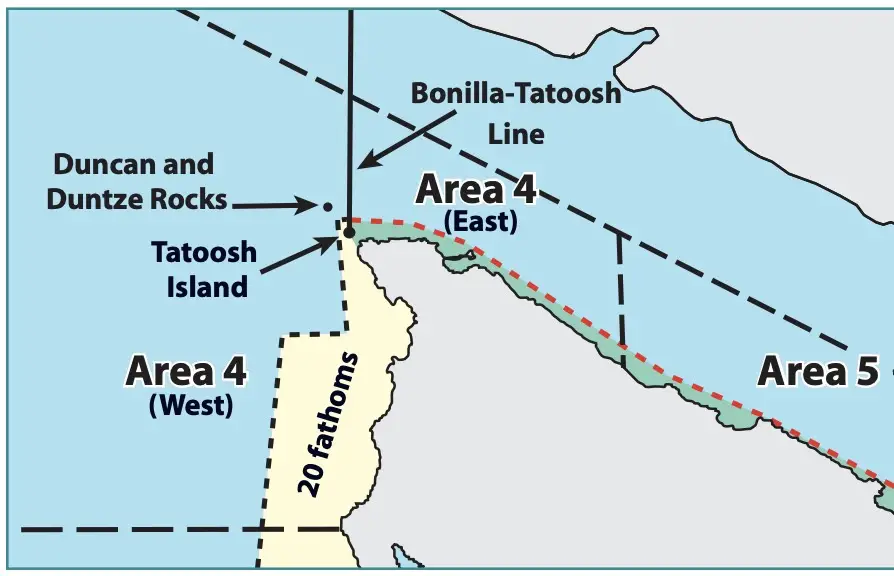 Neah Bay / Marine Area 4 – Recent Posts and WDFW News
Neah Bay / Marine Area 4 Salmon Fishing 2023
I've written an extensive sub-page on the topic of Neah Bay / Marine Area 4 Salmon Fishing for you to check out. Included are descriptions of the seasons, visual depiction of when salmon are typically caught, automatically updating graphs on the creel reports, salmon forecasts and in-depth how-to information.
Neah Bay / Marine Area 4 is hands down my favorite saltwater place to fish in all of the PNW.
Making trip plans up to this area can be quite challenging however due to the unpredictable nature of season management for Puget Sound bound salmon, and this is particularly true of Marine Area 4-West sub-area.
Proposed Salmon Seasons from WDFW for Marine Area 4 / Neah Bay
The Pacific Fishery Management Council (PFMC) approved a recreational Chinook catch quota of 39,000 fish, up from last year's quota of 27,000. The PFMC, which establishes fishing seasons in ocean waters 3 to 200 miles off the Pacific coast, also adopted a quota of 159,600 hatchery coho for this year's recreational ocean fishery. This represents a decrease over last year's initial coho quota of 168,000.  
Marine Area 4 (Neah Bay): 
Opens June 17. Open seven days per week with a daily limit of two salmon; no chum may be retained beginning Aug. 1. Chinook minimum size is 24 inches and coho minimum size is 16 inches. Anglers must release wild coho. Also beginning Aug. 1, no Chinook retention allowed east of the Bonilla-Tatoosh line. Closed waters east of a true north-south line running through Sail Rock in July. Closed to salmon angling inside the area bounded by a line from Kydaka Point to Shipwreck Point.
Neah Bay / Marine Area 4 Bottom Fishing 2023

Fishing for a variety of bottom fish out of Neah Bay / Marine Area 4 can be incredible when the season is open. This typically occurs from the second Sat. in March until the Third Sat. in October. Note: Halibut is different, has special opening days linked below and a quota system.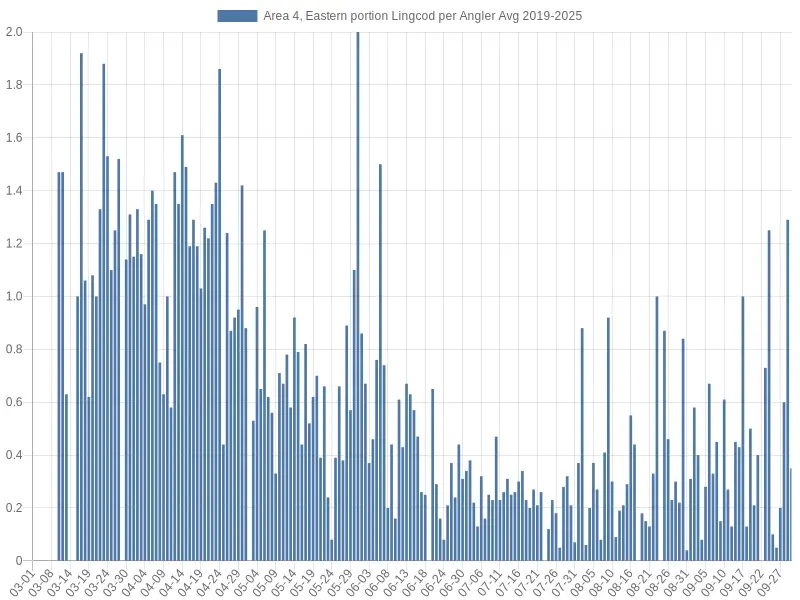 The above graph has data from 2017-2023 and gives you an idea of when the best times of the year are to catch lingcod around Neah Bay and Marine Area 4.
As you can see the season is best fished early and also it can pick up again very late.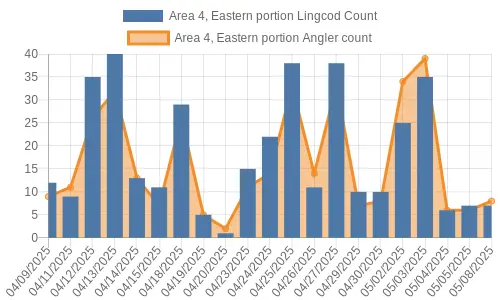 The above graph will update as creel reports are recorded on lingcod catch around Neah Bay / Marine Area 4.
For Lingcod and Rockfish, you should consult the permanent regulations linked below, as there are a variety of day periods and sub-areas which determine what depths and species can be fished in and retained throughout the season.
For ideas on how to fish for lingcod off Washington coastal waters see this link. Also, fishing for lingcod in general here.
Catching rockfish in Marine Area 4 is usually pretty epic. There are a variety of near shore / shallow rock piles and rocky reefs extending from Tatoosh Island in the west, Waadah Island just east of Neah Bay and all the way to the MA5 / 4 line near the mouth of the Sekiu River.
If you're looking for tips on catching rockfish super fast and efficiently, I have an in-depth page on how to catch rockfish.
The nice thing about this area is that on many days the wind and swell direction is coming from the west or southwest, and if you stay east of Waadah Island you can usually get out and not deal with huge seas.
I've made quite a few videos of fishing bottom fish in Marine Area 4. Here's a few of them:
Halibut Fishing out of Neah Bay / Marine Area 4
Here's a link to the WDFW page on halibut fishing in Marine Area 4. It should get updated as seasons and quota are announced, but there's a good description of what you can expect if you are trying to make trip planning decisions.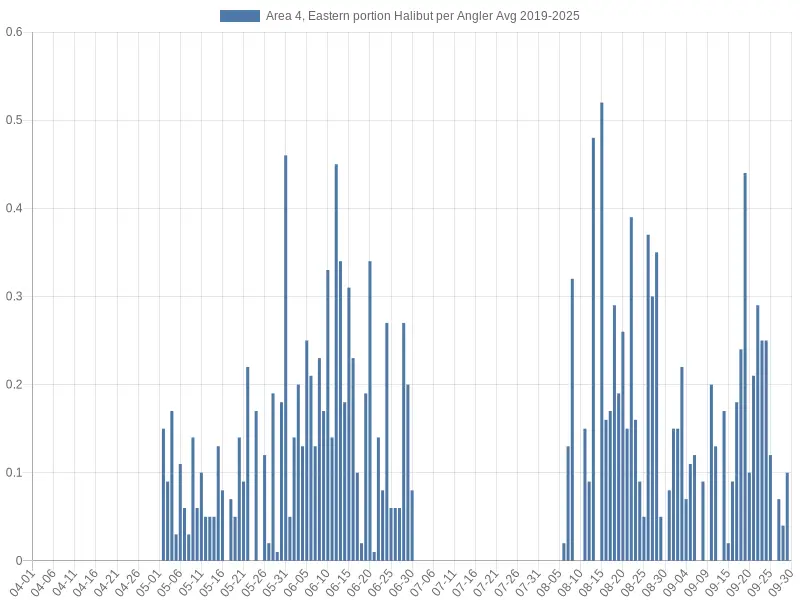 The above graph gives you an idea of when catches are the best for halibut around Neah Bay / Marine Area 4. Generally this area is a good halibut producer due to popular areas nearshore like the garbage dump, or the mouth of the Sekiu River, but also because of offshore opportunities at places like Switfsure or Blue dot.
The season later in the year if it re-opens due to available quota can often be even better.
The above graph will update automatically as catches are reported by creel checkers.
Staying safe while fishing out of Neah Bay / Marine Area 4
One of the nice things about fishing Marine Area 4 is you can get out and fish portions of it on most days. Waadah Island just east of Neah Bay and the north Olympic Peninsula coastline will block out and mute the effect of most west winds and swells.
Now there are days when the swell direction is from the northwest and the wind picking up from the east or north will create some hazardous conditions, so you definitely still need to be paying attention.
When venturing out west of Waadah and fishing around Tatoosh Island or going around Cape Flattery, you need to be aware of how dynamic that marine weather environment can be. The narrow passageway between Tatoosh Island and Cape Flattery acts exactly like a river bar crossing, and seas can become huge in a matter of minutes on an ebb tide.
I've written a page on marine weather safety that's extensive and one of the best references I've found that's free on the internet, which attempts to explain many of the concepts you need to understand heading over river bars and making trip planning decisions to fish the ocean.
Here's a video I posted about going over the Westport bar in a smaller boat:
Neah Bay / Marine Area 4 Fishing Regulations 2023
Here's a link to WDFW's marine area rules and definitions.
Marine Area permanent regulations are updated in late June / early July of the year as salmon seasons are finalized, and you can access the current Marine Area 4 regulations here.
Emergency Fishing Regulations for Neah Bay / Marine Area 4 2023
The above permanent regulations for Marine Area 4 are subject to change at any time and without being updated on this blog. One must consult the WDFW Emergency Regulations before any trips to ensure they are in full compliance with state laws regulating fisheries.