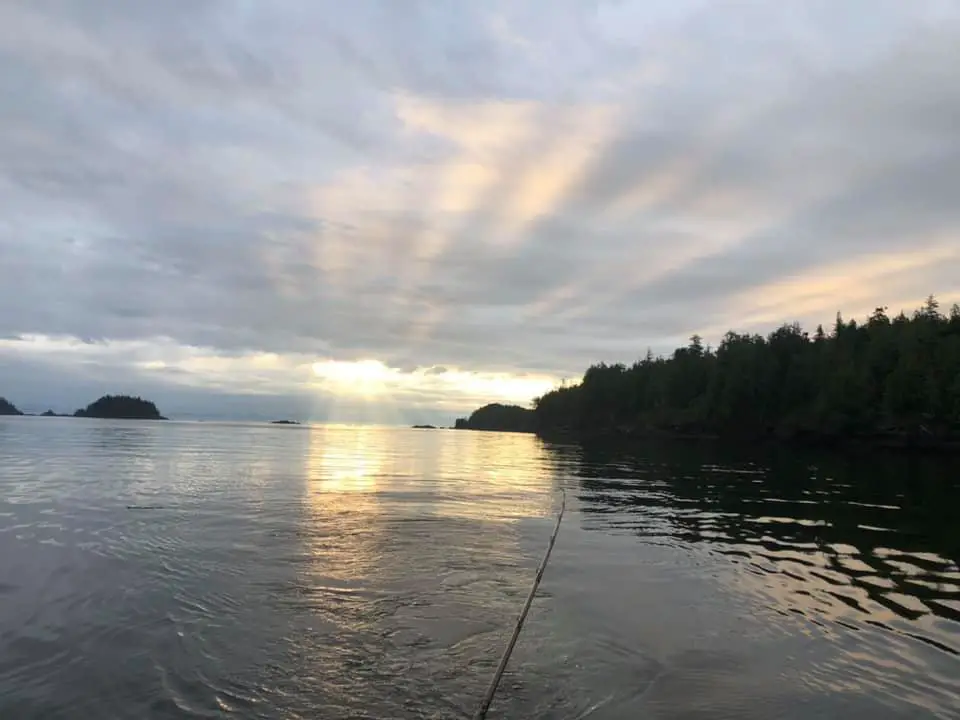 There are so many reasons to plan a Port Hardy fishing trip. The bay itself and the points immediately to the west and east are incredibly well protected from the wind. Even with inclement weather, you are likely to find productive, fishable water. This is a perfect setup for the small boat operator who isn't outfitted with an offshore type boat. I have a 20′ Alumaweld Stryker (14 degree v) with an outboard jet pump and I was able to fish all the water surrounding Port Hardy with ease during an amazing weather window. The species varieties and abundance around Port Hardy make for exciting days of destination fishing that you would associate with northern BC or even Alaska.
In this page I want to provide you with good information that can you use to plan your own Port Hardy fishing trip. Basics such as travel to Port Hardy, where to stay, where to eat and getting licensed to fish the surrounding waters. We will also cover booking a charter vs going self-guided, seasons and timing, fishing spots, fishing gear/methods, species of fish we targeted and the regulations. Every situation will be slightly different, but hopefully you can glean enough from this guide and the other links to help you plan your next trip to this great fishing destination.
Planning a trip to Port Hardy for fishing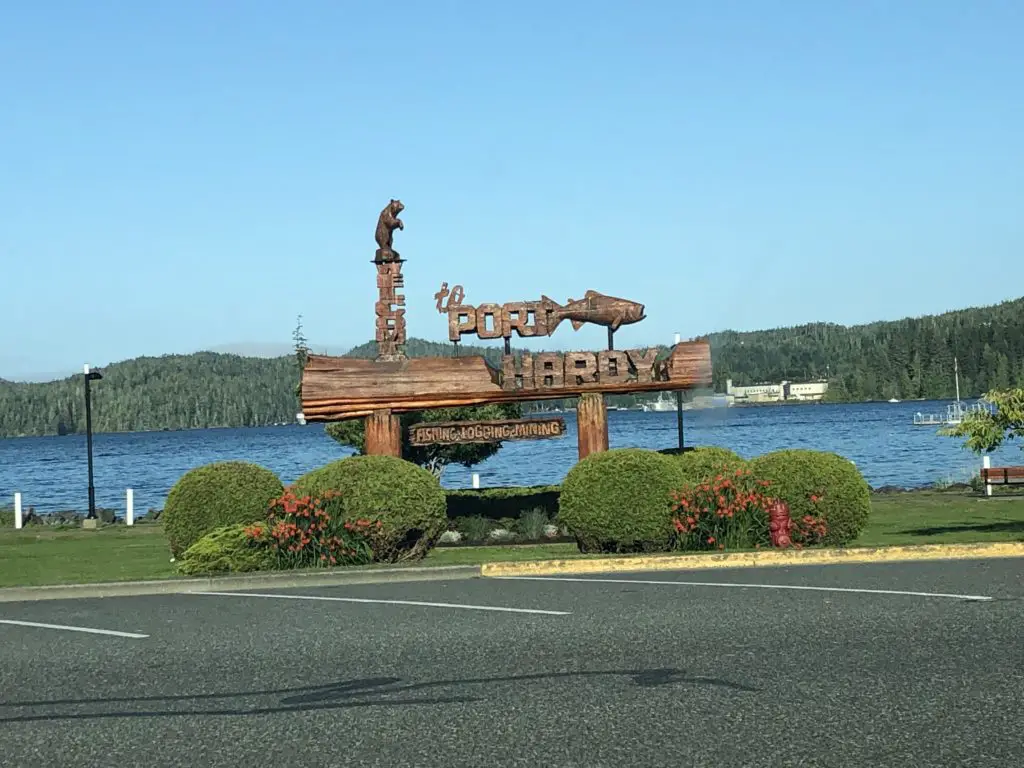 One of the first places to start on a trip like this is timing. We are going to hone in on the summer months for this discussion and assume you don't have schedule constraints. We made our trip in early August based on some constraints we had, but doing it again, we would probably go a few weeks earlier. The area generally fishes better on a day time or morning time flood tide set that moves a decent amount of water, to really push bait up against the points that salmon love to ambush them around. We got that tide on the last day of our trip and that brought a lot of Chinook to our boat. Also, coming from the Puget Sound area, I would prefer to do a trip like this when the Puget Sound (particularly the south side) is a bit slower vs usually in August it starts to heat up a bit.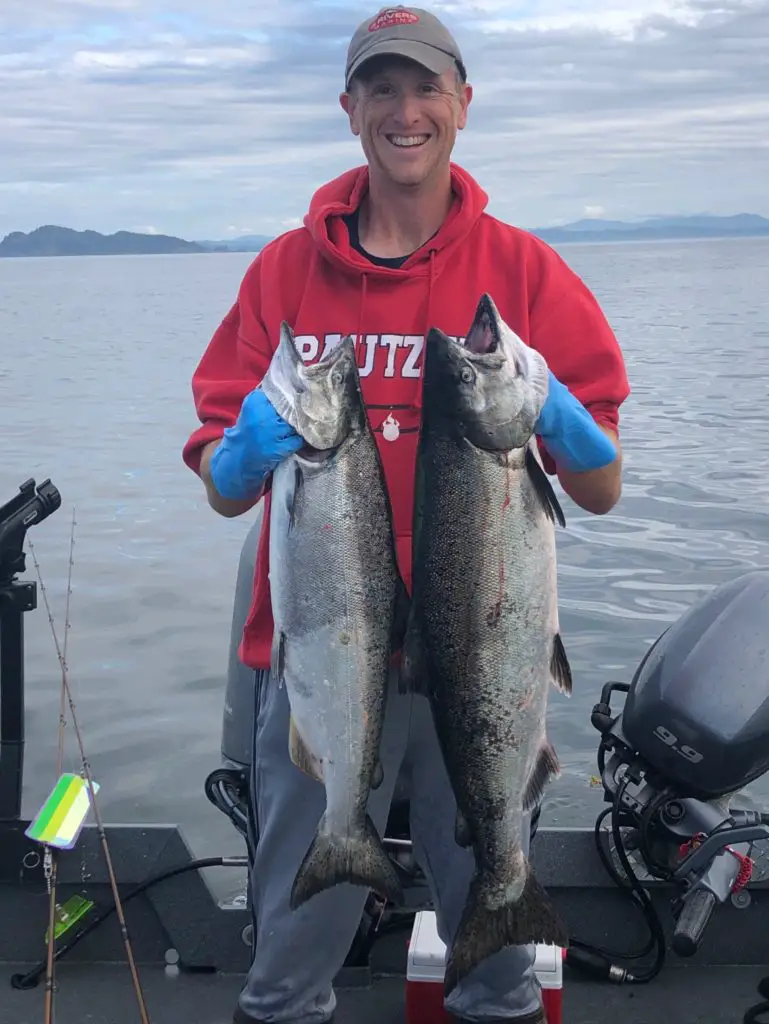 Generally, the way salmon seasons go in Port Hardy, it starts with Chinook (Springs) starting to show in late June, peaking in July and declining through August and into September. The Pinks show up on odd years starting in July, but peaking in August. Coho may also show in July, but are more of an August – September focus. Making the trip earlier in the season may provide greater numbers of bottom fish in addition to the Springs, while generally the bigger springs are showing up in August and first week of September. I didn't mention Sockeye as in 2019, we were not allowed to retain them. They are also a July-August fish in general.
Once you have your preferred species and timing down, you need to consider travel and how you are getting there.
Travel to Port Hardy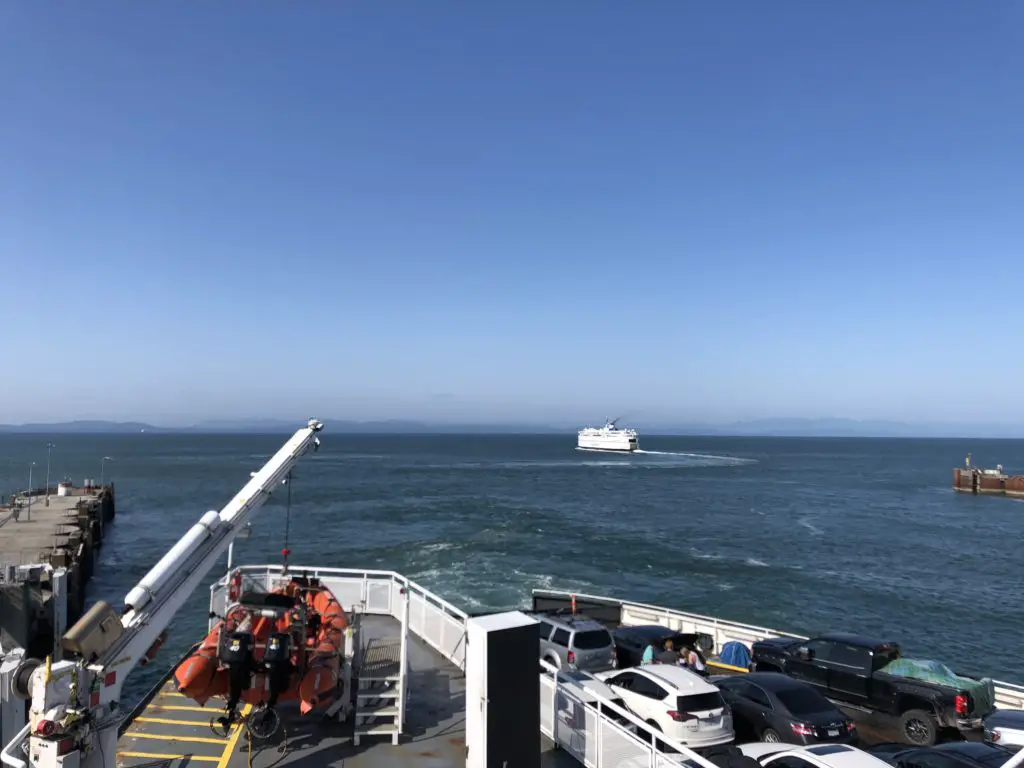 We were pulling a boat from the South Puget Sound area, so we hopped on the ferry in Tsawwassen, just south of Vancouver traveling to Duke Point just east of Nanaimo. Making a reservation in advance on the BC Ferries website is a must as during the summer months as these ferries get completely booked. For a combined 44′ between truck and trailer it was about 260$ CAD each way though these rates will likely fluctuate. There is also a ferry route from Anacortes, but there are far fewer dates / times available. I had a friend flying in from Phoenix, so we needed greater flexibility. The ferry from Tsawwassen to Duke point is about a 2 hour ride. The drive from Duke Point up to Port Hardy takes a solid 4.5 hours, and a bit more if you are doing it in the early afternoon, as there's some traffic between Nanaimo and Campbell River. After that, don't expect to see many folks on the road or services such as gas stations. By the time we were in the last stretch of road to Port Hardy, we were by ourselves.
One note on traveling back from Port Hardy, don't make Sunday your travel day such that you have to do the border crossing into the US on Sunday. That crossing at "Pacific" required 2 hours and 45 minutes to complete. I suspect the Peace Arch required a bit less time, but seriously, just book your trip around not doing that crossing on a Sunday.
A note on paying for stuff. It's great that we have a favorable exchange rate of 1.33 CAD to 1 USD (as of August 2019), but don't bring US cash into the country and expect any merchant to honor that exchange rate. Either use your credit card or go pull out CAD from an ATM.
Where to stay for your Port Hardy fishing trip
We stayed at the Bear Cove Cottages which were an absolutely delightful experience for a number of reasons.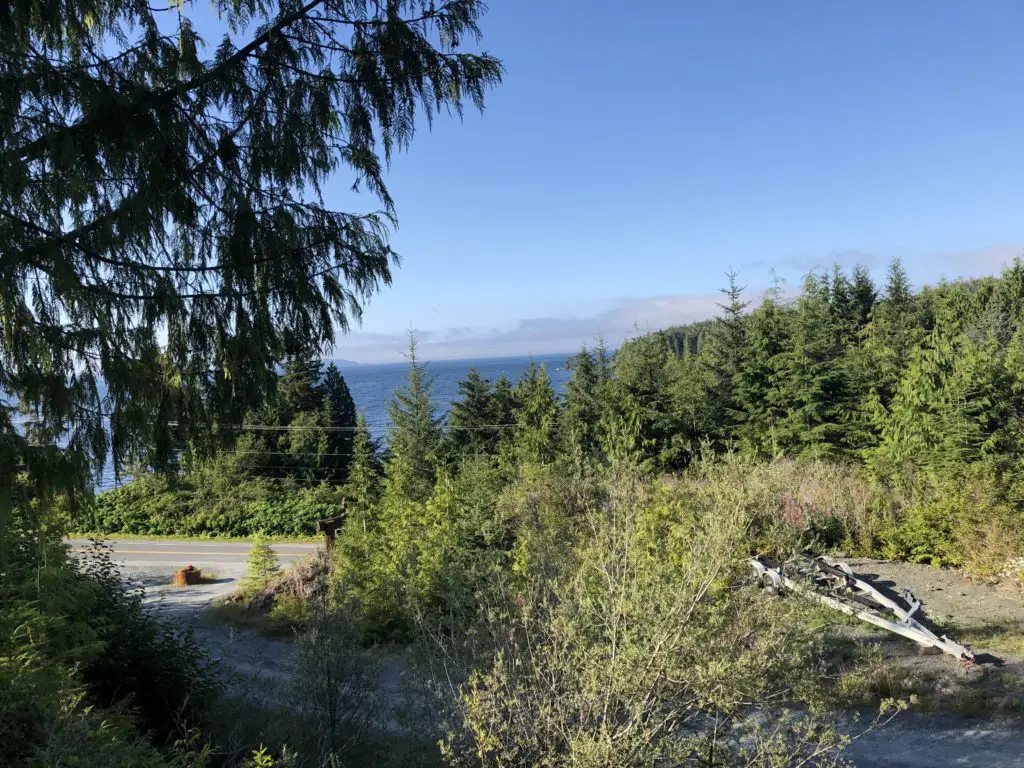 They were very affordable for anyone concerned about budget
Extremely close to the boat launch, bait and tackle shop
Parking for our boat, including an area to perform wash down and flush
The rooms had all the amenities you might want, with the outdoor porch offering a decent view of Hardy Bay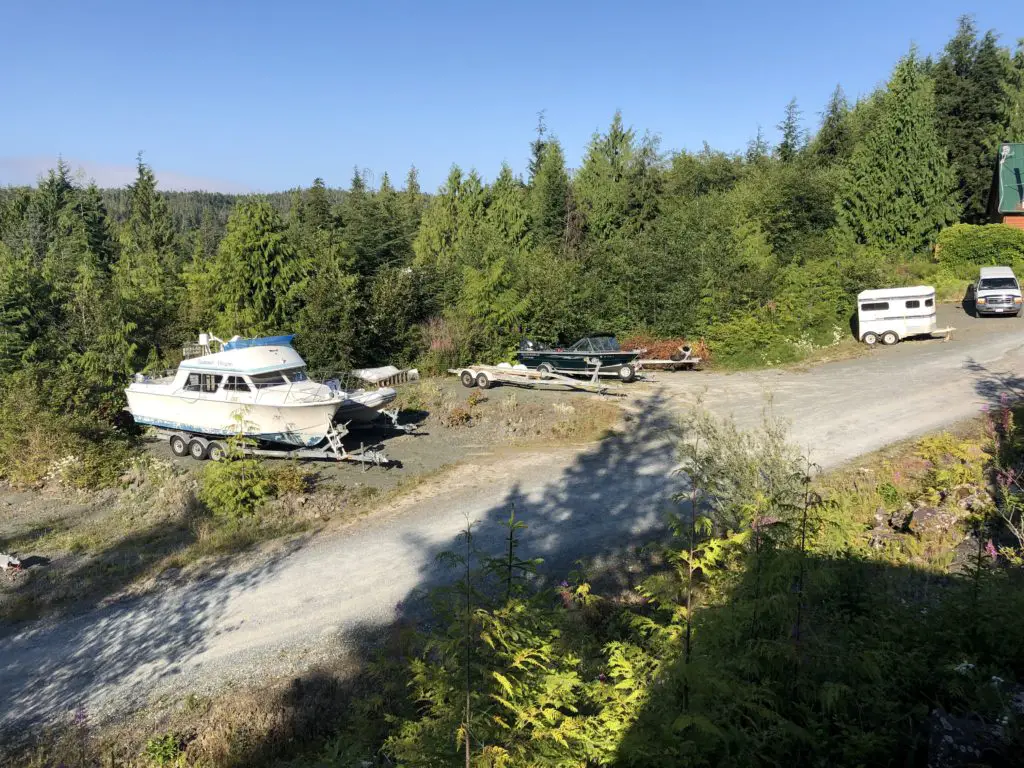 Additionally, the owner, Wade who also runs Wicked Salmon Sport Fishing and can provide a package deal for staying at his place and going out on his charter every day, was a great host. Even though we weren't using one of his charter packages, he gave us great intel that helped our fishing experience and was in general a pleasant person to deal with.
Where to eat during your Port Hardy stay
We ate at 3 different places while we were there.
Lyon's Den Pub – You can access this on the 2nd floor of the Glen Lyon Restaurant near the Glen Lyon Inn. Seating is self service and if you get there early enough you can grab a window table with a great view of Hardy Bay. We watched pink salmon jumping and rolling in the bay while we ate a very tasty meal. While the service was friendly, they seem understaffed and we had trouble getting what we needed to have a great experience. Price / value you though was great. On Wednesday they have a 6$ for 10 chicken wings deal. I definitely would recommend showing up on that day.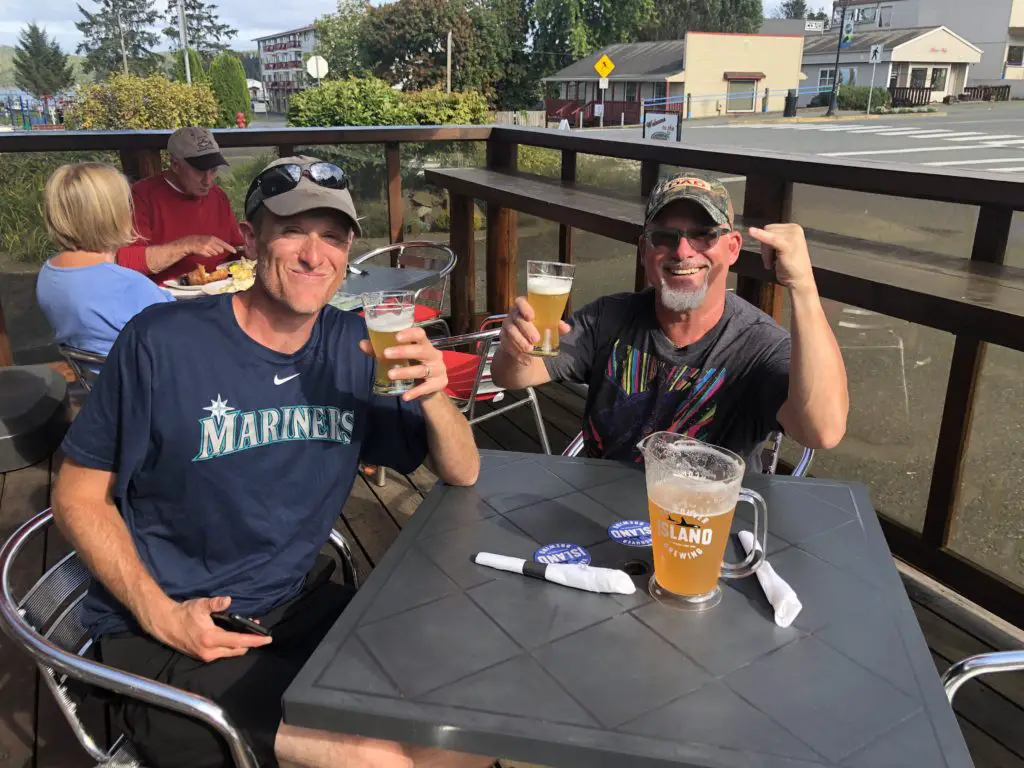 Sporty Bar and Grill – While a bit more pricey, the service and food were top notch. They offer both inside and outside seating and have a wide ranging menu covering some great seafood options, salads, pasta and steaks / burgers.
Seto's Wok and Grill – Also a great price / value for the food and good service. Try the Singapore noodles and Wor Wonton soup. All very good!
Licenses for Port Hardy fishing
Getting licensed to fish Port Hardy is relatively easy. You should start at this DFO page to apply for a license. We paid 32.55$ for a non-resident 5 day license for fishing tidal waters which is pretty awesome. You definitely want to be familiar with the regulations for Area 12 (the area around Port Hardy). You should also check out Area 11 if you decide to head to Cape Sutil and Area 127 if you plan to fish the Winter Harbour area.
Fishing Port Hardy – Hire a charter or bring your boat up?
Or how about both? Each of these options will appeal to folks in different situations. In our case, it was our first time in the area, and while I generally feel comfortable catching salmon in a new area, I didn't want to risk being really off the fish and spending our 4 days of fishing, figuring it out. I wanted to experience 4 days of great fishing. So even though I brought my boat, I still hired a charter. I wanted to fish with Wade and Wicked Salmon Sport Fishing since we were staying at the Bear Cove Cottages, but he was completely book with folks who were doing the package deals of fishing + lodging.
Codfather charters have great reviews, came recommended by Wade and provided us an excellent time on the water. The charter captain we went out with (Yogi) got us on the fish and provided us with solid intel we could use in the next 3 days on our own. We also talked with the owner Mike and he gave us great intel as well. The entire operation is first class with competitive prices, great boats and gear.
If you get out on the water fewer than 10x per year chasing salmon and bottom fish, you may want to consider just doing the charter thing the entire time. These guys know where the fish are from day to day throughout the season, and help each other get on the fish for their clients. Every season brings a new curveball and if you are going to spend the money to get up to the northern tip of Vancouver Island and take the time off, you want to return home with fish.
If however, you have it dialed in and you are on the water a lot in your home waters, much of what you know will translate and we will discuss that further in this guide to port hardy fishing.
Where to launch?
One of the great conveniences of staying at the Bear Cove Cottages was the literal 1 minute proximity to the Bear Cove Boat Launch. And check it out… Free launching AND Free parking….! And there's ample parking, boat wash down and a bait shop that opens at 5 am…If you are from the Puget Sound area like me you are probably wondering what the catch is. It's just that simple. It doesn't get any easier then this. We would leave the cottages and 15 minutes later we would be motoring out to Daphne Point. And 10 minutes after that we would have our first salmon on 🙂
Fish to target in Port Hardy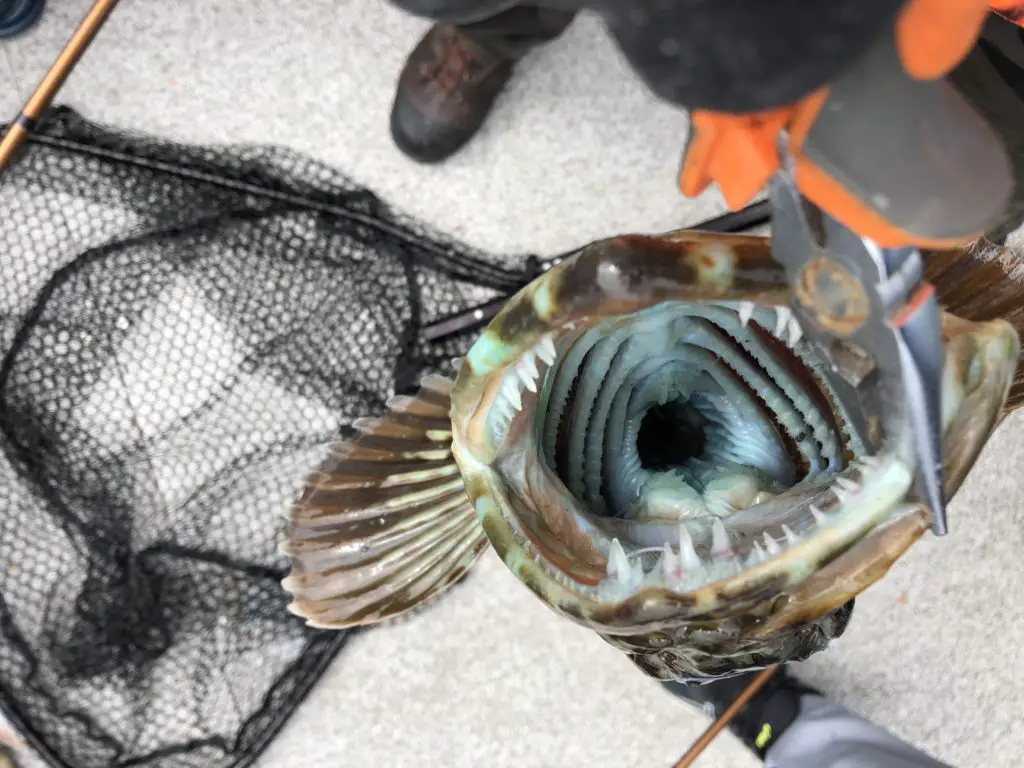 The species which are generally targeted out of Port Hardy are Salmon, Ling Cod and Halibut. There are also rock fish of many varieties, but the limits are quite small (1-3 depending on the area).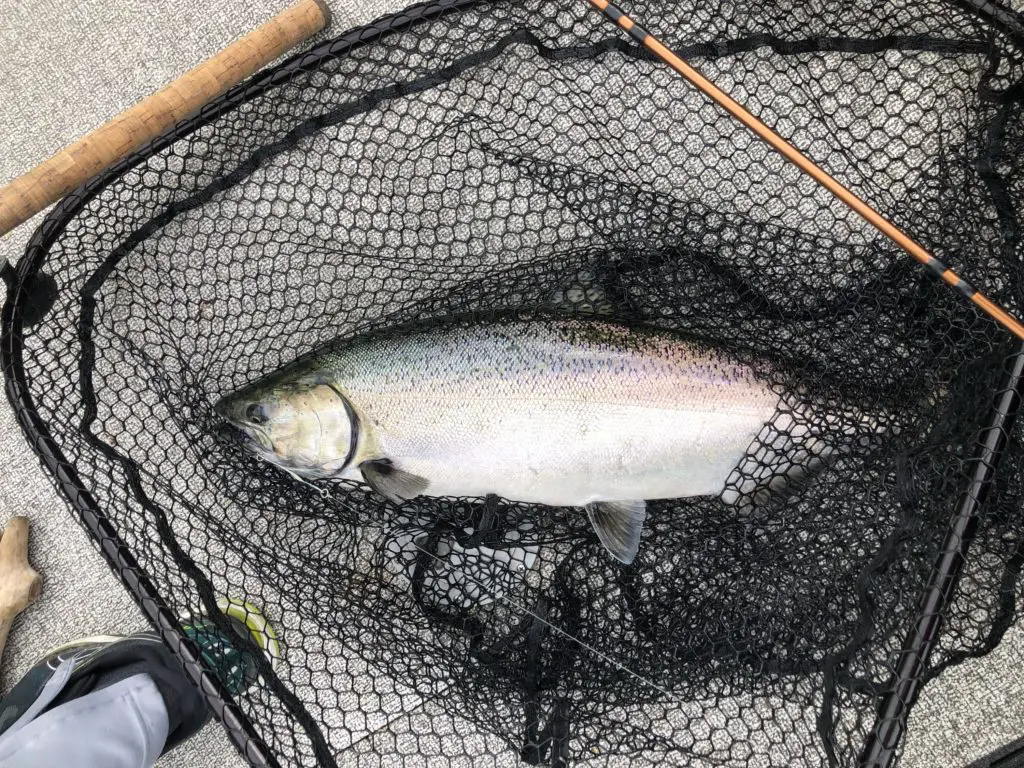 King (Springs in Canada), Coho and Pinks are the primary salmon species we encountered. Kings and Pinks were the most abundant when we were there in early August.
It was quite difficult to locate the Lings and Halibut, but you could grind them out by hitting some new areas and spending the time.
Where to fish in Port Hardy?
I would break Port Hardy into 4 different areas:
Outside or Cape Sutil in Area 11
Northern parts of Area 12, Gordons, Deserters, etc
Local or areas right around Hardy Bay
Quatsino Sound and Winter Harbour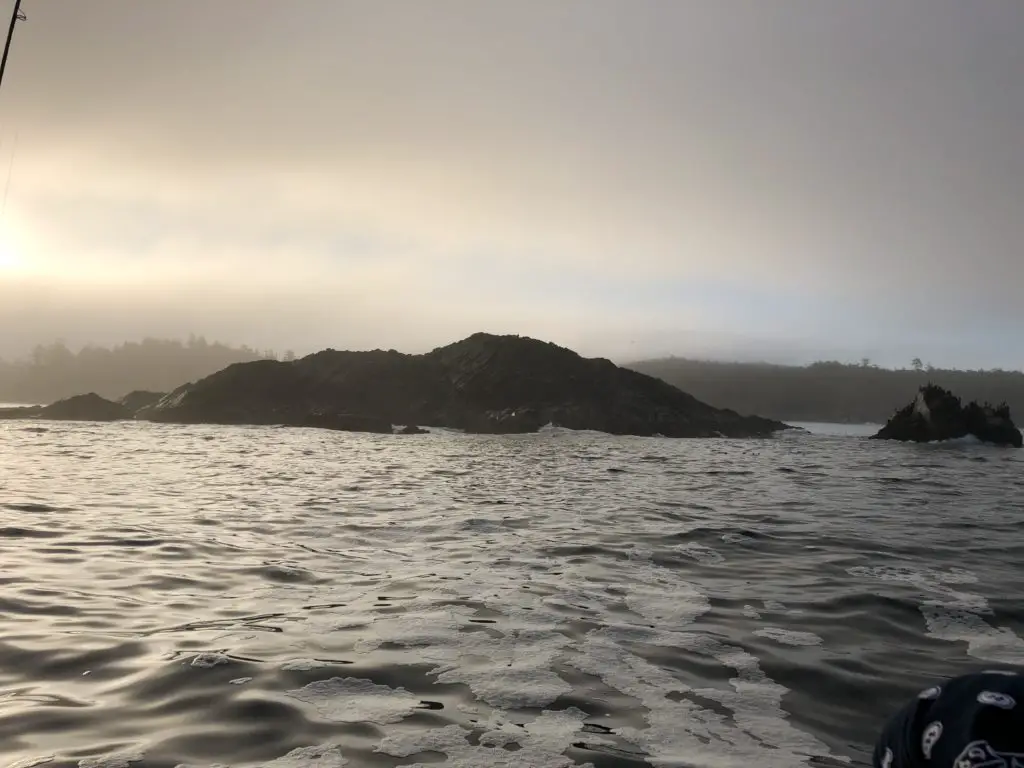 First, fishing the outside or Cape Sutil will provide you with expanded limits of what you can keep, which I won't quote here for fear of being outdated in future years reference. This is where the charters all generally go to get their clients on as many fish as possible. It's a solid 1 hour run up Golitas Channel from the Quarterdeck Marina. If you wanted to make this trip yourself, you really need to check wind, tides and be aware of the fog situation. To make it to Cape Sutil you have to cross the Nahwitti Bar. This can be a dangerous bar in the wrong conditions. West wind and an ebb tide can make for some bad scenarios. Be aware of both the tides when you go out and when you plan to come back to avoid a dangerous situation. You should also be aware of the ocean conditions, wind + swell height and the wave duration. In most light wind days, you will also encounter dense fog. I would not personally make the run out to Cape Sutil without radar on a day with heavy fog.
The great thing about making the run out here is you can expect to encounter all species of salmon, and all the bottom fish you can catch with expanded limits. There are periods when the fishing out there slows down though. It was a bit slow while we were there, but was expected to pickup again as the coho push in.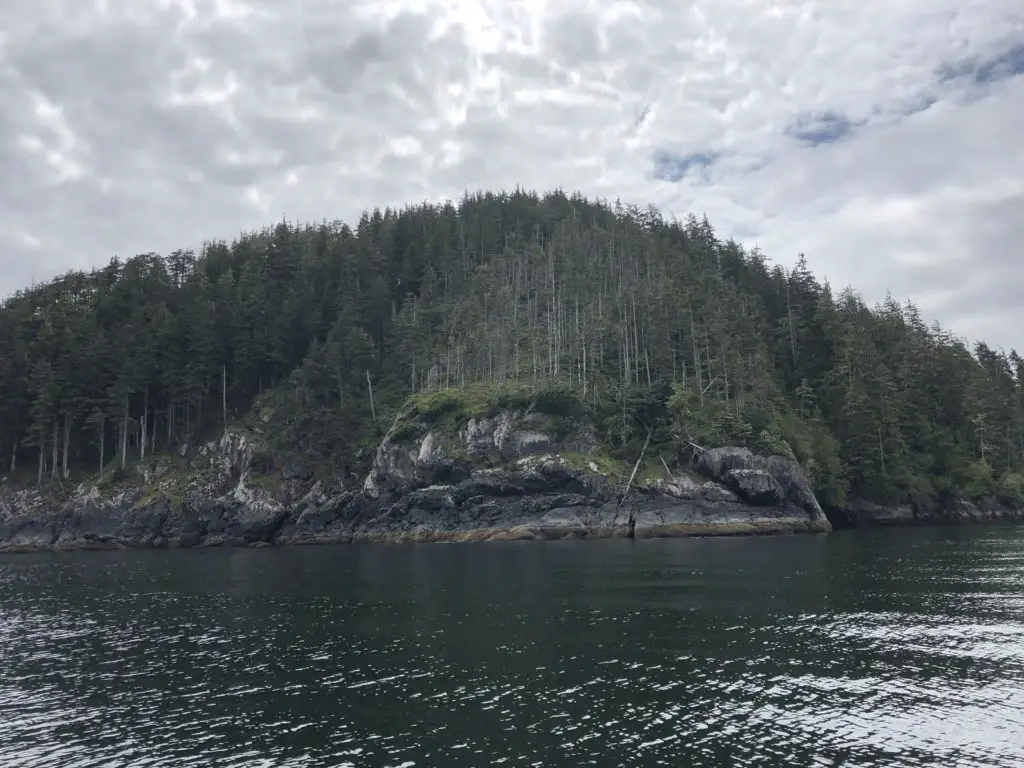 Fishing the northern parts of Area 12 such as the Gordon Islands, Deserters and beyond was probably my favorite area. There are just so many places to fish, you cannot hope to discuss them all here while maintaining any respectable length to this page. If you want to find yourself alone, around whales and hundreds of birds in calm waters, this is where you go. You do need to pay attention out there though. On most calm wind days, you will not be able to get past the Gordon's without being surrounded by fog, and the channel between the Gordon's and Deserters has many a cruise ship and container ship passing by, so without radar, you are really taking a risk. Usually the fog will lift by 9-10 am and allow you to get out there. Be mindful of wind picking up in the afternoon around 2-4 pm though. We had a great day where the wind was calm with zero fog that allowed us to stay out there most of the day. You are still dealing with Area 12's more restricted regulations, but you can expect to encounter all salmon species, ling cod and halibut in this area.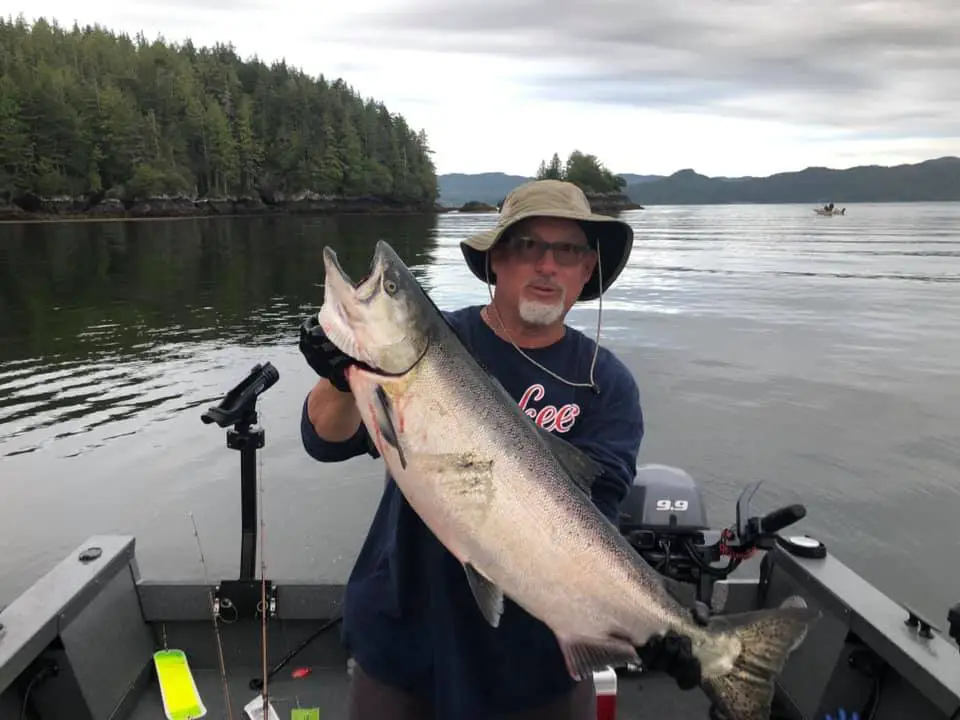 The areas right around Hardy Bay can be absolutely awesome. We hooked 6 kings and a coho in 2 hours at Daphne Point one morning just trolling circles on the east side of the point. An early morning flood tide that's been going for a few hours provides great conditions for hooking salmon here. I know some had luck at Duvall Point as well, though we didn't spend much time there as Daphne was too good. We also had an amazing time mooching the kelp beds on both sides of Daphne, including losing a 30+ lb fish that jumped 5 ft out of the water twice and spitting the hook about 20 ft from our boat. We also put a 20 lb fish in the boat with this method. We would basically start and end each day here before moving on to other areas once the bite slowed down. You could stay in this area all day though and keep pounding it as fish move in at various tide stages. It seemed like anytime we rested it and came back after a while somewhere else, it was just on.
Finally, we should discuss Winter Harbour and Quatsino Sound. And to do that properly we must include the context that getting into spot prawns or dungeness crab around Port Hardy is extremely unlikely. The solution though is to spend a day launching from Coal Harbour (10 miles from Port Hardy), and get your shellfish fix in Quatsino Sound. Prawn and crab are abundant here. Additionally, there was a coho season open and some places like in front of Marble River that provide a decent opportunity.
You can also make the 1 hour run from Coal Harbour to Cliffe Point and the area around Winter Harbor through protected waters to focus on all species of salmon. We were told that bottom fishing wasn't very good without going much further offshore, though I've seen references to some Lings being in that area as well.
Fishing gear and Techniques
One of my favorite things about fishing this area is that gear and techniques were really simple. Salmon fishing can be as simple or as technical as you make it. Getting South Puget Sound chinook to bite can often be extremely technical as you target fish approaching their home rivers with much smaller appetites. That's the polar opposite up here in Port Hardy. We would mark fish on our sonar and immediately a rod would go off. Additionally, all species you want to target bite on the same gear! That's right, you can get Halibut, Lings, rockfish and all salmon species running the same stuff. You can also get it dialed in more for a particular species, but without further introduction, here is what we did that not only fished well for us, but also seemed to perform relatively well as we compared our results to others fishing in the area, including the charters.
Below are product descriptions and helpful links to purchase from Amazon. As an Amazon Associate we earn from qualifying purchases you make via the below links. Using the links below costs you nothing additional, but allows us to keep putting out quality content that hopefully helps you to enjoy the outdoors in the Pacific Northwest.
We generally would run an 11″ flasher, and as long as that flasher had some amount of green or chartreuse on it, it did quite well. Back down in the Strait of Juan De Fuca I run more blue, but up here it was all about the green.
The charter we went on liked to run white hoochies or anchovies in a helmet, but we didn't hook much on either. We did quite well on spoons however. The best spoons that produced for us were as follows:
Silver Horde Kingfisher 3.0 in Herring Aide
Silver Horde Coho Killer in Herring Aide
Silver Horde Kingfisher 3.5 in Herring Aide
We caught just about every species running those spoons in combination with the 11″ flashers. We would generally fish 30-70′ of wire with 12-15 lb balls. Anywhere from 10 ft+ off the bottom to mid water column. Around Daphne, we would be mid column down near structure and about mid column up in the deeper water off the point.
The other deadly piece of gear was the pink Ace High Fly Jr rigged 15″ behind an 8″ flasher and deep six diver on the "shotgun rod" out the back between our downriggers. This hooked pinks, coho, seabass, etc in very good numbers. While we hooked more kings, lings, etc off of the downrigger.
Some of the most fun was power mooching at about 1 mph with 4 oz chartreuse sinkers and 6-7 ft mooching leaders with plug cut green label herring around the kelp beds. That mooching bite combined with big fish hooked close to the boat is truly epic.
Processing your fish
Ok, so now you have all these fish, what to do with them all so you can enjoy them for the next several months? While there is certainly the option of bringing up your own freezer situation with a vacuum sealer, it was such a great experience taking our catch to Hardy Boys in town every afternoon. We would bleed and bonk the fish, and then bring the whole fish to Hardy Boys to be professionally filleted and packaged into 1.5 lb chunks. They kept our fish in a deep freezer for us, and then for our last day they split the fillets up between us, packaged them with ice in an airtight container and sent us on our way. The cost was only a little over 100$ CAD each, though it is calculated per pound.
It added so much to the experience to not have to clean our fish and process them at the end of each day, we instead got to relax and prep for the next day.
Summary of Port Hardy fishing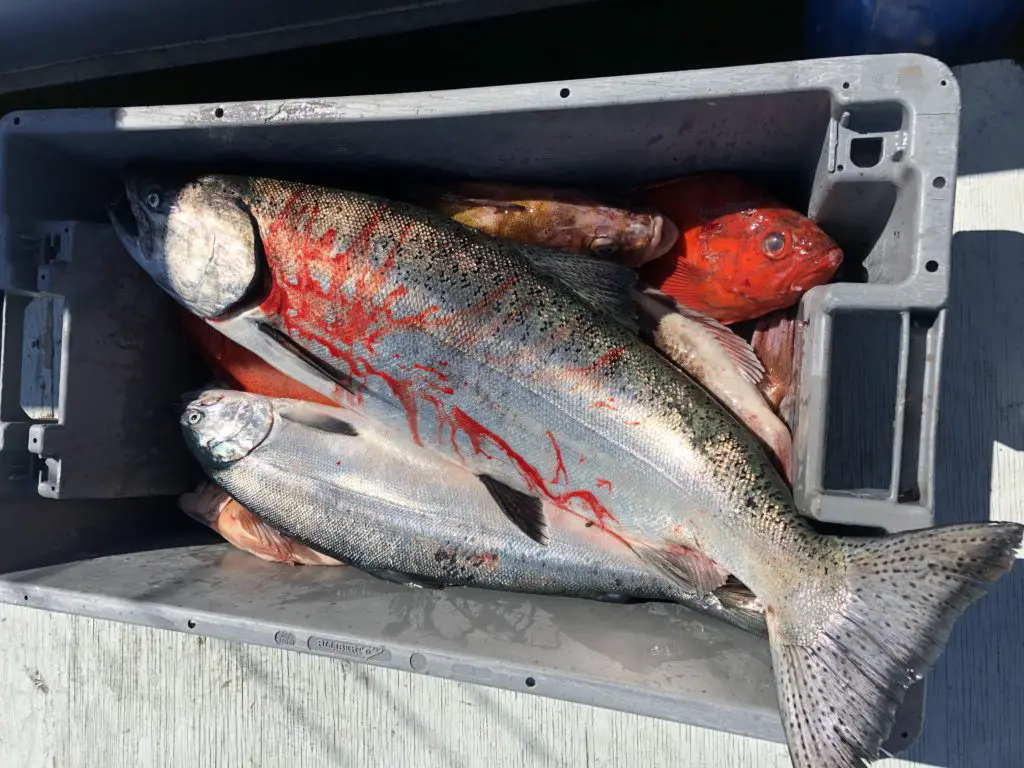 Make your plans and go! This is going to be an annual trip for us as the experience was just too good to not come back. The fishing was one thing, but the experience of being out there had an almost magical quality to it. You have to experience it to understand, as no blog article can do it justice. We made this trip of 5 nights, 4 full days of fishing for < 2000$ USD per person (including our charter trip). We each came back with nearly 50 lbs of professionally filleted and packed seafood comprising many different species of tasty critters. If you have a smaller boat and you are looking for an epic northern pacific experience in calm water with salmon, halibut and ling cod on the agenda, this is the place you want to hit.