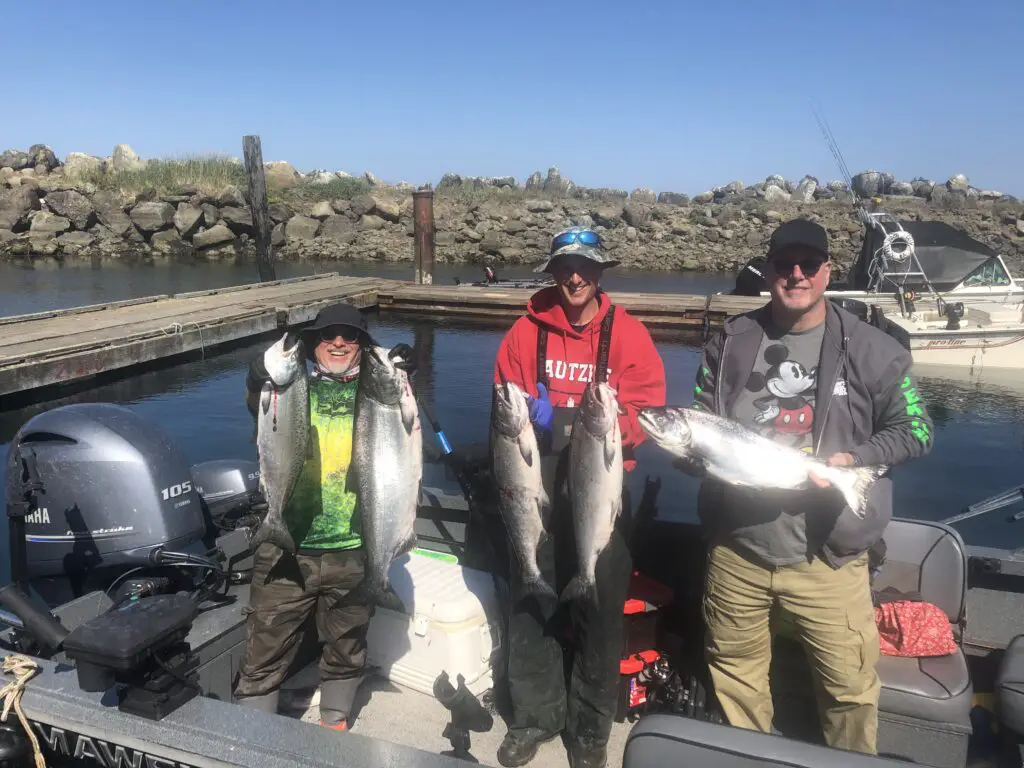 I cannot think of a better place to enjoy salmon fishing than Neah Bay / Marine Area 4. This is truly my happy place and it's not even close. I love Tatoosh Island. I love that I can fish here most of the year for some species of fish. I love the generally protected water that allows smaller boats to get out and enjoy incredibly scenery and often great fishing.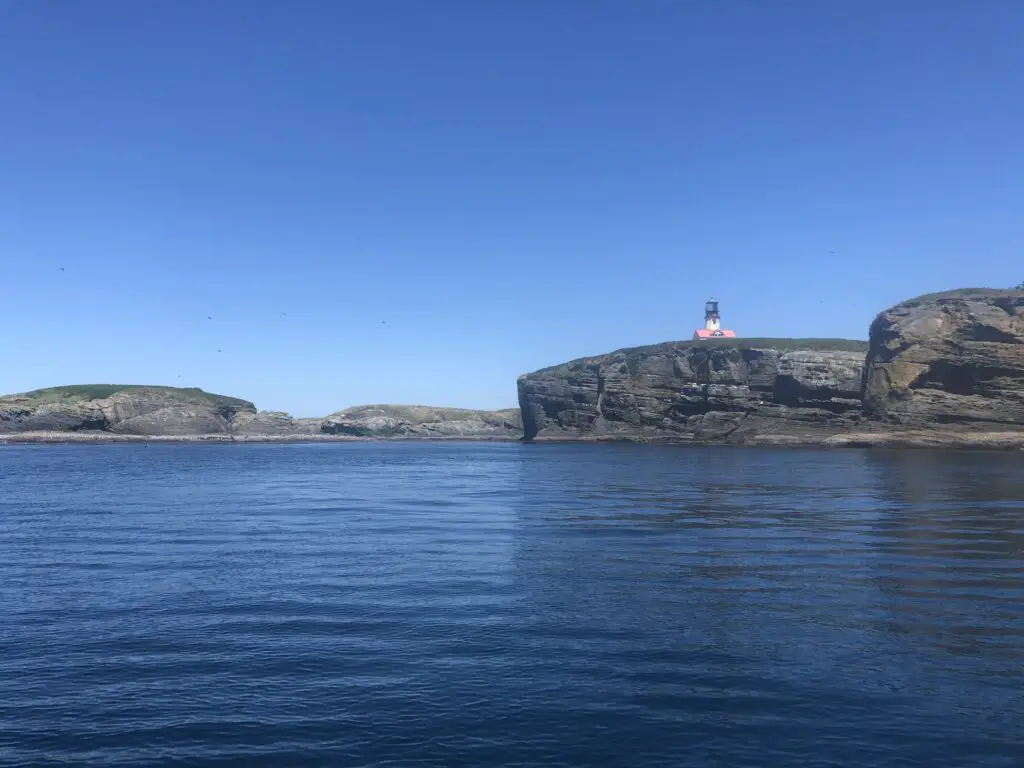 This page will hopefully help you enjoy this area as much I have been able to and provide you some tips for catching your limit of salmon while staying safe on the water.
If you are looking for information on fishing for bottom fish in Marine Area 4 / Neah Bay, checkout that link.
Latest posts / News about Marine Area 4 / Neah Bay
Are salmon being caught right now around Neah Bay / Marine Area 4?
Checkout the below series of graphs that are updated automatically as WDFW publishes their creel reports.
Are Coho Salmon being caught in Neah Bay / Marine Area 4?
Are Chinook Salmon being caught in Neah Bay / Marine Area 4?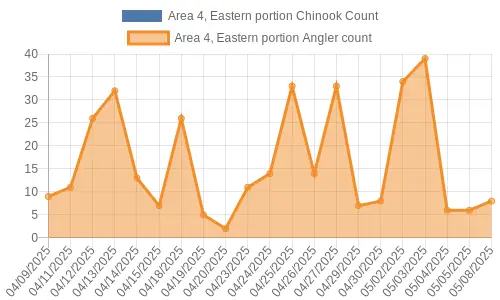 When to fish Neah Bay for Salmon in 2023?
Every year, the State of Washington represented by WDFW engages with federal regulatory bodies and tribal co-managers to figure out appropriate salmon seasons on stocks of salmon bound for their natal streams.
The process begins in March and culminates towards the end of June as salmon seasons are finalized and communicated to the public.
During this period, one needs to consult emergency regulations more so than permanent regulations for any openers in that time-period of March – June. I've described this topic extensively in my guide to understanding WDFW saltwater salmon regulations.
As the forecasts for the salmon seasons are released and made public I will post them to this page.
Typically, a season for salmon in Marine Area 4 will kick off in mid – late June and go until the quota is exhausted. Allowing retention of 2 salmon, with a requirement to release wild coho.
Again, the above are not the actual current year fishing regulations, but to give you an idea if you're making trip planning decisions. The salmon seasons were heavily modified via emergency regulations throughout 2022, making trip planning quite challenging.
In terms of when are salmon typically being caught in Marine Area 4 and Neah Bay, checkout the below charts on historical catch records.
When are Coho Salmon typically caught in Marine Area 4 / Neah Bay?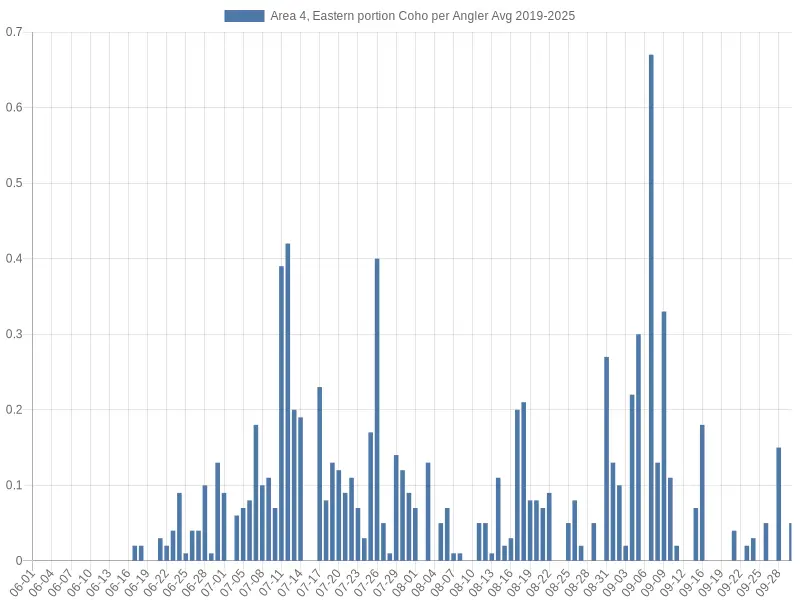 When are Chinook Salmon typically caught in Marine Area 4 / Neah Bay?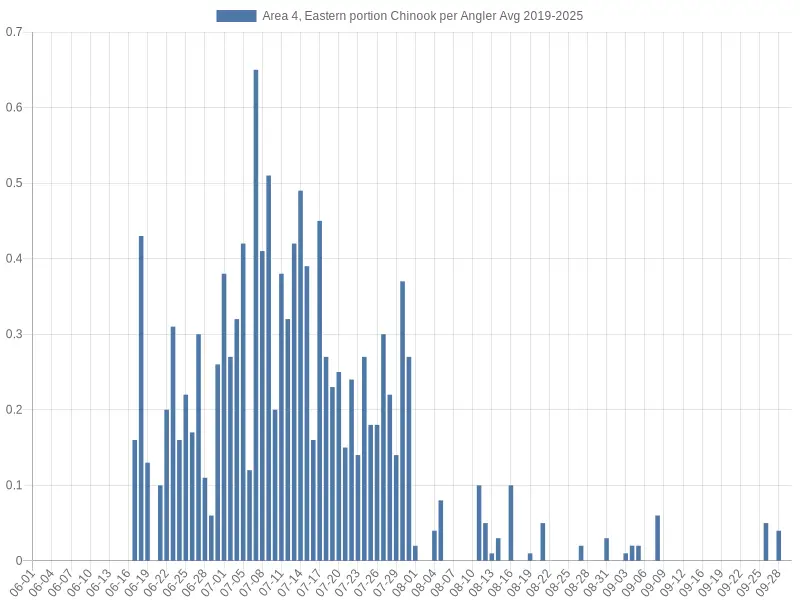 Creel checks typically are only happening around Sekiu I believe so there's quite a bit of noise in the data, but most of the time Marine Area 4 is open there are plentiful out-migrating salmon (Blackmouth) as well as returning salmon to target.
Forecasts for Neah Bay / Marine Area 4 for 2023
This section will get updated as forecasts are released.
Fishing Regulations for Neah Bay / Marine Area 4 in 2023
Please refer to the permanent regulations for Marine Area 4 as maintained by WDFW here. Keep in mind that in most cases from May to late June, these regulations will refer to the prior year where seasons are listed, and especially with regard to salmon.
Need more help understanding saltwater salmon regulations? Consult our guide to understanding saltwater salmon regulations in Washington here.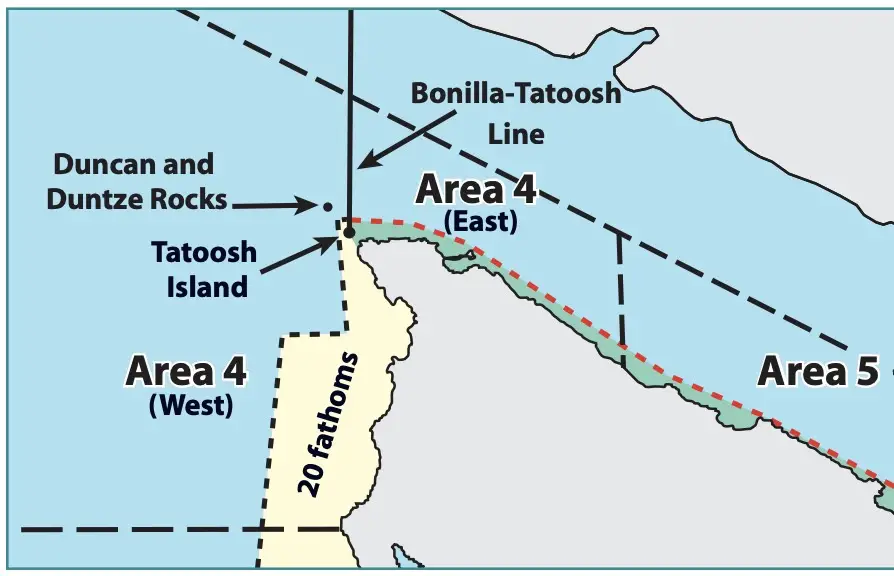 It's important to understand how Marine Area 4 regulations are structured. You can see there's an Area 4 West and an Area 4 East.
Salmon fishing regulations are often different as salmon encountered in Area 4-East are often considered as Puget Sound fish vs salmon traveling in Area 4-West are more relevant to what's going on in the Columbia River.
Emergency Fishing Regulations for Neah Bay / Marine Area 4 2023
The above permanent regulations for Marine Area 4 are subject to change at any time and without being updated on this blog. One must consult the WDFW Emergency Regulations before any trips to ensure they are in full compliance with state laws regulating fisheries.
How to fish for Salmon in Neah Bay / Marine Area 4 in 2023
A lot of salmon fishing in Marine Area 4 and saltwater locations in general is done with downriggers. I've written an extensive guide to fishing for salmon with downriggers and also posted a how-to video for beginners to help you get started:
One of my favorite nearshore methods to target big chinook salmon is motor mooching. I've written a bit about motor mooching for salmon here. I've also shared a video about it below:
Motor mooching can be a great technique in shallow water just off of the kelp beds and reefs.
Its important to realize that the chinook you encounter in Marine Area 4 actively feeding and don't require a great deal of convincing to take your terminal offering compared to say targeting chinook in the interior of Puget Sound where they are closer to spawning and not as willing.
Because of how great the bite usually is and how dynamic of an environment it can be, I like to keep things pretty simple. If I'm downrigger trolling, I'm fishing spoons 38-42″ behind an 11″ flasher. I will share my favorites with links below.
Favorite Salmon Trolling Flashers for Neah Bay / Marine Area 4
I primarily run two flashers for shallower water trolling down 35-70 ft. The first:
I've hooked so many nice king salmon behind that flasher!
The second:
The Gibbs Bon Chovy is incredibly versatile for both chinook and coho.
For deeper water trolling, I may use something like the above lighted flasher from Pro-troll.
Here's the Gibbs Bon Chovy Flasher on Bass Pro if you prefer that.
Favorite Salmon Trolling Spoon for Neah Bay / Marine Area 4
My absolute favorite spoon that you often times cannot find in a physical store because they are sold out (so you should buy with the below link):
The Silver Horde Kingfisher Spoon in Herring Aide pattern.
A close second is the same spoon but in the Cookies n Cream pattern.
Combine the above two spoons with the above flasher options and if you aren't getting bit, it's probably something else going wrong.
It's important to keep in mind that many approaches will work, but you do need to have confidence in what you're doing for the simple reason that if it's not producing you should be moving and covering water vs sticking it out, unless conditions such as a tide change are about to become in your favor.
Trolling speed and strategy in Marine Area 4
Speaking of covering water, travel with the current, which is usually moving quite good and troll at 3-3.5 mph (potentially more or less depending on what the current is doing).
A lot of folks will troll in deep water, but I really like to stay in about 50-90 ft of water with my gear anywhere from 35 – 70 ft down. I don't drop it all the way to the bottom for a few reasons:
The bottom is quite rocky and it's easy to lose lead
The bottom can come up quite quick if you're following a contour line in shallow water
There are a million 8″ lingcod sitting near the bottom that will hitch a ride on your spoon with absolutely no tell that transmits to your rod to let you know you are wasting your time.
On to the next section for my general rules on where to fish on what tide in Neah Bay / Marine Area 4
Where to fish for Salmon in Neah Bay / Marine Area 4
Checkout a video I made about very specifically a favorite flood tide troll just west of Neah Bay in Marine Area:
There are two trolls I advocate for. One, on the flood described in the video above and the picture below.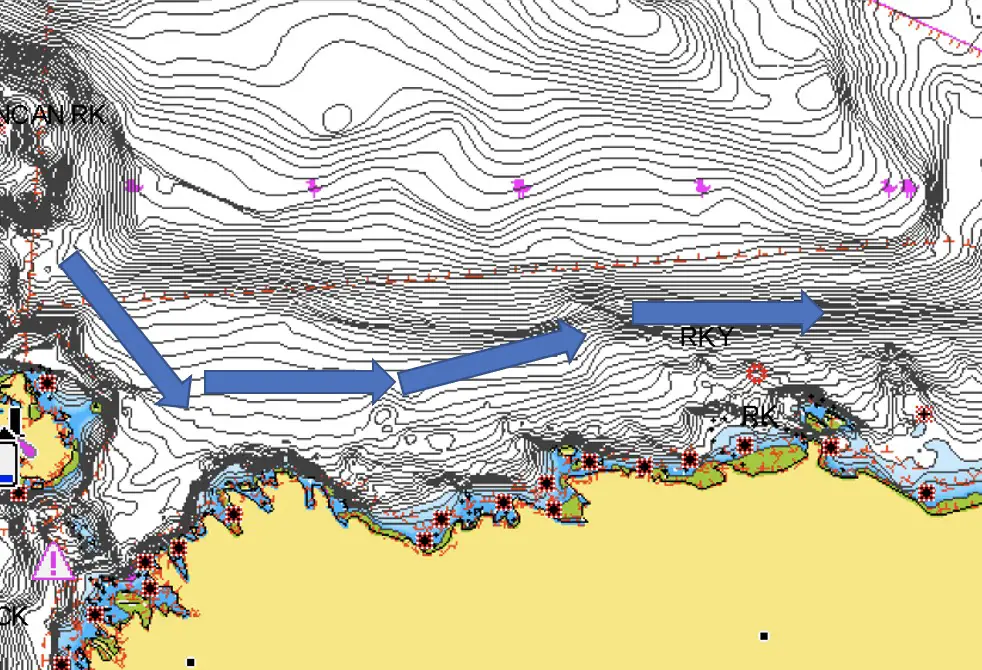 You can start the above troll headed south off of Tatoosh or right around Mushroom rock and head east with the flood. Columbia River fish like to dip in here on the flood tide chasing bait into the steep rocky slopes. One of my favorite trolls.
The other one is on the ebb and starts near Seal / Sail, depicted below and ends around Waadah Island, and depicted in the above video where I caught a 20+ lb chinook in 2020.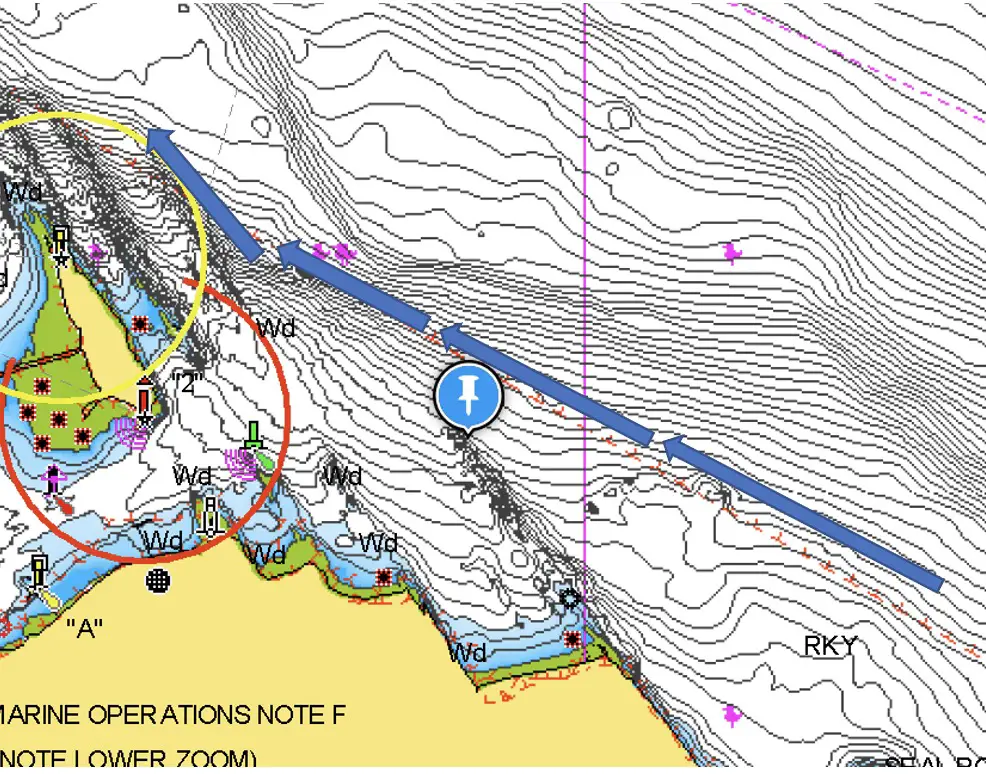 Typically, the regulations don't allow you to fish for salmon until Seal / Sail, so start there with the ebb current and fish it all the way until you have to head NW alongside Waadah Island. Keep it going all the way to Neah Bay if you like.
Planning a fishing trip to Neah Bay / Marine Area 4
I've written a bit about trip planning for Sekiu salmon fishing at that link, and it applies here as Sekiu is one of the primary places to launch from to access Neah Bay and the waters of Marine Area 4.
The only thing I would add is that Van Ripers has emerged for me as my new favorite place to stay in Sekiu, though Mason's is of course great as well.
Post the pandemic, Neah Bay has been open again as well, which allows you to stay closer to the prime waters of Marine Area 4, and there are several good options to consider there.
The real challenge to trip planning is the salmon management in Puget Sound impacting the season in Marine Area 4. In 2022, Salmon fishing was closed every other day in Marine Area 5 and closed completely in Marine Area 4 for a good chunk of the prime dates of the season.
Those who arrived early in 2022 were blessed to experience extremely good chinook fishing, but most fish kept were 22-26″ out-migrators in late June. This continued until the season closed.
Planning a trip in August or late July after all the Puget Sound fish have largely passed through may be a better bet, as seasons on the Columbia tend to be more stable and Marine Area 4 may re-open even if it closed early based on concerns for Puget Sound Chinook. This scenario is what played out in 2022.