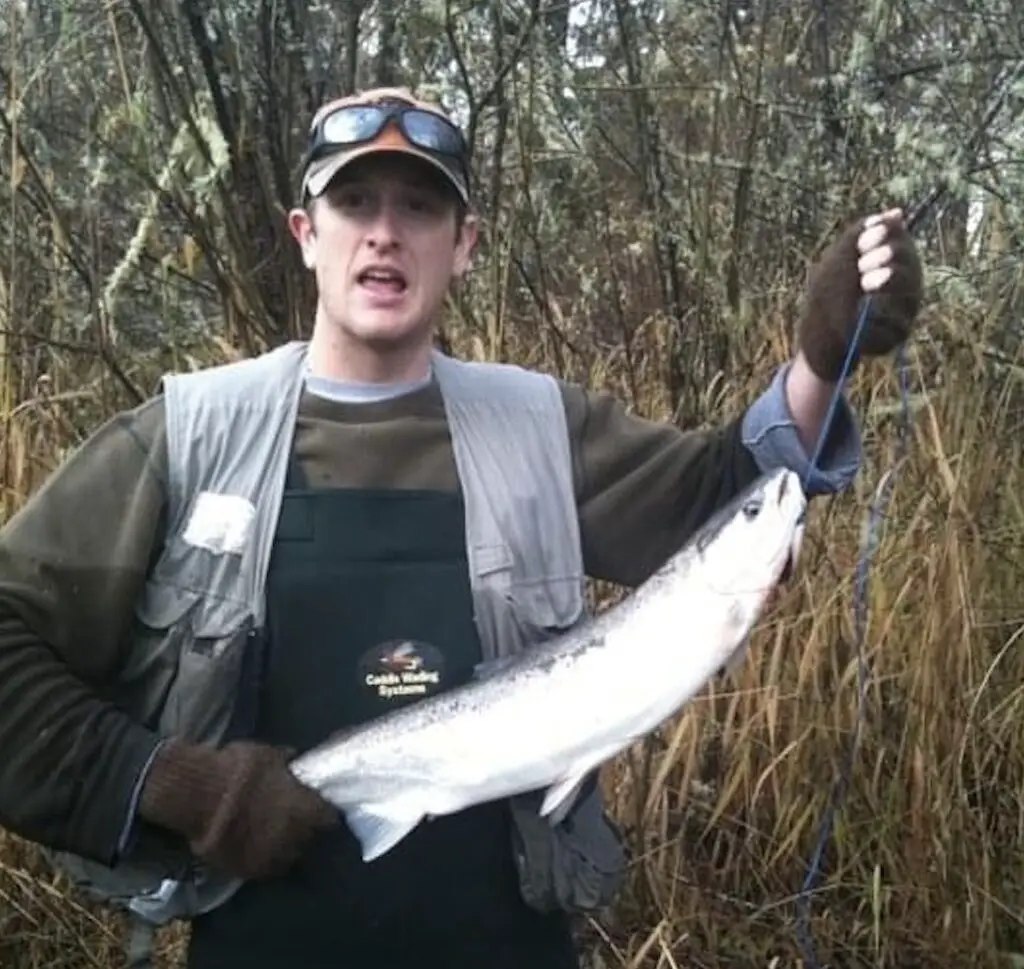 The most controversial of all winter steelhead topics in Washington in the year 2022…
Will WDFW open the Skookumchuck River for winter steelhead fishing this 2022-2023 season?
Should I even be creating this blog post?
There's a lot going on here that winter steelhead anglers need to be aware of and we will have our answer to this question on Dec 1st when according to WDFW, the winter steelhead fishing regulations will be announced. I will attempt to explain the setup to this issue that will give clues as to the answer. Keep reading.
The Skookumchuck River is the furthest upstream tributary of the Chehalis River to have a steelhead hatchery on it. Throughout the year the Skookumchuck River is generally a small stream that emerges below the dam which creates the Skookumchuck reservoir. The Skookumchuck reservoir is fed by streams draining the heavily forested and mountainous region south of Yelm and generally west of the Cascade range.
As the wettest season hits, many of the feeder creeks dump more significant water into the Skookumchuck River making the flows more substantial.
The run of hatchery steelhead on the Skookumchuck river is considered "late stock", which are raised at the Skookumchuck fish hatchery just downstream of the dam. These are in-basin stock and upstream migration of any "wild steelhead" is completely blocked by the dam. In short, any steelhead making it this far up the Skookumchuck river essentially enter a "hatchery kill zone."
In terms of areas close to Pugetropolis, the Skookumchuck and other Chehalis tribs represent much of the steelhead fishing and harvest opportunity since Puget Sound River steelhead options are extremely limited.
Why wouldn't these hatchery areas be open every year without question? The Chehalis River system in general has some of the weakest returning stocks of wild steelhead in the state and a combination of factors which I will explain more fully in this article or linked pieces will try to explain things.
But first:
Let's take a look at a couple of new features I've got up on the blog to help you understand run timing and how many steelhead are returning at the hatcheries
Automatically updating graph of the Escapement Report for the Skookumchuck River
Historical run timing graph providing a visual of when steelhead normally return to the Skookumchuck River
Steelhead forecast section that attempts to paint the picture of what to expect with steelhead smolt plants, escapement history and other data provided by WDFW.
All of these features are here to aid you in your trip planning efforts to increase your likelihood of success.
Updated Status of returning hatchery Winter Steelhead on the Skookumchuck River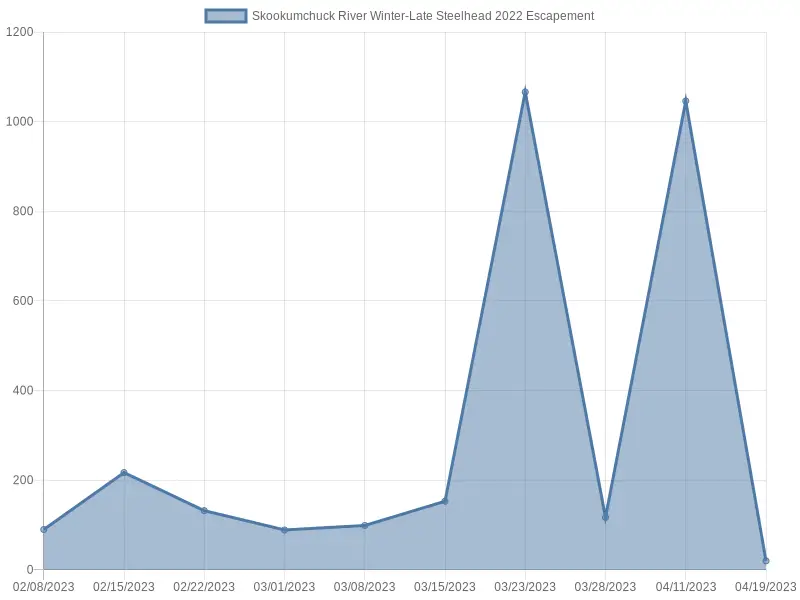 Once steelhead start returning to the hatchery and get reported by WDFW, this graph will automatically update, typically on Thursdays.
Historical Run Timing of hatchery Winter Steelhead on the Skookumchuck River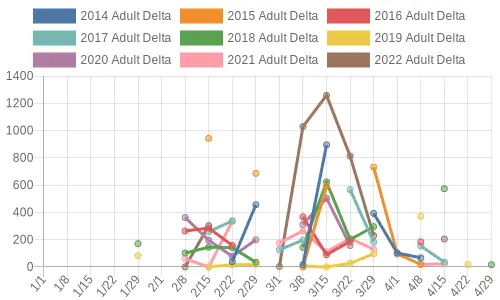 As you can see, the late run winter steelhead kind of trickle in until February, with the peak being sometime in March and sometimes decent returns continuing into April. Steelhead will be caught here as early as even December / January as well.
Fishing Regulations for the Skookumchuck River 2022
Note: Per the 2022-2023 steelhead regulations announced on Dec 1st, 2022 by WDFW, there won't be a winter steelhead season on the Skookumchuck.
SKOOKUMCHUCK RIVER – LEWIS/THURSTON CO.
from mouth to 100' below outlet of TransAlta WDFW steelhead rearing pond located at the base of Skookumchuck Dam CRC (333)
All species
Aug. 16-Nov. 30
Night closure. Single-point barbless hooks required.
Trout
Sat. before Memorial Day-Apr. 30
Statewide min. size/daily limit. Except: Cutthroat trout and wild rainbow trout: min. size 14".
Other game fish
Sat. before Memorial Day-Apr. 30
Statewide min. size/daily limit.
Salmon
Oct. 16-Oct. 31
Min. size 12". Daily limit 6. Up to 2 adults may be retained. Release adult Chinook.
Nov. 1-Nov. 30
Min. size 12". Daily limit 6. Up to 1 adult may be retained. Release Chinook.
Dec. 1-Dec. 31
Min. size 12". Daily limit 6. Up to 1 adult may be retained. Release Chinook and wild coho.
Note Steelhead fishing will likely only be opened via emergency regulations
Emergency Fishing Regulations for the Skookumchuck River
Please refer to WDFW's emergency rules page for a full list that are in effect until I can get the e-rules automation working fully again.
It's your responsibility as the recreational angler to know ALL of these rules, not just what is discussed here on the blog.
Forecast for 2022 Skookumchuck River Winter Steelhead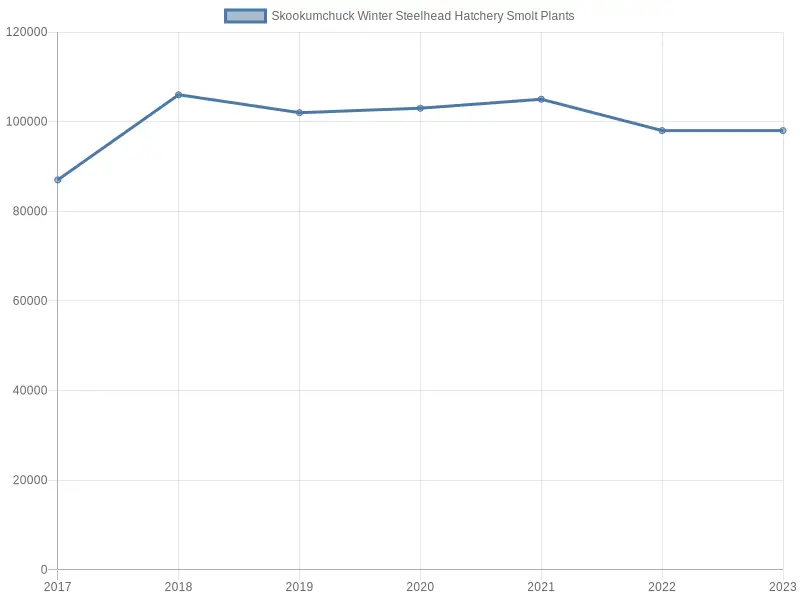 Note: Smolts planted in the 2021 year will predominantly return as 3 year fish in the 2022-2023 winter steelhead season.
As you can see since 2017, steelhead smolt plants have remained fairly steady.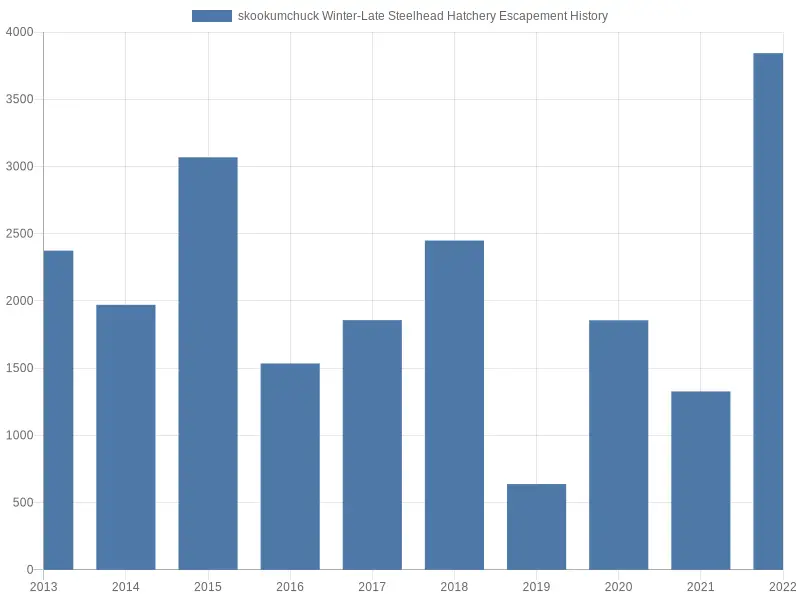 There were a few difficult years recently for winter steelhead which have been reflected throughout western Washington steelhead rivers, but the Skookumchuck has still provided decent steelhead fishing.
Sadly, those almost 4,000 returned hatchery winter steelhead in 2021 provided no angling opportunity.
Let's see what the WDFW biologists are putting out there: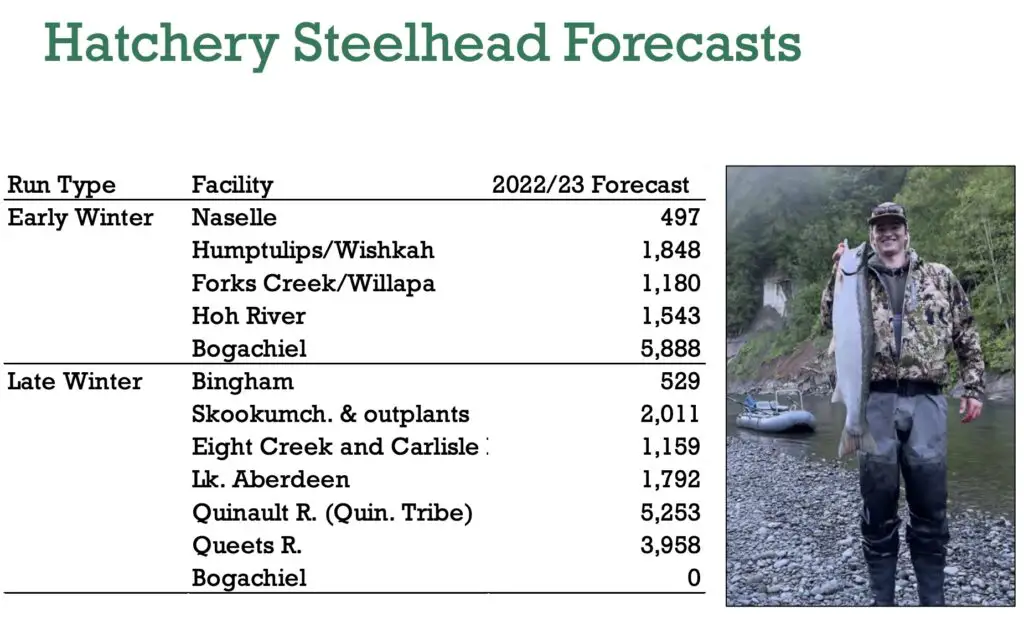 Forecasts seem to indicate an average return year for the Skookumchuck hatchery winter steelhead and likely not as good as 2021 and certainly not 2022 when harvest is factored in.
But will we get to even fish for these steelhead? Let's look at the wild stock situation: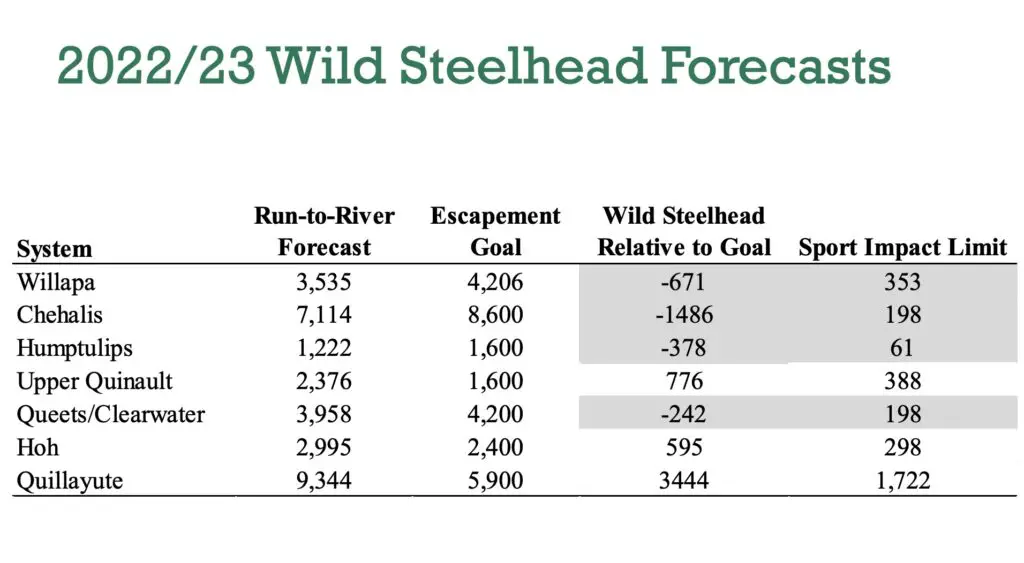 As you can see the situation is quite bleak with a sport impact limit of 198 for the entier Chehalis basin…and expected to miss escapement goal by 1486 steelhead. So far WDFW has been within 5-10% accuracy on these predictions based on the 2021-2022 evaluation.
Let's look at what WDFW has presented in terms of season options: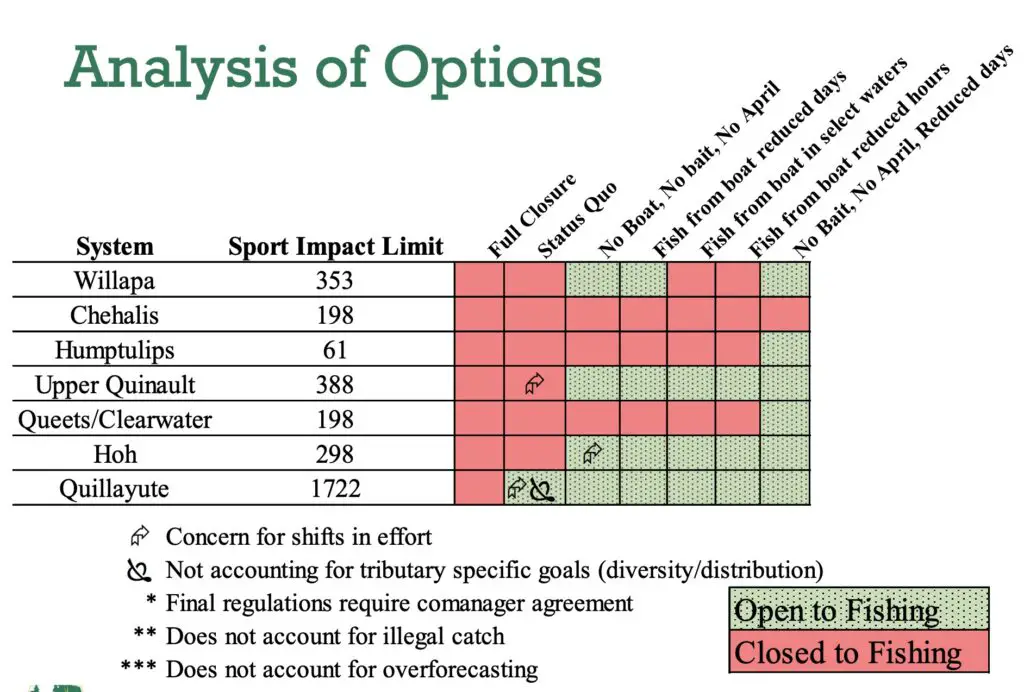 There's are ZERO scenarios in the above analysis of options that provides a fishing opportunity on Chehalis basin steelhead…
However…there was discussion at one of the meetings, that perhaps one tributary could be opened if all of the creel sampling and biologist effort was concentrated there. That tributary would likely be the Skookumchuck, but it would certainly mean other rivers wouldn't be opened as a result.

My hopes will remain pretty subdued though.
How to fish for Winter Steelhead on the Skookumchuck River
I strongly recommend starting out by visiting our comprehensive how to on fishing for winter steelhead. The article covers techniques, gear and a whole lot more.
What's unique about the Skookumchuck River though? For starters, the river is quite small compared to other rivers in the state which opens it up for many potentially effective steelhead techniques.
However, the biggest factor will likely come from the fishing regulations themselves. If we get a season, bait will almost be guaranteed to be banned. What's the hottest technique when you cannot use bait?
Soft beads!
You can rig these up to be fished on a drift leader or my favorite, under a float. You can read all about this technique in the aforementioned link on winter steelhead fishing, but here it is again.
I will typically put a split shot about halfway down my leader as the soft beads are neutral buoyancy and rig them about 2″ above my hook. My favorite soft beads are the ones made by BnR, and I will tend to use sizes from 14 to 20mm in colors from orange, pink, red and everything in between. Here's an amazon link below to get start with BnR soft beads:
Gearing up to fish for Winter Steelhead on the Skookumchuck River
I think the following rod is a solid place to start your approach to gearing up for the Skookumchuck, but anything in that class would be appropriate:
Much could be written on selecting the best rod for steelhead fishing, and outside of matching rod to fishing technique and river size, a lot of rod selection comes down to considering the kinds of casts you will make and the hook sizes you will use.
A rod needs to be able to drive the hook deep enough into a fish so that it won't come off easily, but also have enough give (slow action) for feisty fish to not come off.
I've written quite a bit about hook sizes, rods and reels in these linked articles, so I suggest you give them a read if you're looking for more, but here's what I like about the Okuma Guide Select Pro 9'9:
I run a lot of Okuma rods and they make a high quality low->mid range fishing rod that's suitable for most anglers.
I like the 9'9 length for techniques like float fishing where you constantly have to mend your line to keep it off the water.
I prefer spinning to casting due to the flexibility to make casts from many angles around cover, which is common in the blue creek area
I love the medium->light rating. That tells me it's going to have enough give to handle a spazzing steelhead, but allow me to drive a smaller hook, that is common with my steelhead fishing gear, home.
Lure weighting up to 1/2 oz will handle my 1/2 oz float setup or 1/2 oz drift weight or even size 3-4 spinner I may use.