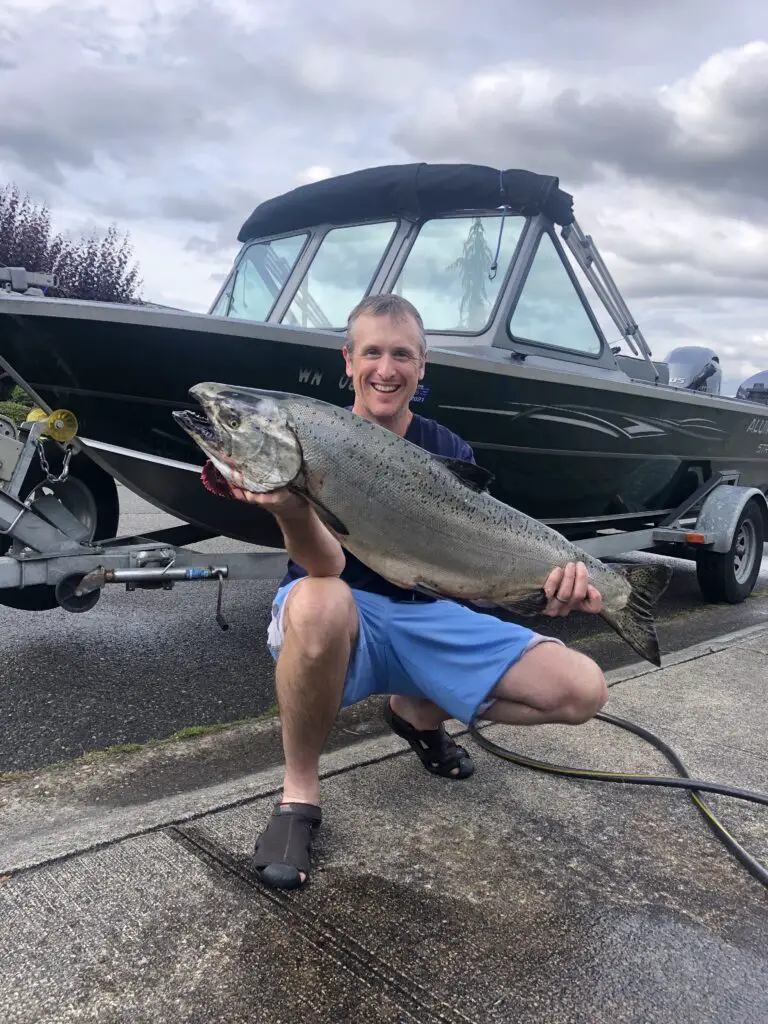 Sekiu (pronounced CQ) is on fire since it opened on July 1st, 2020. My friend who went fishing with me on the opener said it was the best salmon fishing he's ever experienced. I'm seeing multiple people with full limits by 9am in the morning. That's 6 kings for 3 people by 9am…
Now, just heading out there, you may not limit your boat before 9am (though it is possible). The creel reports have shown that the catch rate has been between .5 – 1 king per angler on average. These numbers are epic good for the sample size. Most of the time the king per angler rate will be .25-.4 (and that's considered good).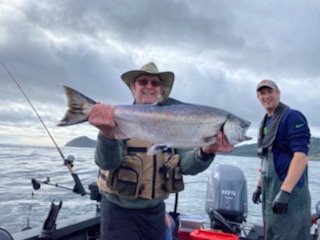 Checkout our dedicated page for all of what you need to know to fish for salmon around Sekiu.
We encountered quite a few unclipped fish the first day on the opener, but not as many on the 3rd (Friday), and from what I'm seeing most haven't had this issue. We probably hooked 8-10 nice kings on the first day and 6 on Friday.
The other thing we should talk about is the coho. Oh my! There was a stretch of period where we had 5-6 doubles in a row every few minutes. In fact, we should have simply avoided some areas to give us a better chance to hook into a king, as we could not keep the gear in the water due to the abundance of Coho. One of the positives though, is that the coho mark rate was 25-50% compared to the 5-10% we experienced last year (which turned out to be a poor return). This is important because many of the puget sound bound fish are clipped and much of the unclipped are headed to rivers like the Fraser in Canada where they don't clip much of their hatchery fish.
We did a lot of fishing with downriggers, which you can read more about here. We also used the motor mooching technique, which we also have a page devoted to.
Where to fish in Sekiu Washington?
Sea Caves in front of Sekiu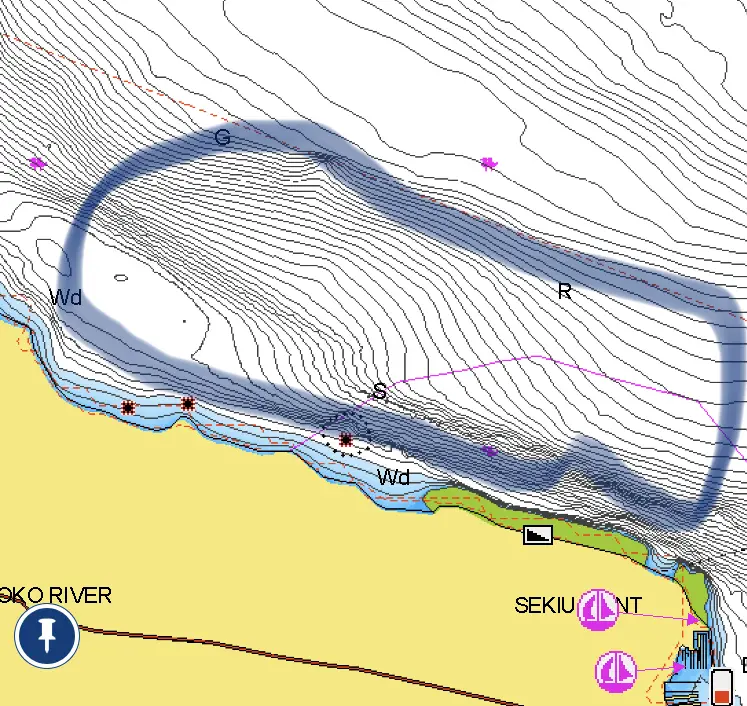 You can leave Sekiu on your kicker motor and have gear in the water within 100 yards. Just make a left, go around the corner and you will start marking fish. This is an epic and famous spot known as the "sea caves". Much of the fame is in the context of mooching for a big king at first light.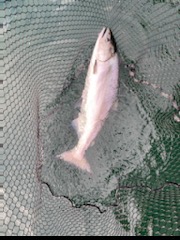 We not only attempted this, but got bit twice and landed a beautiful unclipped fish we sent on it's journey within 30 minutes of being on the water for the opener.
The other nice thing about this spot, is it seems to be the calmest one in the area. The Western entrance to the Strait on the opener was predicted to be 7 ft at 9 seconds with no wind waves, but this spot was nearly flat calm.
Green Buoy on the east side of Clallam Bay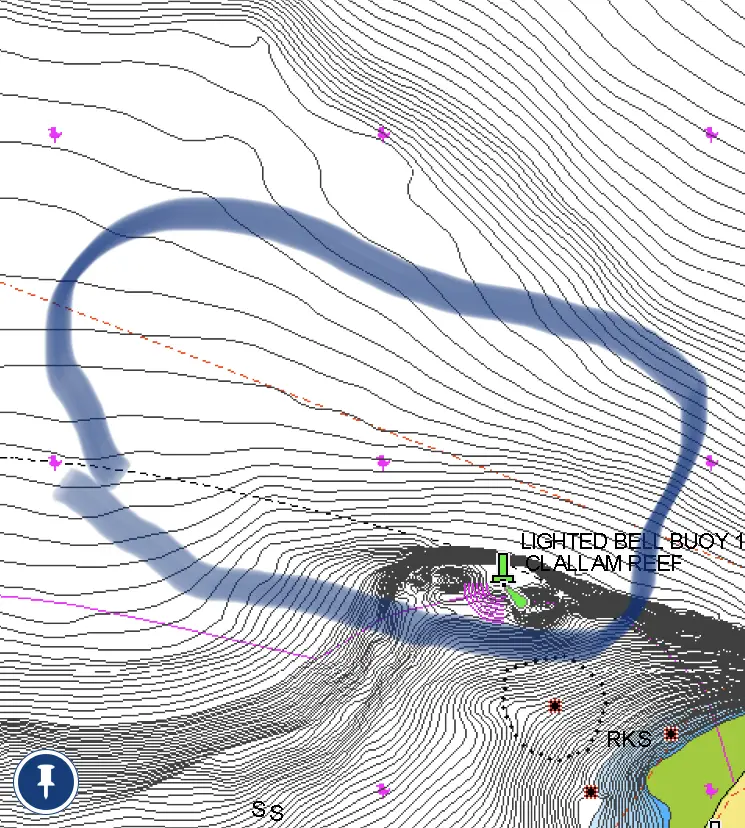 So…the area above was kind of the hot spot for kings in Sekiu. I would say I definitely didn't spend enough time in that area as well. We were fishing out deeper, got bit multiple times, and landed some kings in this area. When I met a dude at the fish cleaning station with 4 kings in 4 hours and asked him where he got em he indicated spending the morning in front of the green buoy.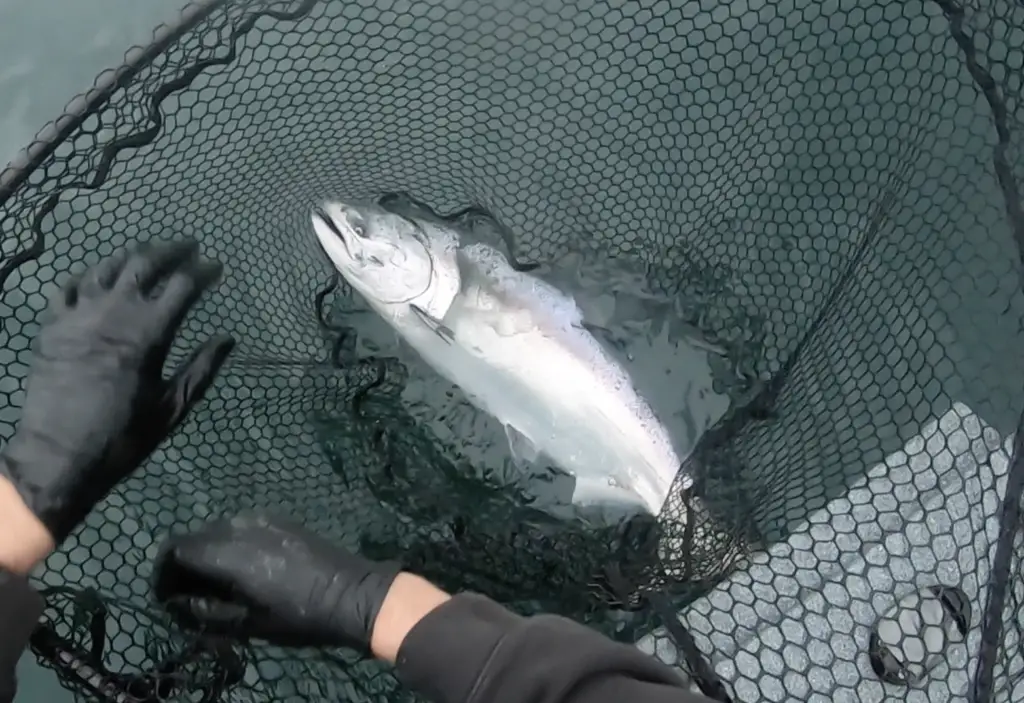 Now…I will qualify this by saying…if the weather turns bad, this is a rough area to be, due to the way the water moves around Slip Point. In contrast to the Sea Caves which were nice and calm, when we fished the opener with a prediction of 7ft at 9 seconds, this area was legit 7 ft. And let me tell you…they were every bit of 7 ft. Like going from the 2nd story to the basement kind of swells. When we were trolling through there a few times, my friend who never gets seasick was blowing chunks.
Between Slip Point and about half way to Pilot Point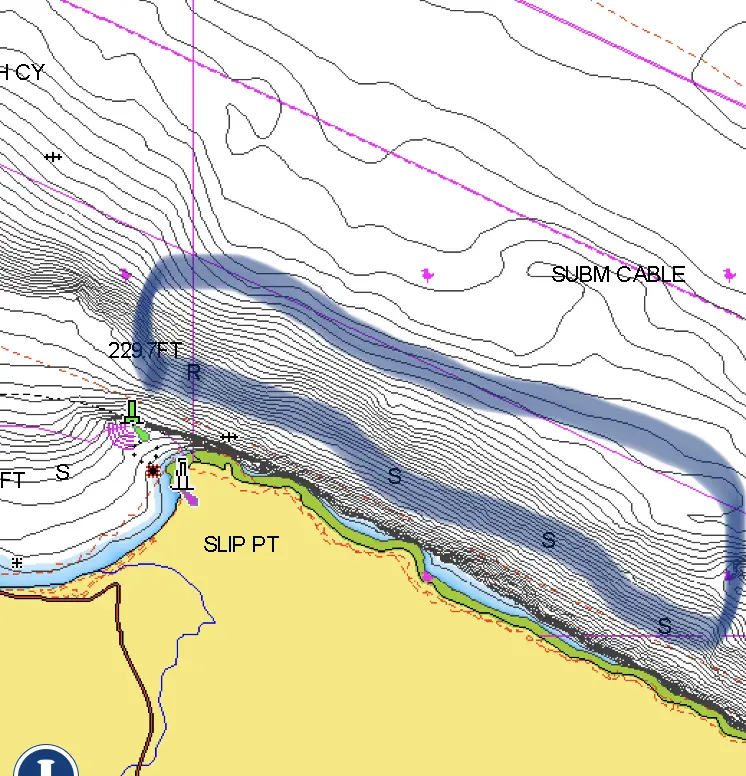 Given we were starting each day with a morning ebb, we spent quite a bit of time running up to about half way to Pillar Point and than trolling with the current back to Slip Point and in front of Clallam Bay. We hooked quite a few kings between 100 and 200 ft of water down about 40-60 ft of wire. We also hooked quite a few coho, too many coho in fact. If I had to do it all over again, I would spend more time near Green Buoy, but we would still hook 1-2 kings every pass doing this as well.
What about Neah Bay?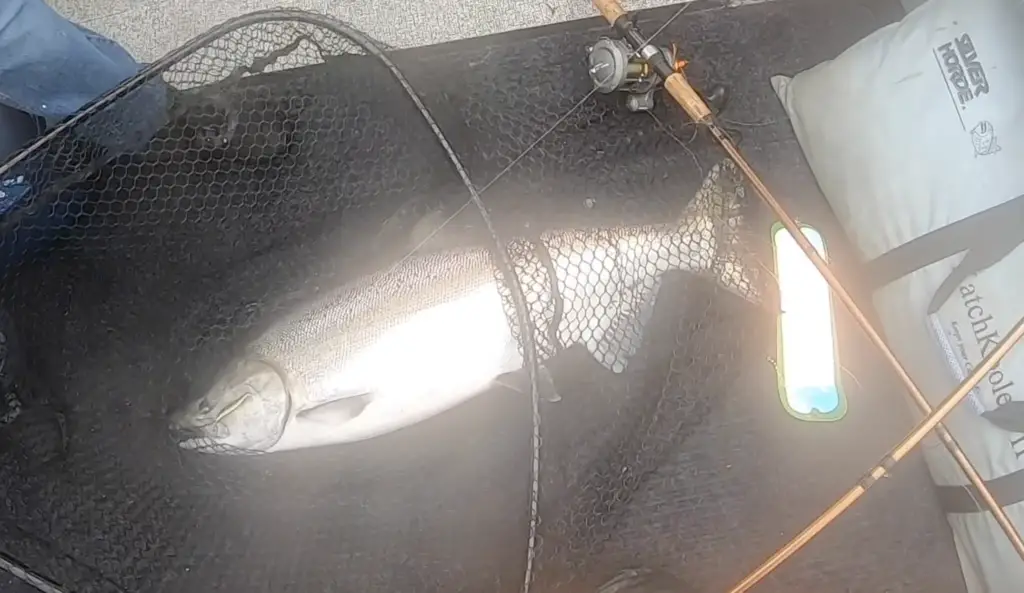 We did actually make a run out to Neah Bay in our last hour of fishing, which turned out to be a great plan as we hooked into two nice fish almost immediately and lost one, landed the other.
Which turned out to be this 21 lb beauty that I also recorded the entire fight with via GoPro.
What about the marine forecast?
Will it be safe for a small boat? There's a lot to consider when determining safety of small boats in big water. Personally, I have a smaller boat (20′ Alumaweld Stryker with a jet pump) so I need to pay close attention to the conditions.
There are a few places that are often "safe" to fish, even in less optimal conditions, and there are some places to potentially avoid as well. As mentioned above, on a bad day I would stay to the west end of Clallam Bay and focus on the Sea Caves area. Keep a close eye on the forecast, swell height and winds. Avoid days with square forecasts such as something like 9 ft at 9 seconds. Even if you get something like 4 ft swell + 2 ft wind waves at 6 seconds, this is also to be avoided.
I talk a bunch about ocean forecast planning in the above video. Also, please ask questions if you are not sure. Don't mess around out there, the sea can be unforgiving.
This post might also be worth consuming as I talk a lot about understanding wind speed, direction and fetch.
What to use for Sekiu Salmon?
There are many options here. I cover a lot about this in my guide to Puget Sound Salmon Fishing. As I shared earlier, we started out mooching and got bit twice in 30 minutes on blue label cut plug herring. I will write more about motor mooching and how easy it is soon.
Our main technique was with downriggers though, and I believe many many things were working for folks here. Our top combination though was this:
Coyote Blue Crush Flasher 11″:
Herring Aide 3.0 Spoon on a 42″ 25 lb flourocarbon leader.
We got bit on other flashers and other spoons. Coho Killers worked as well. We didn't try hoochies, but more because we were getting bit so often with what we started with, we didn't have a reason to switch it up.