This is the big forecast news dump we've been waiting for! There's so much information on what we can expect with regards to salmon fishing in Puget Sound revealed at the beginning of North of Falcon with these forecasts now released.
There was also some framing of the kind of salmon seasons we can expect. I will unpack all of it for you in this blog post, including details about the nearly 4 million pinks (humpies) expected to return to Puget Sound in 2023!
I was able to listen to the entire 5-6 hour zoom call that took place in Lacey, WA as the first of a series of public meetings that kicks off the North of Falcon process. Here's a link to the official news release from WDFW on the salmon forecasts.
North of Falcon is a reference to all the waters north of Cape Falcon in Oregon being in focus as salmon season are decided based on the available data about the health of salmon runs, prior years escapements and spawning, along with data on outmigration.
Let's dig into the forecast data to see what lies ahead for us this puget sound salmon season.
If you're looking for tips on fishing for Puget Sound Salmon, check this link out.
Environment in the PNW impacting Salmon Forecasts
The inland conditions of snowpack, stream spawning habitat and other factors are all very important to the health of puget sound salmon in 2023, but the marine environmental factors are just as important and often the place with the most variation from one year to the next.
WDFW scientists provided a deep dive on this marine environment and how it might be impacting our Puget Sound salmon now and in the future.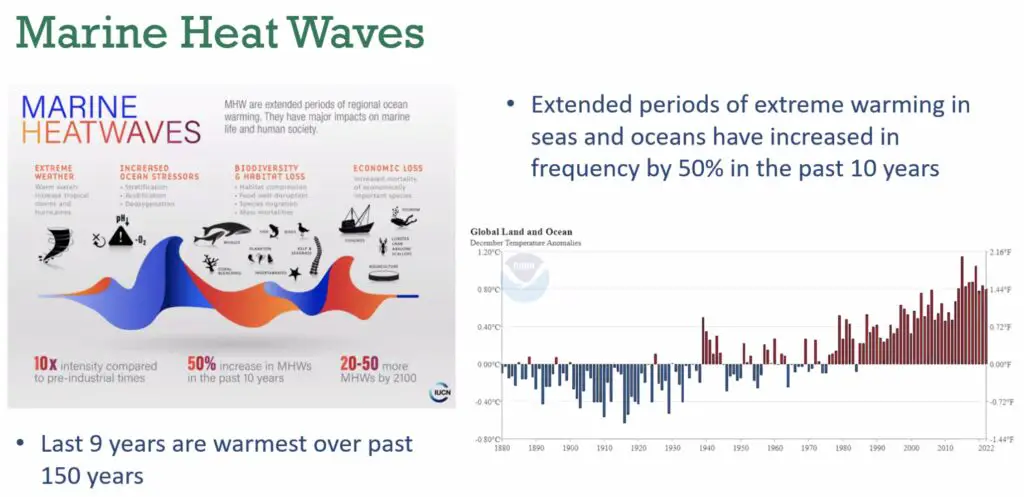 The backdrop of all the environmental data impacting Puget sound salmon forecasts in 2023 is the understanding of how the marine environment has become generally warmer and periods of extreme warming are more common in the past 10 years.
These factors are all "bad news" for most salmon stocks, but there are a few nuggets of good news mixed in.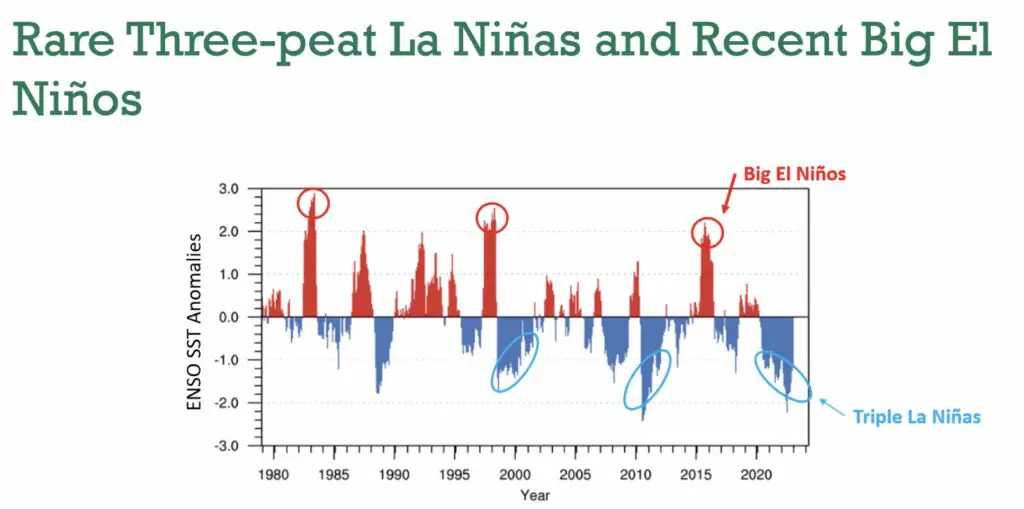 You can take a look at the above graphs and stack it side by side with salmon run sizes and see that they correlate fairly well if sometimes off by a year or two. We've experienced a rare triple La Niña event over the past 3 years which is characterized by a colder and wetter winter and cooler water in the ocean, and an ocean upwelling which allows nutrient rich water to rise and mix with the warmer water on the surface.
The net result of this is an extremely healthy and productive ocean food web that salmon benefit from enormously throughout their time spent in marine environments.
You can also look at the big El Niño event that ushered in the "warm water blob", which has triggered many challenges to our puget sound salmon seasons as the weakest stocks become even weaker and more constraining on Puget Sound salmon seasons.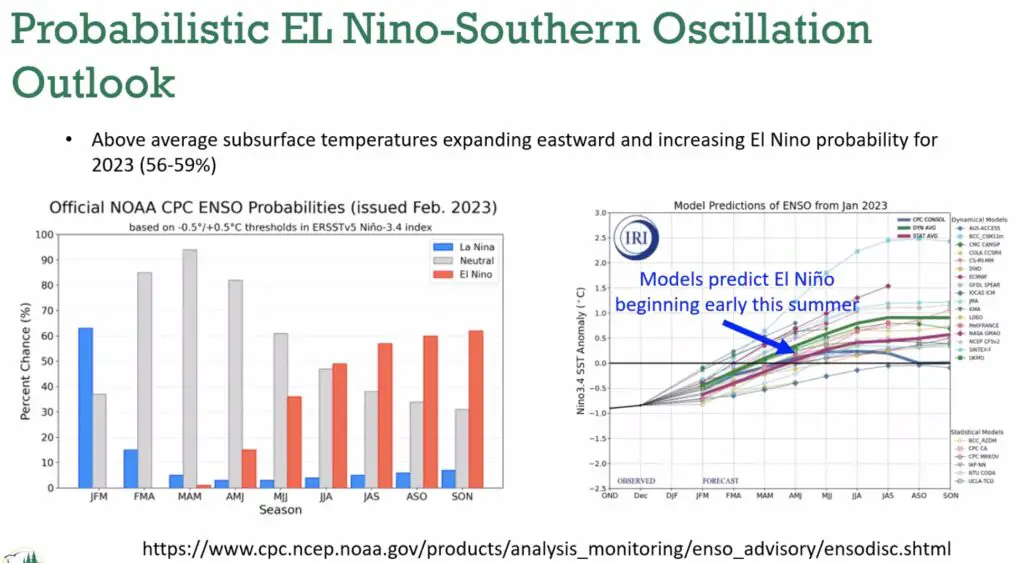 I don't completely understand the above graphs, but the net conclusion is that we are very likely going to transition to an El Niño situation again, hopefully not an extremely strong pattern though.
Generally, salmon stock recovery and the forecasts benefit extends beyond the 3-year La Niña event, but a strong El Niño pattern on top of a very warm ocean trend is very troubling for the future of Puget Sound salmon. Think a potentially even stronger "warm water blob" event in our future if this pessimistic view of the future plays out.
Enough of this topic though what lies directly in front of us is far more positive and exciting.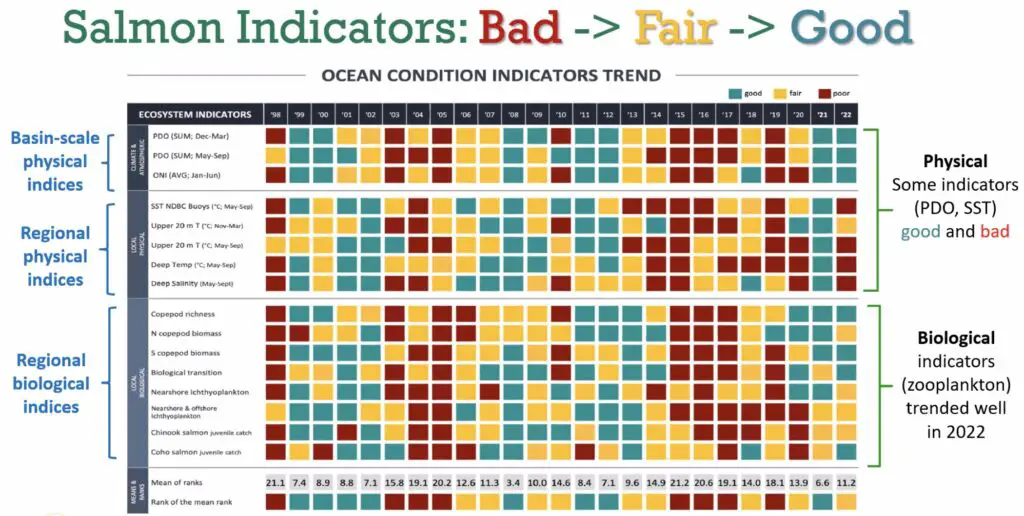 This is a pretty complex "stoplight chart" of ocean conditions across 3 categories of indicators: Basin-scale physical, Regional physical and Regional biological. Think big picture ocean environment, smaller scale ocean environment and the region specific biological response to these indicators.
Let's break these out one category at a time: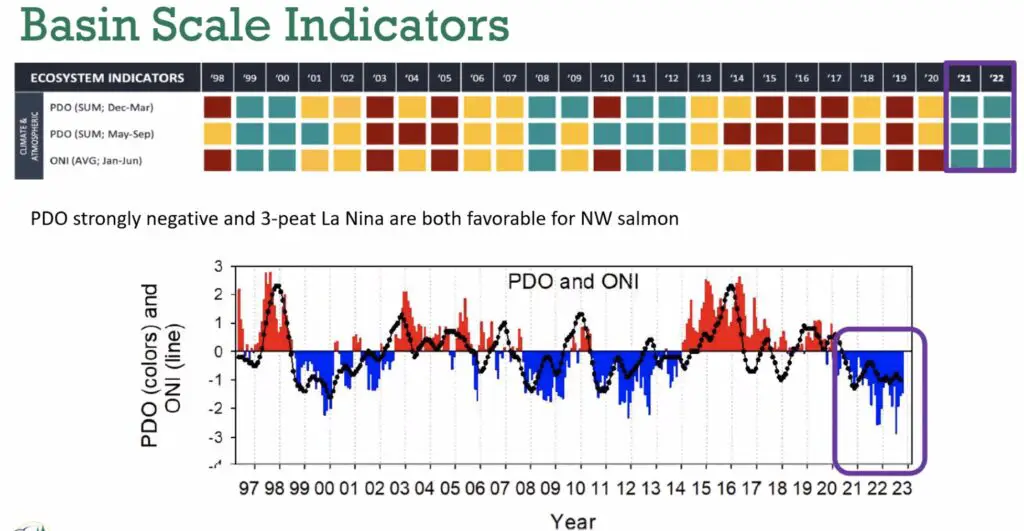 Here are the Basin Scale indicators, which are heavily tied to these warming / cooling weather patterns. As you can see, the indicators are hugely positive when they correspond to the blue graph of the recent years, in stark contrast to the red of the warmer pattern years. This is a huge positive for the next few years of puget sound salmon forecasts!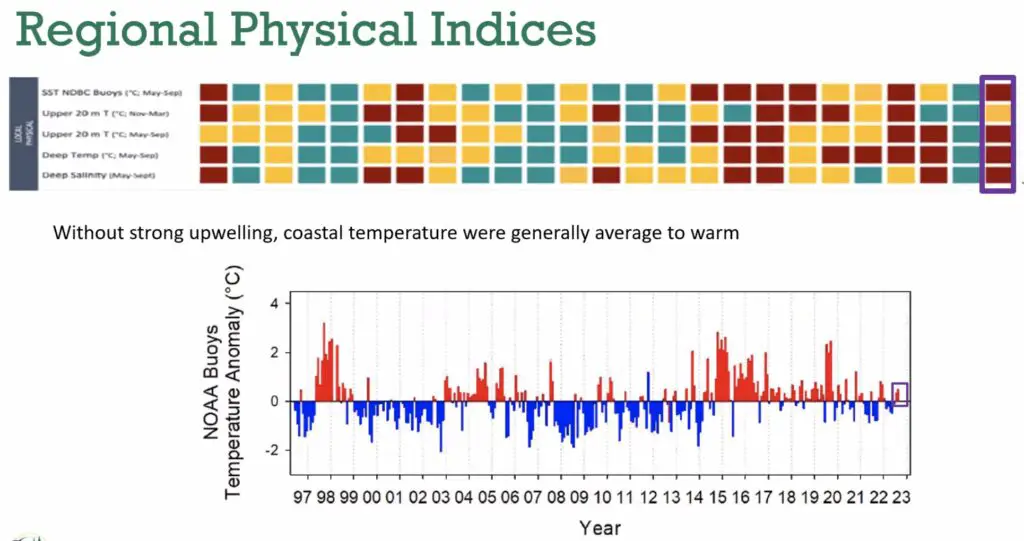 This set of indicators were not as positive due to less upwelling.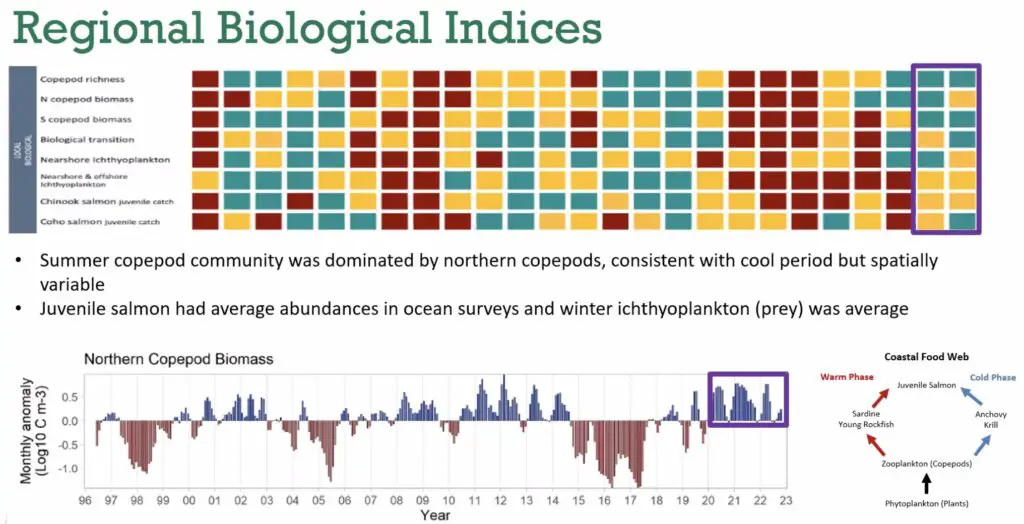 And finally a view of the health of the food web our salmon depend on, which is a bit more mixed.
Summary of environmental factors impacting salmon forecasts in 2023
So again, as we move on to the forecasts for salmon in 2023, the takeaway from the environmental factors is that we are inside a very concerning warming / less productive ocean trend that has taken a nice break from the extremes over the past 3 years, but threatens to return to a worsening trend in 2023.
The impact to our Puget Sound Salmon will likely not be felt until 2025 or later if this worsening trend returns this year.
On to the Puget Sound salmon forecasts!
Puget Sound Chinook Forecast 2023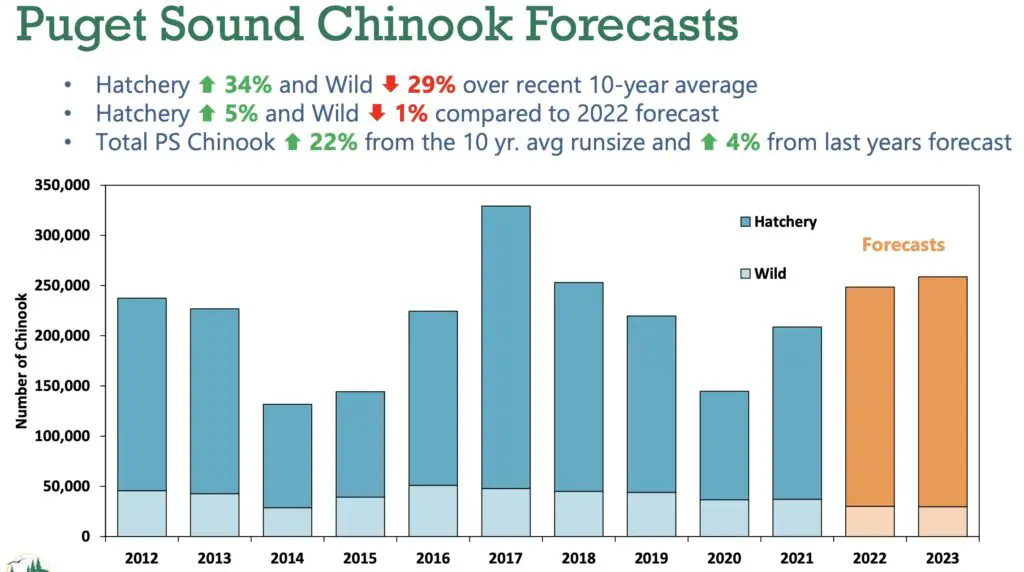 As you can see we are in a nice trend of increasing returns for chinook overall, but the ESA listed wild stocks are not keeping up. A reminder that much of our salmon seasons depend on the health and limited impacts to these ESA listed wild stocks.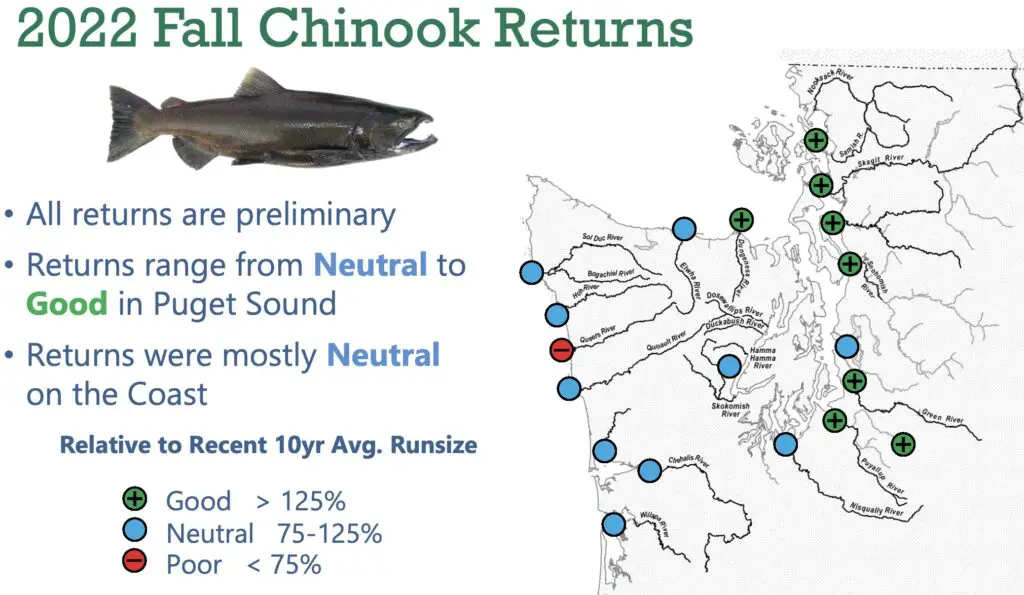 So let's look at what we know of the returns in 2022 of Fall Chinook around the Puget Sound. As you can see, returns were generally neutral to positive compared to the recent 10 year avg run size around Puget Sound.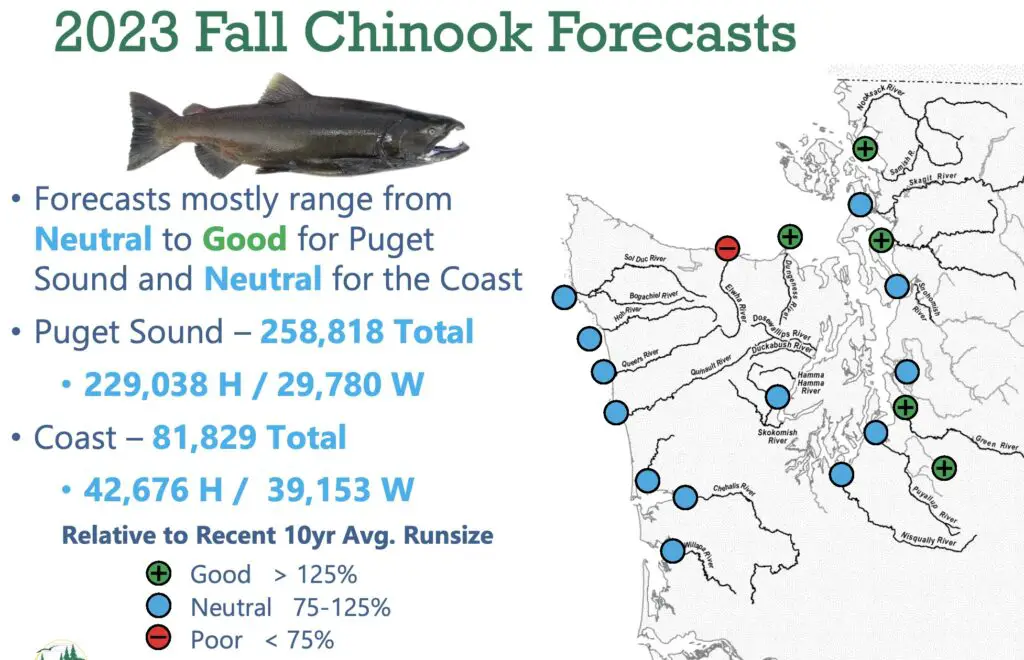 Outside of the Elwha forecast being negative we have largely positive forecast of Puget Sound Chinook for the Puget Sound.
The Elwha was explained to us on the call as being partially hatchery driven, meaning hatchery fish are released with the intention that they spawn in the wild to help rebuild the run of chinook on the Elwha. However, the release year that corresponds with 2023 forecasted return, fewer fish were released resulting in this poor return forecast.
Additionally, while you can squint and see the Stillaguamish is positive compared to the 10 year average, it's nowhere close to the escapement target. So, we had that splash of cold water thrown at us with regards to not expecting any expanded "impact quota" that would loosen some of the constraints on our Puget Sound salmon chinook seasons.
Brightest spot for the Chinook forecast in 2023
Given the above understanding of constraining stocks, I believe Marine Area 10 will be THE place again this year to target Puget Sound Chinook. The combination of larger runs of chinook expected in key places around central and South Sound and better seasons compared to the North Sound will make for those who like to launch near Seattle and Bremerton quite happy.
Darkest spot for the Chinook forecast in 2023
Again, the San Juan's are likely to be severely constrained again. Nothing has changed with regards to season constraints despite overall abundance and I'm not looking forward to hearing the anguish of Marine Area 7 chinook anglers again as the public process moves forward.
Also, don't be surprised if Sekiu gets some funky seasons again like the every other day closures last year. There will be a massive amount of legal but immature chinook caught around Sekiu and Neah Bay again that will likely cause problems for chinook seasons extending into late July.
Puget Sound Coho Forecast 2023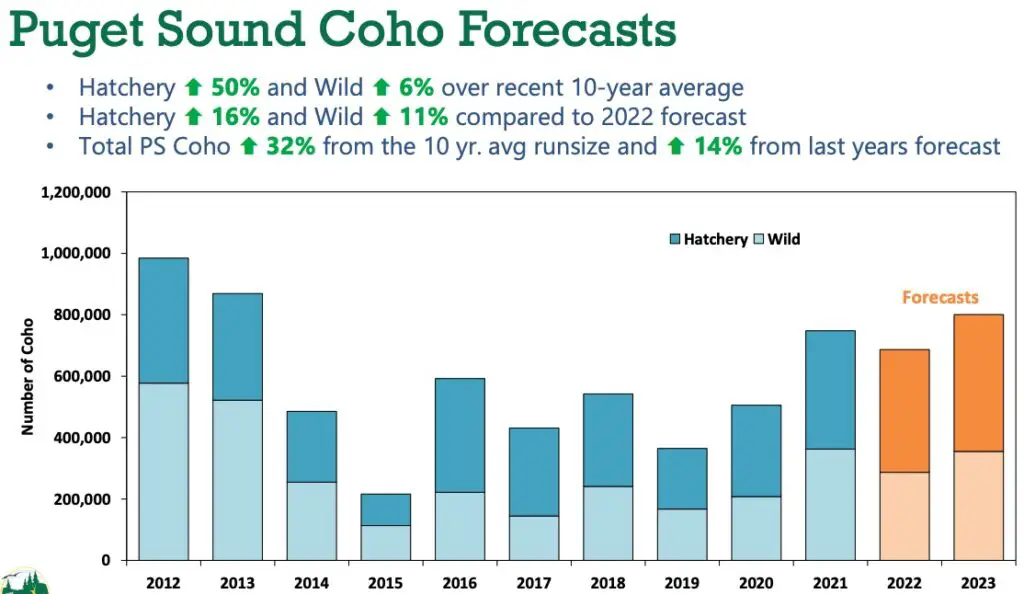 This is more of what we like to see, lots of green numbers of year over year and improvements against the 10 year averages. Both hatchery and wild stocks making improvements is a great situation for a solid puget sound coho salmon season this summer and into the early fall.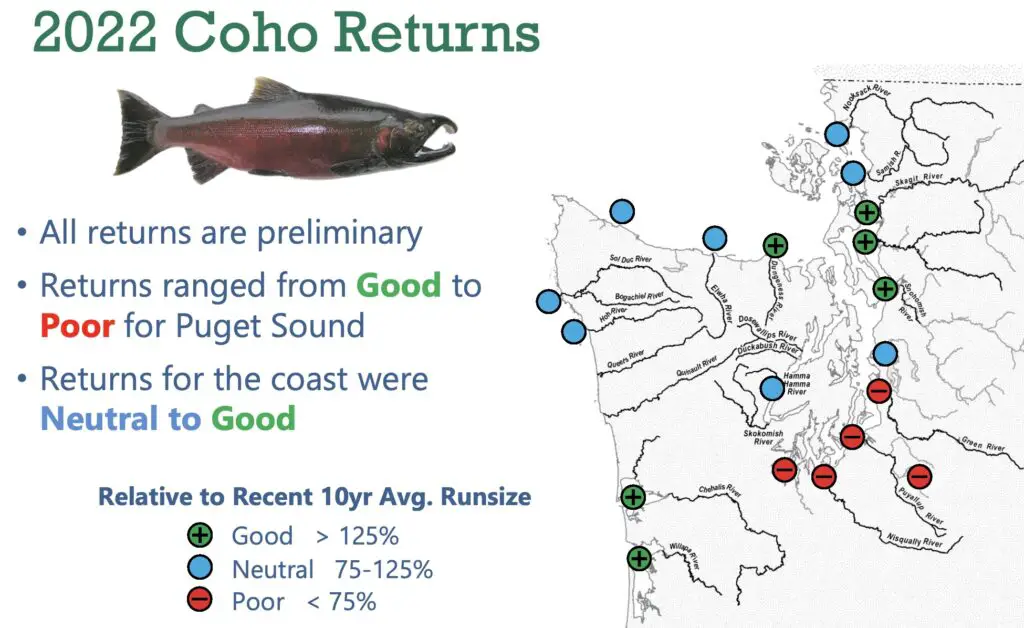 Underneath those positive numbers regarding Puget Sound coho salmon forecasts is a bit of a challenge in the South Sound. We called this out last year during salmon forecast season and it basically played out as we thought. Returns were not great in the south Puget Sound in 2022, but stellar in the North Sound, including a strong recovery of the Snohomish Coho stocks that have been a constraint in years past.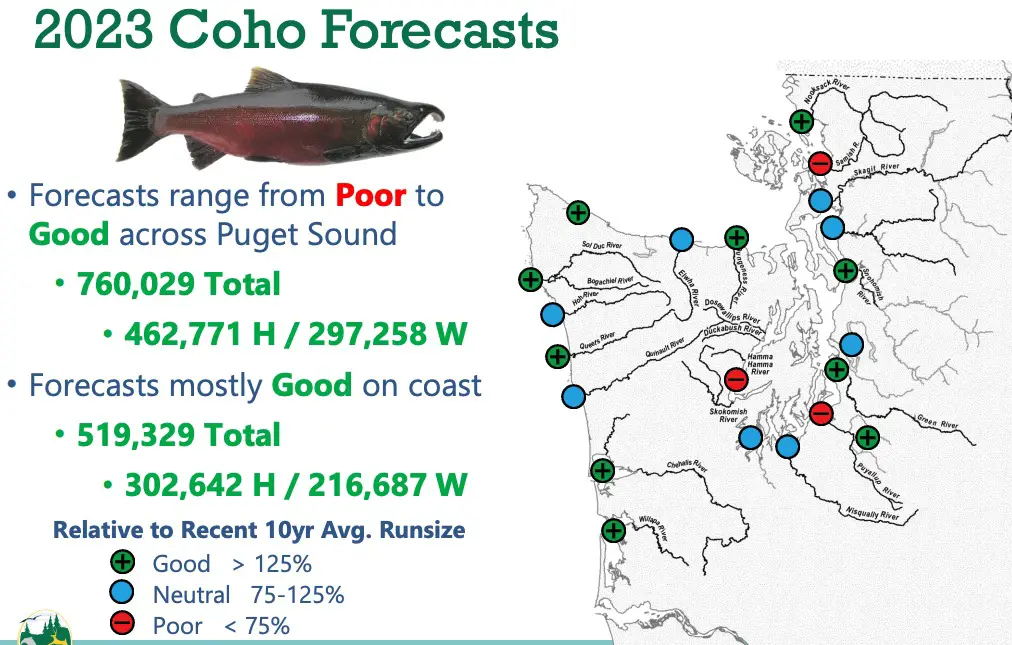 As you can see, things in 2023 are a bit more mixed. The South Sound gets a few bright spots and the North Sound some forecasted red dots.
Brightest spot for the Coho forecast in 2023
Marine Area 9 and again Marine Area 10 are going to be the place to be for coho in Puget Sound in 2023 based on these forecasts. Places like Possession, Oil Docks and Shilshole / Jeff Head should all go off in the expected timeframes.
The key will be having enough incidental chinook impact quota to have enough time on the water to chase coho, especially in places like Marine Area 9 and 7 (San Juan's).
I would expect the more southern areas of Marine Area 10 and possibly even 11 to fish better for coho in 2023.
Darkest spot for the Coho forecast in 2023
It looks like coho stock health is more spread out in 2023, but I would still be concerned about coho in the deep south sound. Additionally, the run seems to be really struggling above the White River within the Puyallup River system, which may pose some challenges their regarding season setting.
Puget Sound Pink Forecast 2023
If you made it this far, congratulations! We are now at the peak of good news in the Puget Sound Salmon Forecasts for 2023, humpies!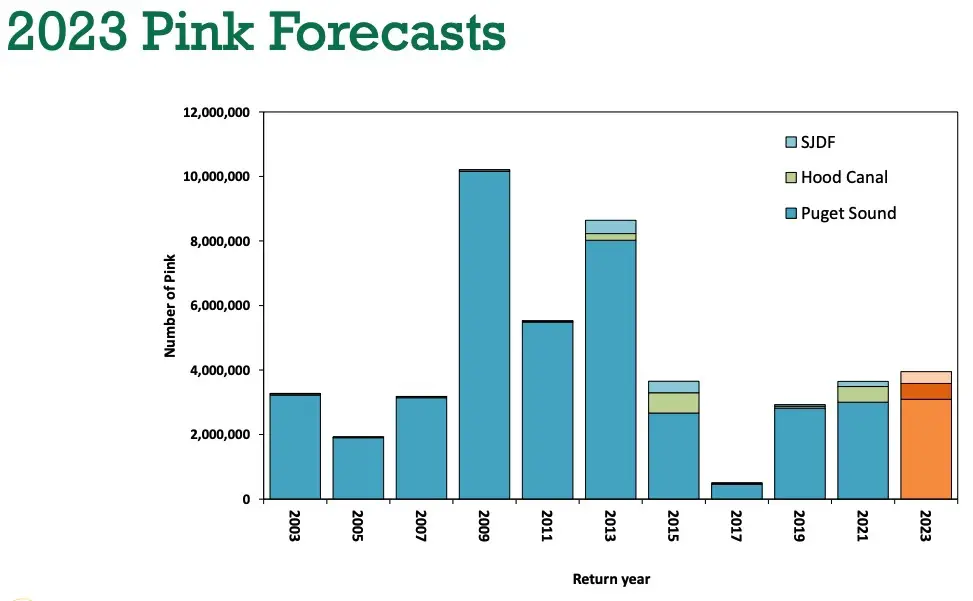 While, the above forecast chart for 2023 pink salmon shows it won't be the best on record, it's still expected to be one of the best returns of the past 20 years, and much improved from the 2017 lows.
For marine environments though we were told right up front there will be NO bonus limit on pinks in 2023. There may be in certain terminal areas, but not any marine areas. While that's not what we want, it may help other seasons such as chinook and coho extend longer if pinks "get in the way" for a lot of anglers.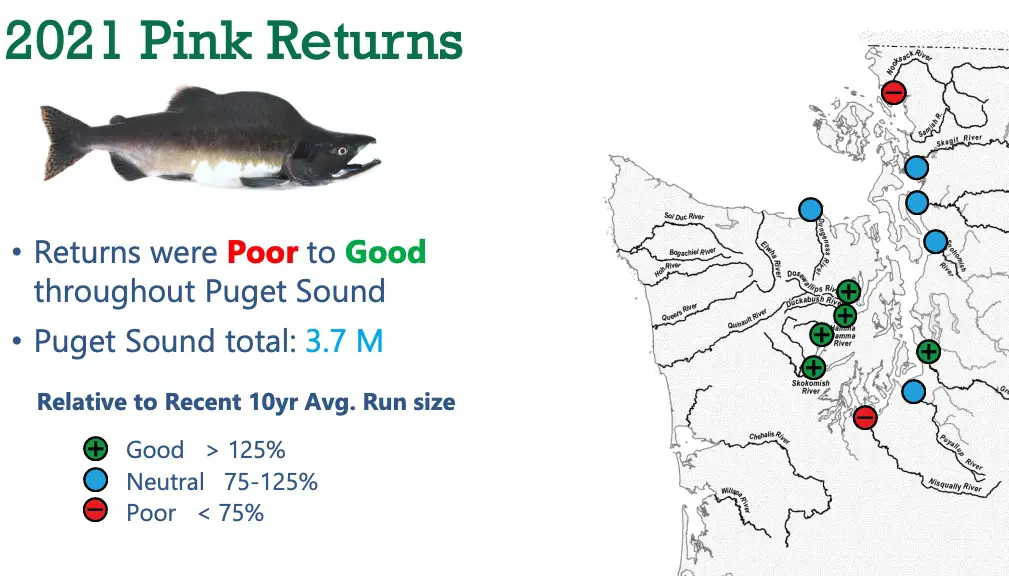 Pinks were largely on target for most of the Puget Sound returning in 2021, albeit a few disappointing spots such as the Nooksack to the far north and the Nisqually to the far south. Hood Canal seemed to be a particularly bright spot for returns in 2021.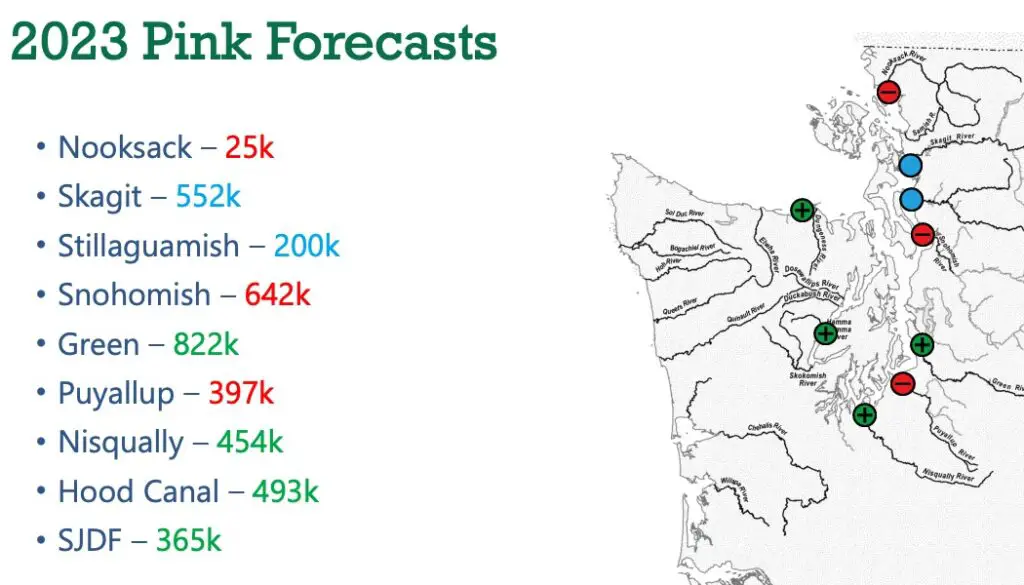 A few areas stand out…the Green is gonna get absolutely walloped by returning pinks, which again is going to make Marine Area 10 off the chain in terms of salmon fishing this summer!
The Green's cousin down south, the Puyallup, is going to struggle a bit. 400k is still a good number, but much of that number again is headed for the White. Also encouraging is the Nisqually expected 450k pinks! When's the last time the Nisqually forecast exceeded the Puyallup?
The North Sound has some challenging pink forecasts as you can see.
Brightest spot for the Pink forecast in 2023
Marine Area 10 again! Are you noticing a theme here? Millions of pinks will pass through these waters from July to September, making for an incredibly rewarding salmon season in the Puget Sound for anglers of all skill levels.
Darkest spot for the Pink forecast in 2023
I'm not sure there is one as Pinks are fairly nicely spread out. I'm tempted to say Redondo in Marine Area 11, won't be as good as years past, but there's still almost a million pinks returning to the South Sound.
Puget Sound Chum Forecasts 2023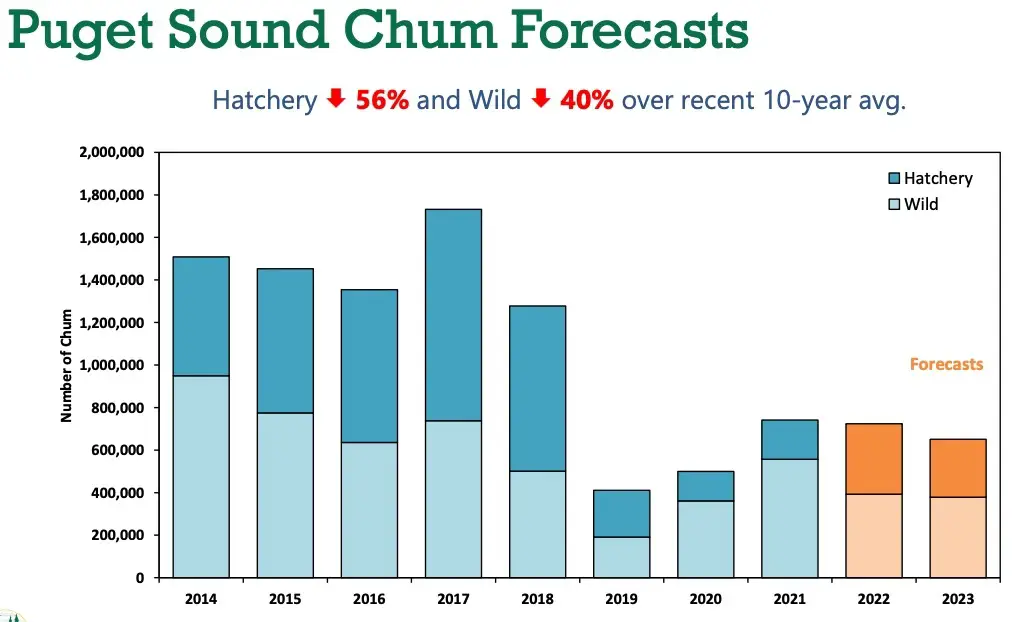 There were a few folks on the call who thought the 2022 chum returns were better than forecast and when fully counted, will show a much better number on the above chart. However, that won't change the forecast for 2023 which is based on a low return recruitment year. We are still working our way out of the chum lows of 2019-2020.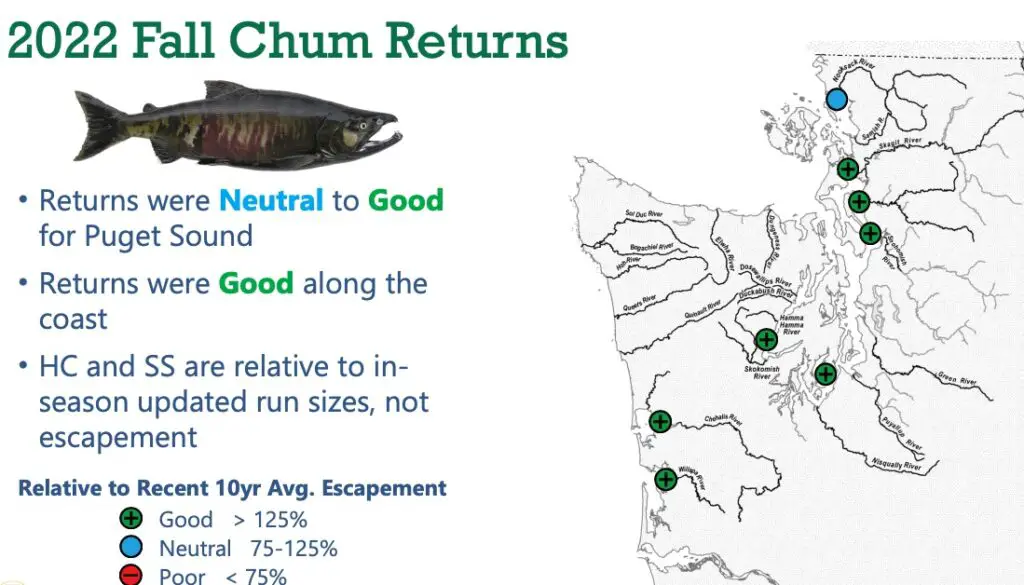 Lots of green in 2022! We had some incredible chum fisheries last year, that will portend good years ahead, but not quite as good for 2023.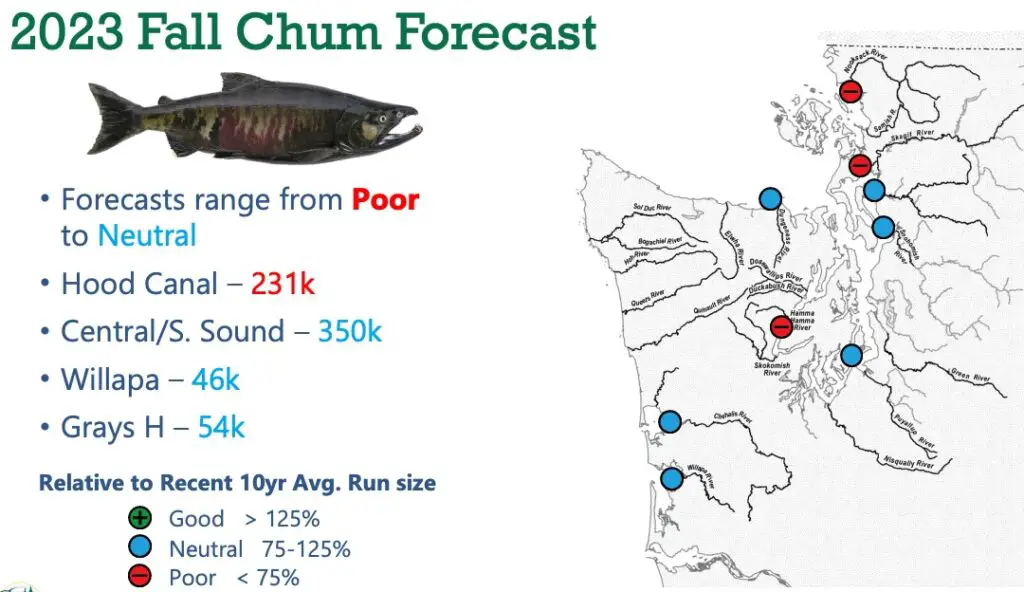 As you can see, lots of challenges in 2023 for chum. Don't expect great seasons here in the salt or in the rivers.
Puget Sound Sockeye Forecasts 2023
Are you still here???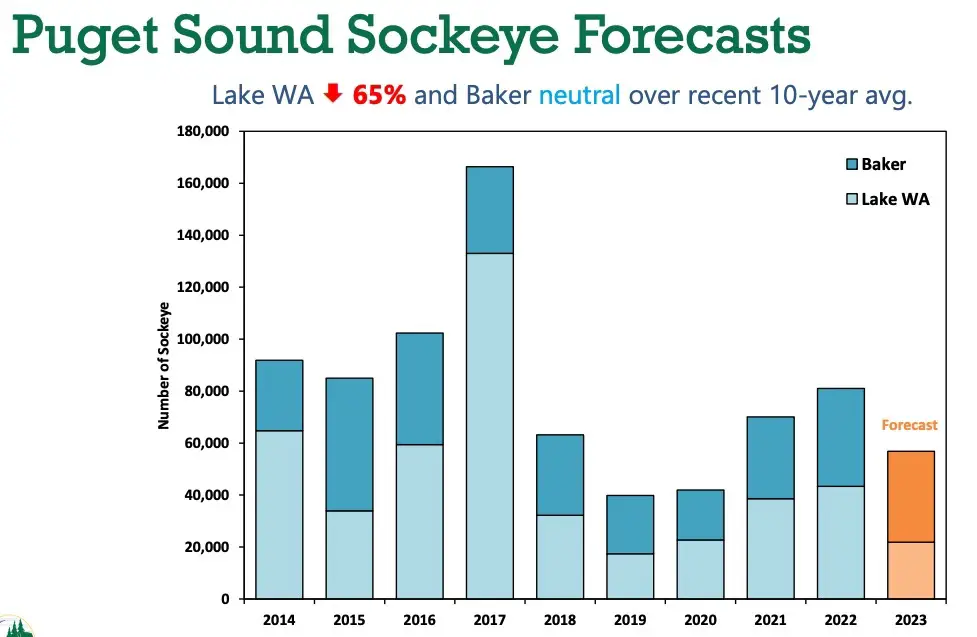 Your final Puget Sound salmon forecast is sockeye and while the forecast graph looks negative, it's more neutral for the all important Baker Lake sockeye run on the Skagit River.
The big non surprise? No, there won't be a Lake Washington sockeye season in 2023. I know, shocker!
Baker Lake is largely expected to match 2022, which was lots of fun for those who took part.
Final Comments and Observations
Wrapping up things here, we have some short term good news on the environment, longer term caution and concern.
We have positives for chinook, coho and pinks with some negatives on chum and neutral on sockeye.
And we can expect very similar seasons to 2022 with some small variances in a few places as WDFW and the north of falcon process gets underway.
The one major change to 2022, is of course that in 2023 we will have a nice run of pink salmon.
Where will you be fishing this year? What are your questions? Drop them in the comments below, I answer everything.