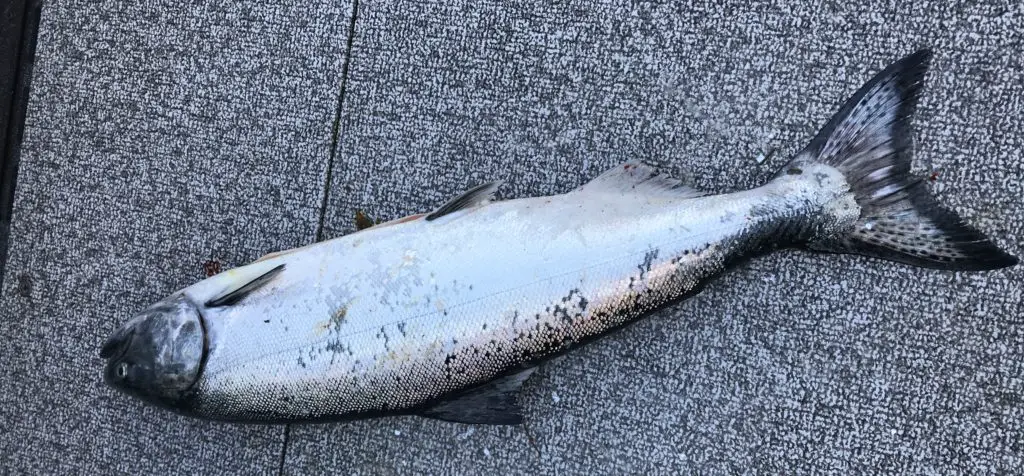 Winter Blackmouth fishing is one of the best winter fishing opportunities in the Puget Sound area. Blackmouth are so named based on their dark gum lines, but generally refer to Chinook (King) Salmon which have residualized vs heading out to the ocean. Also, studies have shown that these fish will spend time cruising between the Ocean, Strait and Puget Sound vs just staying in one area.
We launched out of Kingston right around first light and just as we were finished making ready, the launch got super busy. The Kingston boat launch is nice setup for any size of boat. In fact, the boat launched right behind us was an impressive 28′ Duckworth. Despite the size of boat launching here, somehow, the Kingston launch, located just south of the Kingston Ferry terminal, still manages to feel like a small launch.
What is small is the parking lot. If you don't show up on time, parking is truly a hassle. One of the great things about winter Blackmouth is that fewer people do it. The weather can be quite challenging, the fish generally smaller, but the opportunity and numbers usually quite good. And so we cut lines and made our way north to the Area 9 fishing ground, looking for a few willing Blackmouth.
Trolling for Blackmouth has a lot in common with techniques aimed at returning adult Chinook during the summer months with one key difference: That downrigger ball in most scenarios needs to be just above the bottom for the best chance at hooking up. I'm generally a hardware / hoochie kind of guy. I like to keep things simple and if it works, why make it more complicated? Now the downside of this approach is like with any fishing technique there are certain conditions which will favor other techniques. Having multiple tools in the tool chest can be invaluable over time when faced with a multitude of conditions.
Today, we were attempting both a bait presentation and hardware. My fishing partner had never fished for Salmon before and had also never operated a downrigger, so I wanted to keep things as simple as possible for him. We ran a herring aide coho killer spoon behind a flasher on his side and on my side I ran red label herring in a clear helmet, also behind an 11″ flasher. After the first few hours, we had only hooked one under sized fish on my buddies rod. We saw very few other boat hooking any fish, and certainly not any nets flying out to scoop keeper sized blackmouth into their boats. For whatever reason (lack of confidence with my bait setup?), I switched to a Herring Aide (do they make spoons in other colors?) Wee G spoon and soon after hooked a fish that I could tell right away was likely a keeper.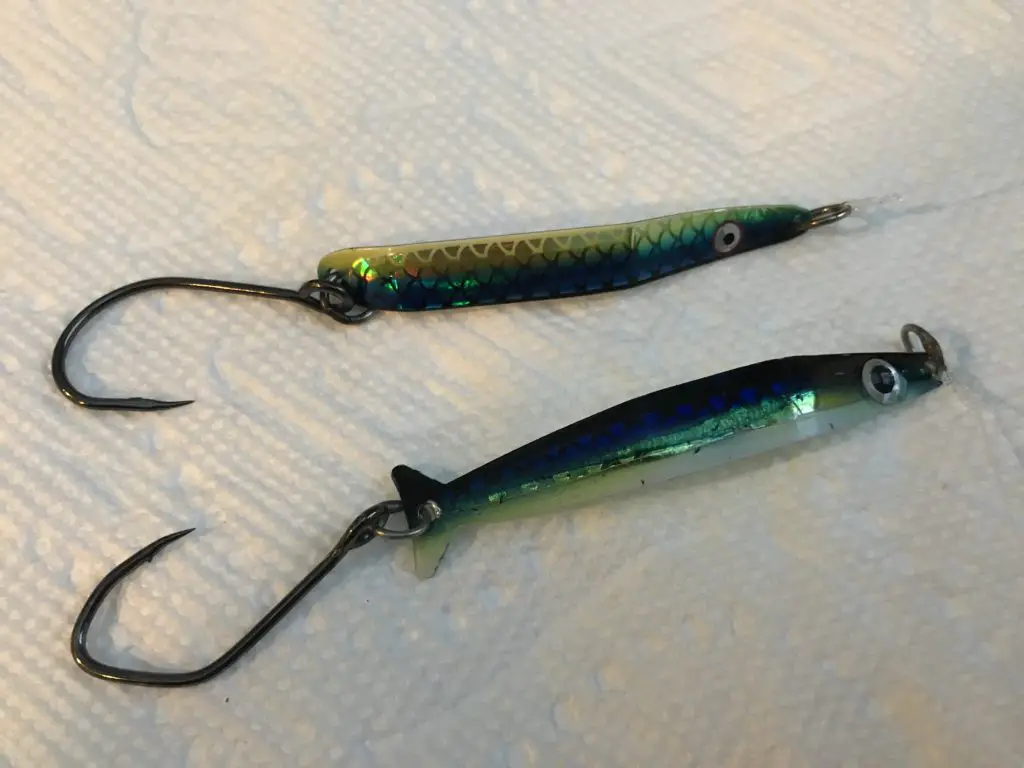 I wanted to hand the rod off, but my buddy was having some trouble with his gear and at this point in our trip I wanted to make sure he went home with something. After we got the fish onboard, it turned out to be a nice 26″ keeper. The regulations for a harvestable fish is 22″ and the fish must be missing their adipose fin to be identified as a fish of hatchery origin.
As we were putting our gear away, dealing with the fish, we were fortunate to see a grey whale diving down and disappearing beneath a nearby debris pile. Overall, we had a great time on the water! The weather and the scenery was outstanding, the fishing was ok, but there is something about just being out there and with good company, that just makes the experience incredibly fulfilling.
Checkout my guide to Puget Sound Salmon Fishing and our guide to blackmouth fishing for more on Blackmouth fishing and other Salmon fishing in Puget Sound.