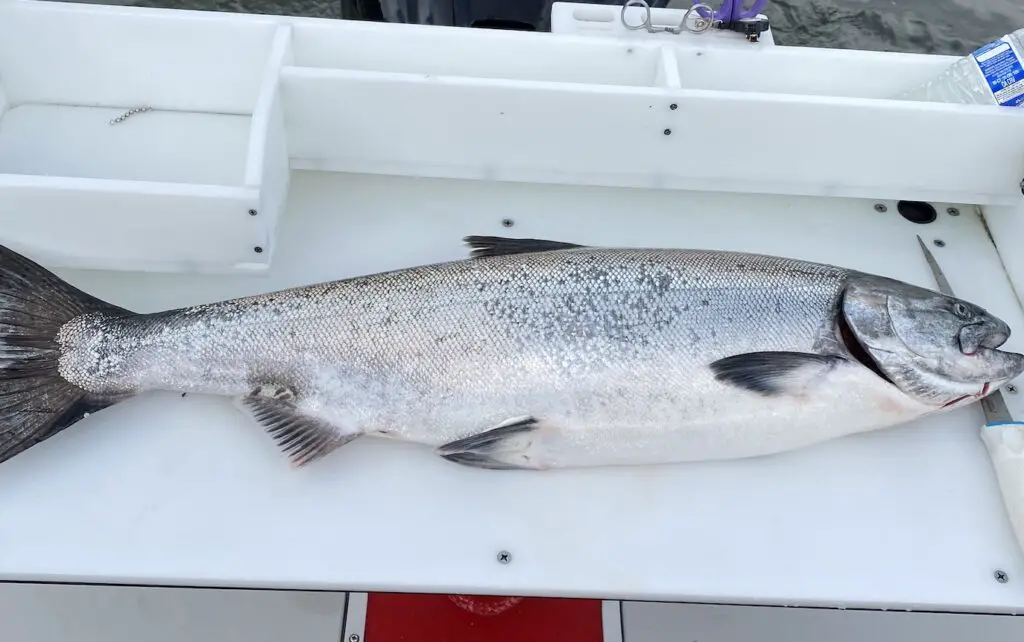 There are a few fisheries you can just set block out your calendar for. I don't care what the forecast says (I mean I kind of do), I don't care what the chatter is, I'm making plans to fish the Columbia River spring chinook fishery each and every year.
It's not because the catching is prolific (it's often a grind), it's not because spring chinook are the biggest salmon (they aren't). But, I just love to eat what I catch and Columbia River spring chinook are THE best tasting salmon (fish?) on the planet. That's right!
I'm getting excited just writing about this topic with only a few months until our delicious spring salmon season.
So how can I help you with my frivolous salmon content? A few ways…many of you will be on the water every day you can no matter what. Me? I'm gonna drag my butt from the south Puget Sound area and whomever I can get to come with me to "time the run" and hopefully have the most productive time on the water.
To do that, we use a lot of data, because like many of our salmon fisheries, there's a ton of digital content (data!) available to us, to let us know "when is it time to go?"
And this blog is the ONLY place you can get all of this data in one convenient easy place. So here goes.
Forecast for 2023 Columbia River River Spring Chinook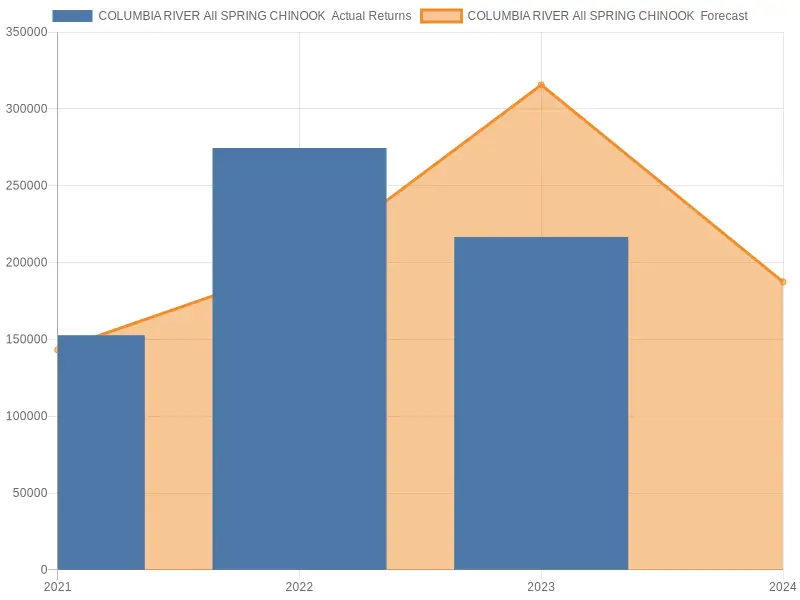 Overall, the forecast of spring chinook on the Columbia River in 2023 is much improved from recent lows and challenging years and I couldn't be more excited about that!
This blog post will largely be focussed on the lower part of the Columbia River, which means ALL of those fish have to swim past my tight rolling cut plug herring and refuse to take it for me to miss out. I like those odds!
Now here's the deal though…this fishery is often only open until March 31st or maybe a week into April. The permanent regulations, which is all we have to go on right now as I'm writing this in January, state that the river closes on Mar 31st. This will get updated in February, but you can never be too confident of the exact timing of this run as it's heavily dependent on water temperatures which can vary greatly year to year.
Why that's important, is that while 320k+ springers sounds like a lot, only a small fraction of those spring chinook will be in the river while there's an open season.
Often times though, the season will close on time and later be opened through emergency regulations as available harvest continues to be available.
So things are dynamic which makes watching the data that much more important.
If you want to read my entire guide to catching springs on the lower Columbia River, head over to my page on that topic.
If you are looking for more generic and comprehensive coverage of fishing the Columbia River in 2023, click on the linked text.
Watching Dam / Fish counts on the Columbia River
The above graph will update automatically as dam / fish counts are reported of adult chinook heading over Bonneville Dam.
These numbers do not have to be very high for chinook fishing to be decent in the stretch downstream of the I5 bridge. It is nice to see some fish heading up river though with a climbing trend that foretells more fish coming behind them.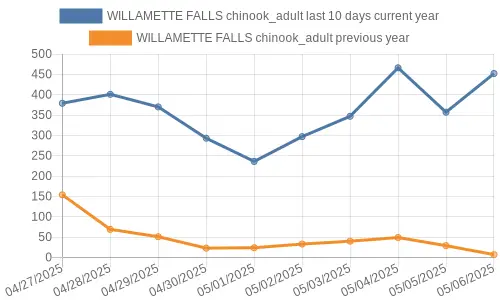 What does Willamette Falls chinook counts have to do with fishing for springers in the lower Columbia River?
I believe that in general the Willamette River fish return in greater numbers earlier than other spring chinook, and are absolutely available to intercept in many lower river locations. in some ways these fish counts are even more helpful and predictive than the Bonneville ones, so we will include both for your convenience.
Fishing Reports for Lower Columbia River Spring Chinook Fishing
When WDFW restarts their creel checking program, these will be automatically updated in this section.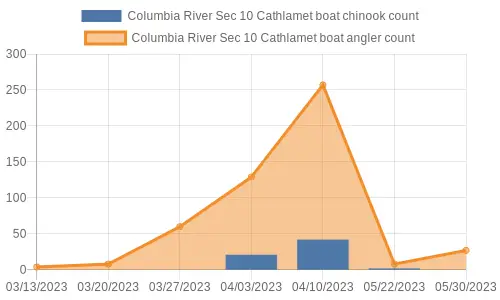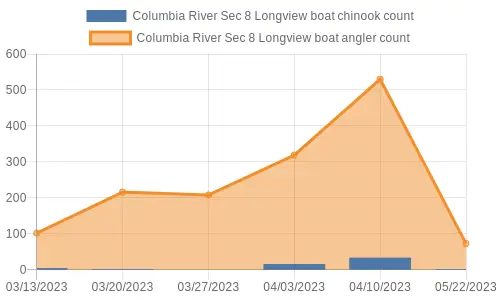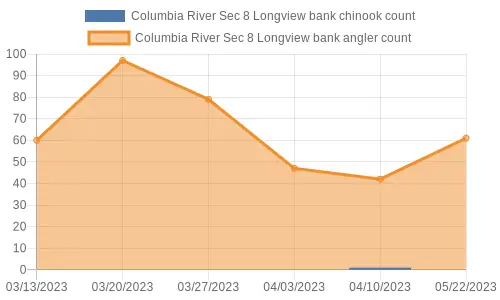 Permanent Fishing Regulations for the lower Columbia River 2022 -> March 31st, 2023
You can use this link to reach the permanent regulations, though they are likely not correct when it comes to reflecting the recently announced springer season from WDFW.
Updates and changes to the spring chinook season will be reflected in the emergency fishing regulations.
Emergency Fishing Regulations for Columbia River Spring Chinook 2023
The above permanent regulations for the Columbia River are subject to change at any time and without being updated on this blog. One must consult the WDFW Emergency Regulations before any trips to ensure they are in full compliance with state laws regulating fisheries.
How to fish for Columbia River Spring Chinook
I've got a whole article on this topic of how to fish for Columbia River spring chinook here.
That article has links to gear you might need as well, so definitely check it out!
Looking for more real time updates? Use these links to follow us on social media: