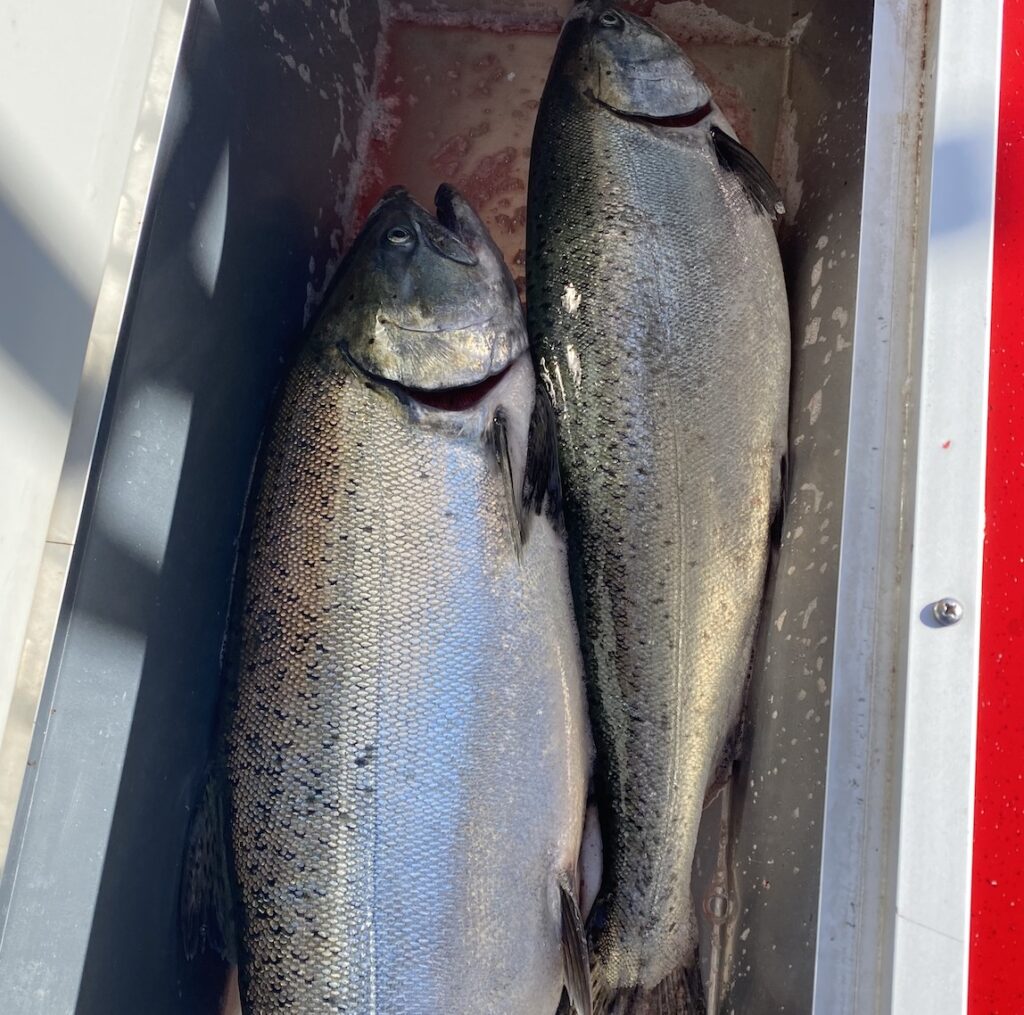 The Washington coast salmon forecast for 2023 has just been released and this blog post unpacks what we should expect in the coastal rivers and marine waters.
The North of Falcon public kickoff meeting always starts with a deep dive into the environment as a backdrop to any of the forecasts being developed and discussed.
WDFW also released their request for public comment on potential ocean salmon seasons here.
You can also go here for the Puget Sound salmon forecast for 2023 if that's what you are most interested in.
One of the things to keep in mind on the Washington Coast is that the marine salmon forecasts are most heavily dependent on the expectations for the Columbia River, but specific coastal rivers could add constraints if any stocks are significantly under pressure.
As soon as you head around Cape Flattery and into the Strait (the eastern half of Marine Area 4), marine waters become largely driven by Puget Sound abundance forecasts.
Marine Environment Conditions of the Washington Coast in 2023
There are so many factors that need to be in a good place for salmon to really thrive, but the marine environment, where out-migrating salmon go to feed and add weight and spend a good portion of their lifespan chasing food around is extremely important.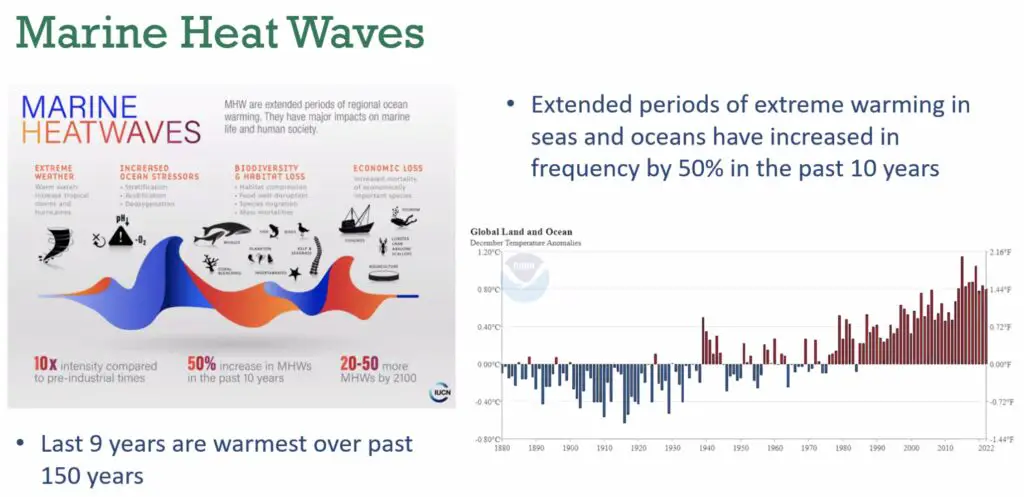 The backdrop of all the environmental data impacting Washington coast salmon forecasts in 2023 is the understanding of how the marine environment has become generally warmer and periods of extreme warming are more common in the past 10 years.
These factors are all "bad news" for most salmon stocks, but there are a few nuggets of good news mixed in.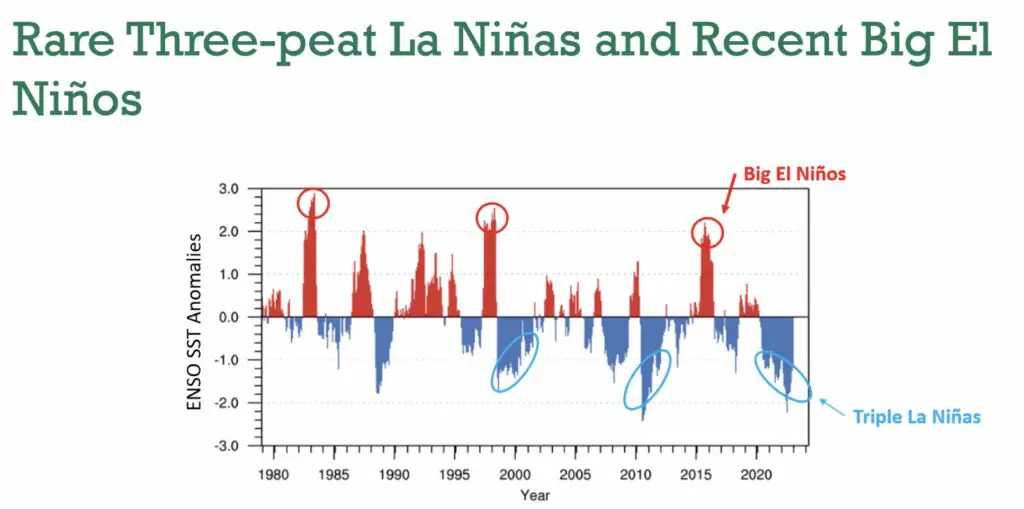 Ocean conditions can have a significant impact on the size of salmon runs. Recently, we experienced a multi-year La Niña event, with colder and wetter weather and cooler ocean temperatures.
This phenomenon caused an upwelling of nutrient-rich waters near the surface, resulting in a more productive ocean food web for salmon.
Conversely, a significant El Niño event in the years prior brought about the "warm water blob" and posed challenges to Washington coastal salmon seasons as stocks weakened for several rivers.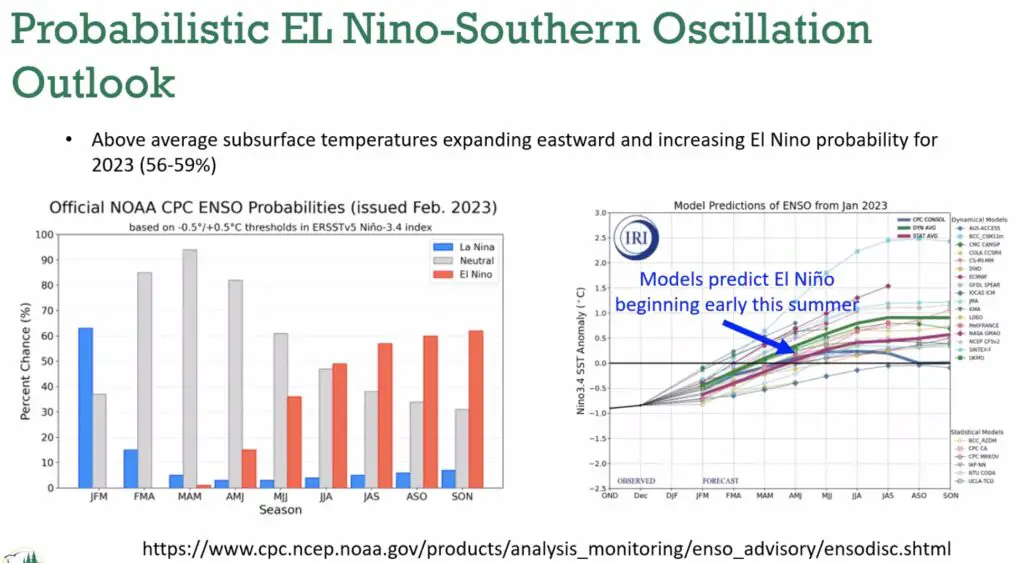 We are very likely going to transition to an El Niño situation again, but hopefully not an extremely strong pattern like what we saw in 2015-2017.
Generally, salmon stock recovery and the forecasts benefit extends beyond the 3-year La Niña event, but a strong El Niño pattern on top of a very warm ocean trend is very troubling for the future of all PNW salmon.
Think a potentially even stronger "warm water blob" event in our future if this pessimistic view of the future plays out that could decimate salmon stocks.
Enough of this topic though what lies directly in front of us is far more positive and exciting.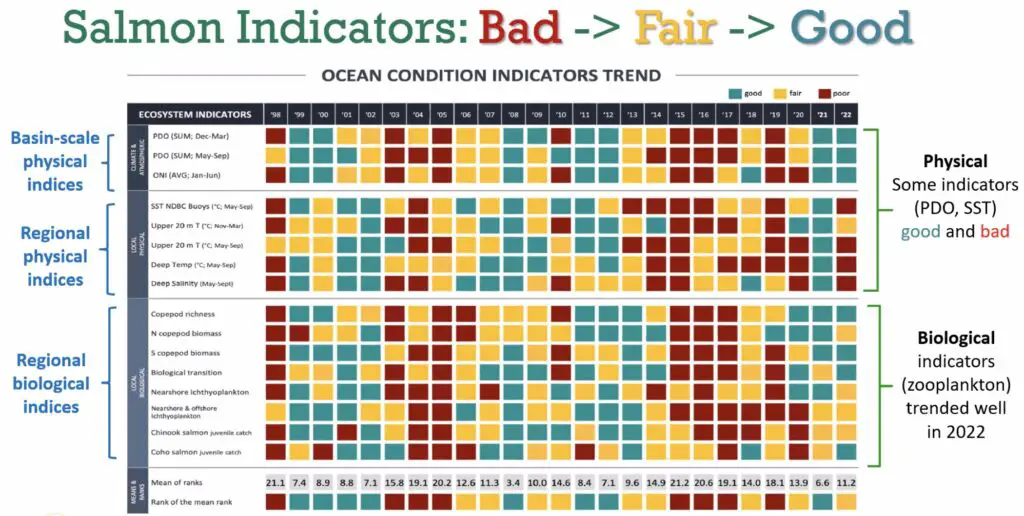 This is a pretty complex "stoplight chart" of ocean conditions across 3 categories of indicators: Basin-scale physical, Regional physical and Regional biological.
Think big picture ocean environment, smaller scale ocean environment and the region specific biological response to these indicators.
While things aren't nearly as positive as they were in 2022, we still have conditions that should build off of last years positive trends of returning salmon stocks across the board.
On to the Washington coast salmon forecasts!
Washington Coast Chinook Forecasts for 2023
As we stated at the top of the post, fishing in marine waters off the coast of Washington is largely tied to salmon abundance in the Columbia River, but this post aims to also cover expectations for other coastal rivers.
Let's start with chinook forecasts for the Columbia River though.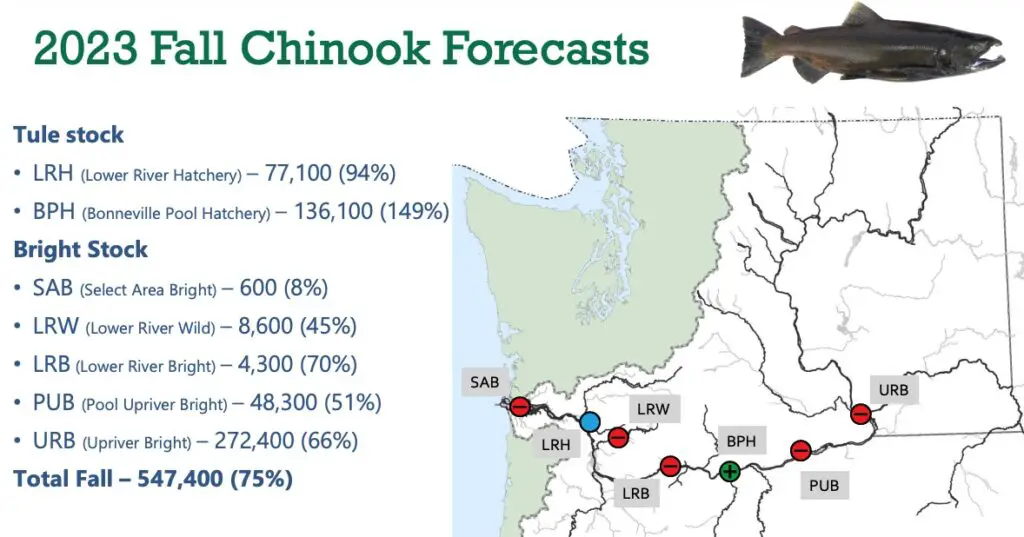 The %'s breakdowns captured from above slide tell us about the 2023 forecast relative to 10 year averages. And red dots correspond to < 75% expected run-size compared to that 10 year average.
As you can see there are a few trouble areas, but overall a run of 547,400 fall chinook is another strong run.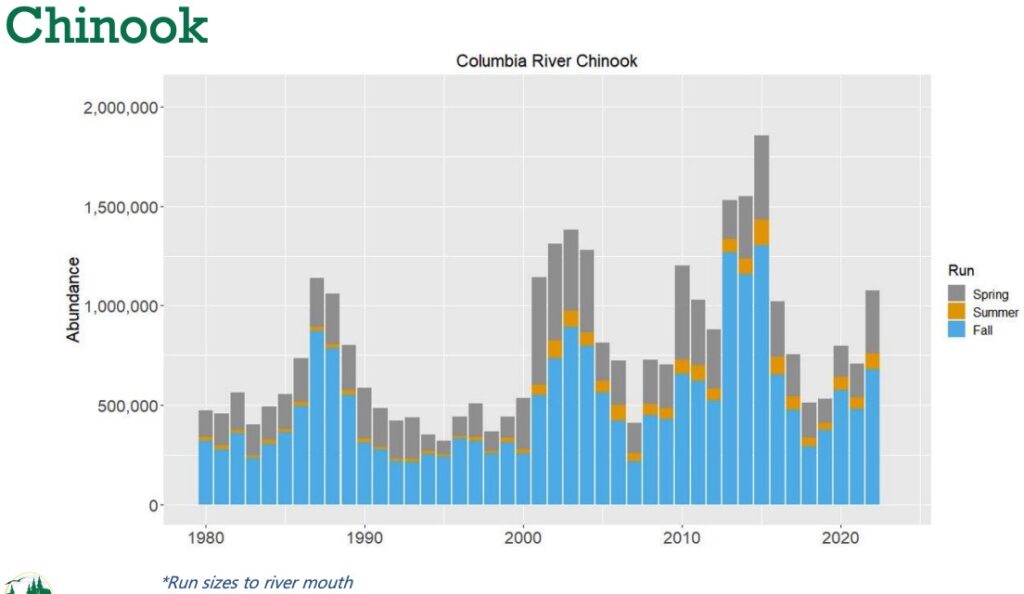 The graph above gives us an idea of the trend of Columbia River chinook in general.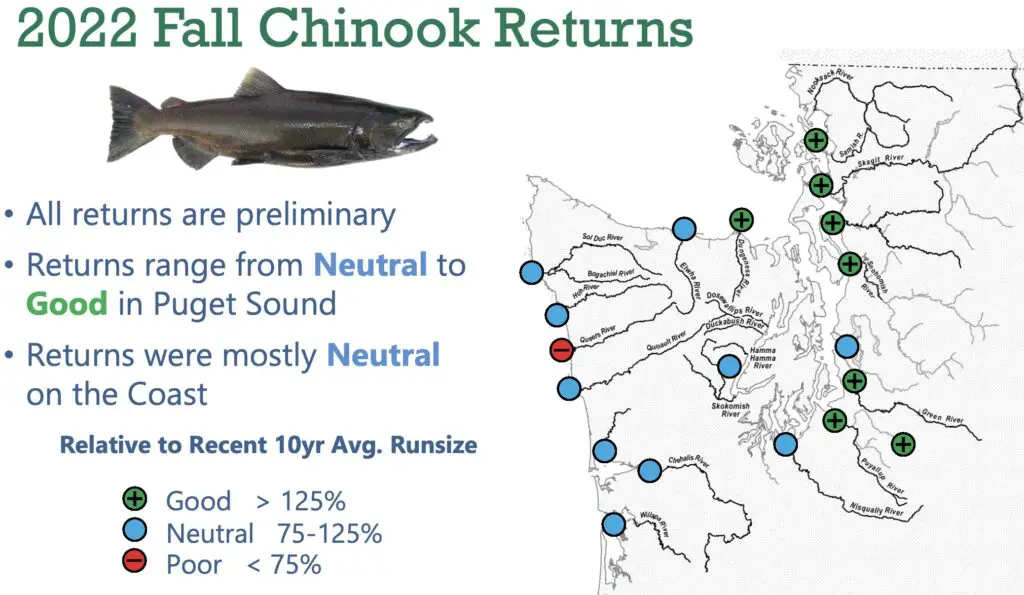 On other Washington coastal rivers, returns were largely par for the course except for the Queets River which has had serious chinook issues of late. I've done a fair amount of chinook fishing on this river over the years and I can attest that the numbers have really dropped off.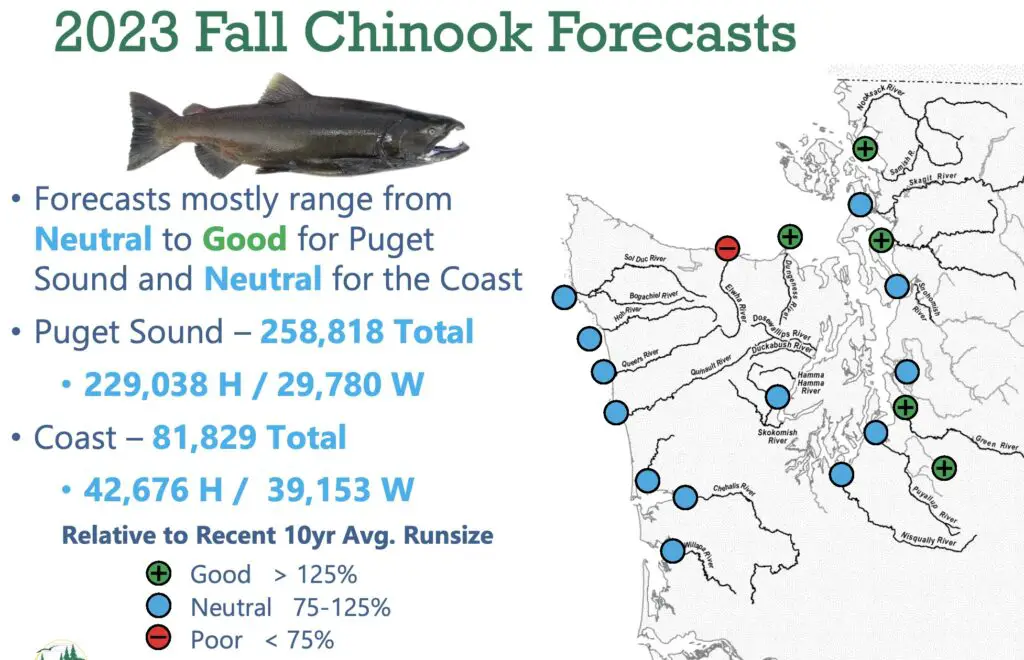 The above blue dots for coastal rivers is a really positive thing, not just for fishing those rivers, but not adding constraints to marine salmon fishing seasons.
Washington Coast Coho Forecasts for 2023
While chinook forecasts are always really interesting, the backbone of the summer ocean salmon fishing season off the coast of Washington is always coho. And the coho fishing forecast looks very promising!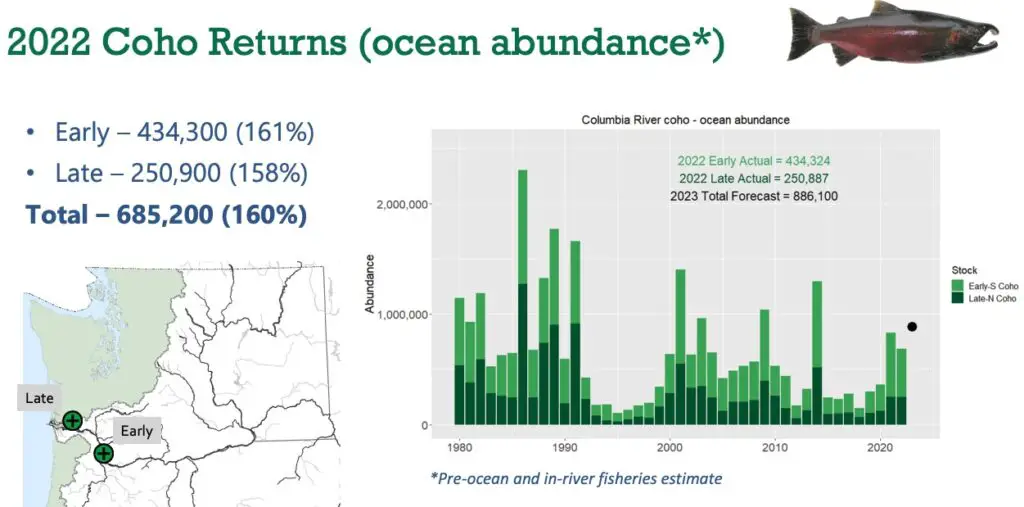 As you can see, the 2022 coho return was quite strong for both early and late returning coho, both exceeding the 10 year average by a large amount.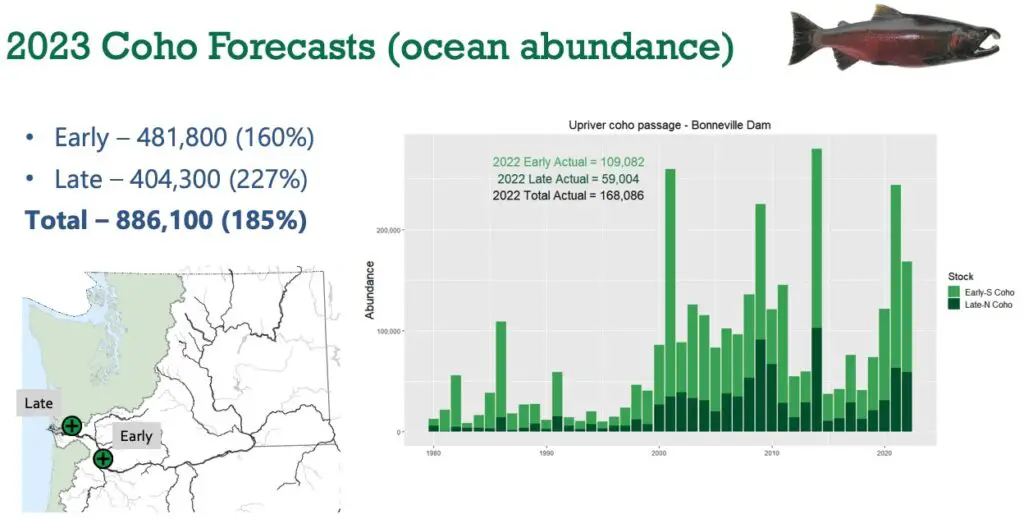 As good as 2022 was, 2023 is expected to be even better! But, let's make sure there are no coho stocks of concern on the coast that would provide problems for an ocean coho season.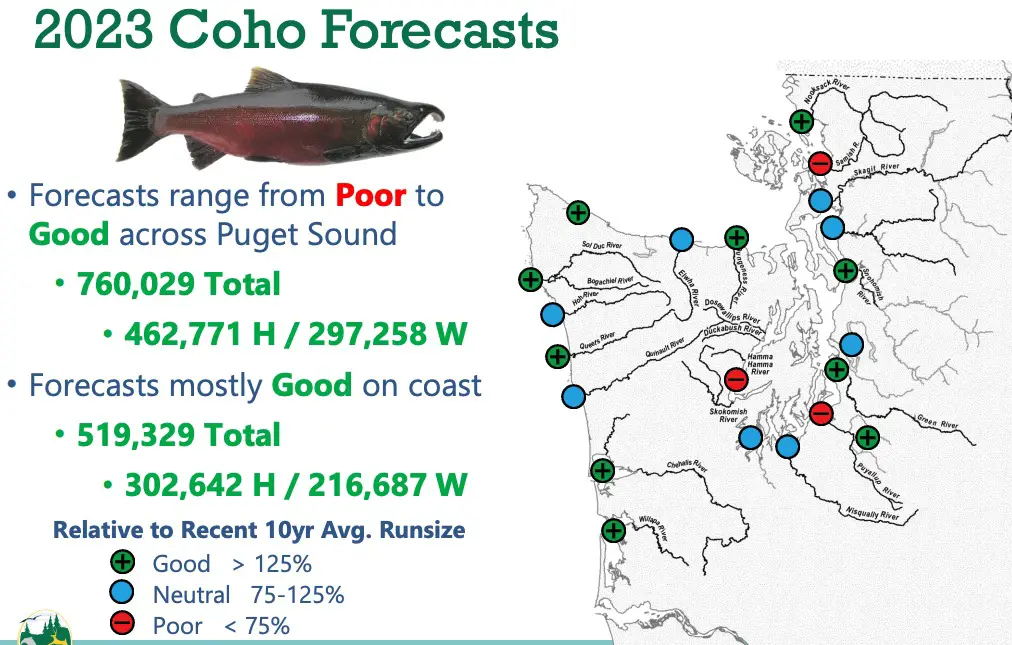 If you focus just on the left hand side on the coastal rivers, things look quite promising for coastal rivers, in particular the Queets, Chehalis, Willapa and Quillayute systems are all expecting big returns of coho.
Final Comments and Observations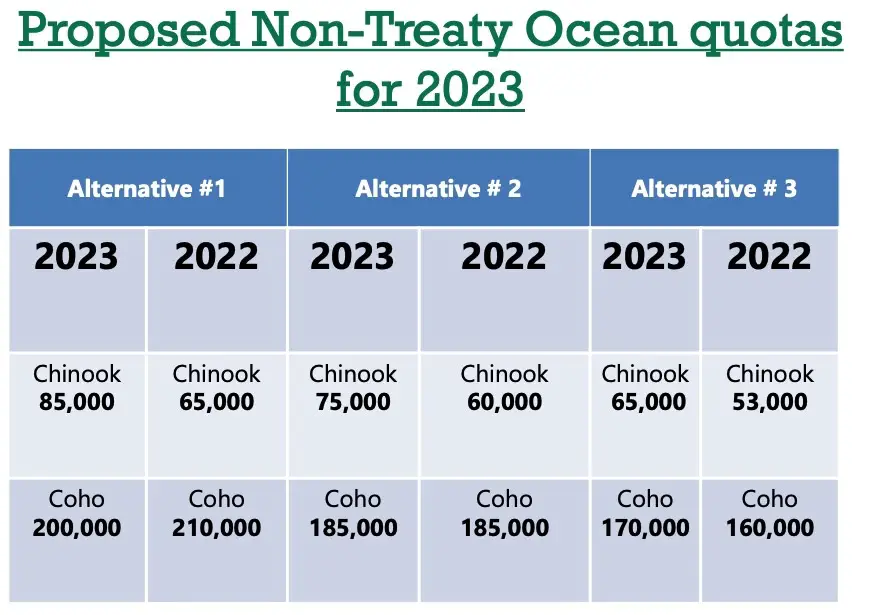 One final thought here, is that while fishing for salmon off the coast of Washington is largely driven by what's going on with the Columbia and other coastal rivers, there is some impact on Puget Sound stocks as well, which have far more concerns heading into the 2023 seasons.
I've been on a few North of Falcon calls where one of the variables is the Washington ocean season options, that change the expected exploitation rate of Puget Sound stocks and sometimes push us close to the limiting thresholds.
Something to keep an eye one.